Clear your coffee table: a new mock encyclopedia by the staff of The Onion is taking on "the sum total of mankind's knowledge," and turning it upside-down in trademark fashion. We talk with Seth Reiss, one of the book's editors, on Chicago Tonight at 7:00 pm.
The following is an edited transcript of our conversation with Reiss on what it's like to be part of America's favorite fake news source.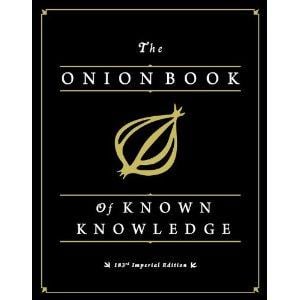 Usually, The Onion's satire is based off current news headlines. What's the allure of a project like this, in which you're reaching far back into history and there are no real bounds for your satire?
The allure of this project is that we can make jokes about everything. We could do any type of prose joke that exists. I think there's every type of construction of a joke in this book. We wanted to do a joke, for instance, on "snow." On "sneeze." On "sweaters."
This is The Onion's take on the dumbest, smallest things. It's The Onion's ethos. It allowed all of us to bring our own humor to the table. Any demented idea, any flight of fancy was absolutely welcome. The book reflects our writers' sensibilities.
The Onion's recently moved its editorial operation from New York to Chicago. Creatively, what the impact of this move? Does it change your voice at all?
[Laughs.] I'll tell you, there are a lot more area men and women in Chicago. [The Onion frequently publishes stories on "area men" or "area women" doing mundane things that reflect absurd realities about modern life: for instance, "Area man crawling on ground like pig to plug MacBook power cord behind desk."]
In Chicago, there are more people who look like normal people on the street. It's important for us to depict people who look like normal human beings, not runway models.
How did you land at The Onion, coming from a sketch comedy background?
I was a humor columnist for my college's newspaper. I always had an eye for what I thought was absurd or ridiculous. That lends itself to this job. To look at things going on and say, "That doesn't make any sense. We need to comment on it."
What does being "head writer" at The Onion actually mean?
It means I help pick the stories that people see online. I help to pick content, edit that content, and write stories. I also am engaged in macro conversations about what the editorial voice should be, how we should promote ourselves, etc.
When the news cycle is bleak and depressing and dark, how hard is it to turn it into comedy?
Well, when it's bleak and depressing and dark, that's when the comedy will be pretty sharp. It's when the news is languid that it's harder to make the comedy sharp.
You've recently created a full-blown Onion character out of Joe Biden. Your editors described him as "the breakout character" of this sitcom we've living in. Tell me how The Onion's Joe Biden squares with the real Joe Biden.
The Joe Biden character we've created is not actually Joe Biden. But I think the real Joe Biden is two steps away. I think the real Joe Biden could have ended up like ours if he had made a few different choices in life. Ours is a real blue collar guy.
This [vice presidential debate] was the first debate we covered since creating this character. It was his first night to shine. We felt it was our responsibility to go all out. We took his character all the way with news stories and tweets from Joe Biden on our Twitter account. It was an opportunity to take the character further.
Every once in a while, a real news agency picks up an Onion story as fact. This happened just last month with an Iranian news agency reported a fake Onion survey that said a majority of Americans would rather vote for Iranian President Ahmadinejad than Obama. How did you react to that?
We're just filled with joy when that happens – especially when it's on the scale of a huge news agency in Iran. It's great. It's just all part of the game.
We're creating a fake world with every news story we do – we don't comment on the news like The Daily Show. We do fake news in every brief and every article. And when the fake world becomes actual reality, it's fun.