Recognizing the contributions of gay people to history and culture is at the heart of a new outdoor museum on North Halsted Street. We take a walking tour on Chicago Tonight at 7:00 pm.
We spoke with the founder of the nonprofit Legacy Project, Victor Salvo, about what inspired this walk. Read the Q&A below and view a photo gallery of the 18 cast bronze plaques that will be added to the city's art-eco pylons on North Halsted.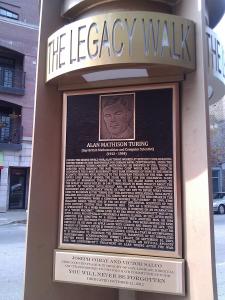 You've been working on this idea for several years now. What inspired it?
The Legacy Project was conceived as an abstract concept at the National March on Washington for Gay and Lesbian Civil Rights in 1987. Three things happened there. First, just the experience of the march itself, being at a national march like this. Second, the inaugural display of the Names Project AIDS Memorial Quilt was taking hold in our consciousness. There was this lurking fear that everyone would die, because at the time there was no concept of a cure. And third, it was the first National Coming Out Day, set aside to recognize LGBT contributions and encourage people to come out of the closet and embrace a shared legacy. I came away with a sense that we were living gay history and this plague was going to kill everyone. Who will remember us when we're gone when we barely know ourselves? I wanted to create a means to study history, to celebrate and embrace it. In 1999, after several years of activism, I came across Alan Turing, and his story catalyzed everything with me and it became an obsession.
What do you want people to take away from the walk?
I want them to first of all develop an appreciation and understanding of the contributions LGBT people made to history, and be cognizant of the fact that they've always being doing it. We've been redacted from history books, and this is not a contemporary social aberration, we've been around for a very long time. I hope that once people realize this, we'll begin to become reintegrated in stories from which we've been redacted and project a period of healing. As our legislative victories pile up, what's missing is our role, and we want to restore that.
It's estimated the Legacy Walk will draw in 1.5 million tourists a year. Why do you think Chicago is a great place to have this walk?
Chicago has a many decades-long tradition of being politically progressive and the roles LGBT people play at every level of city and state government is pretty substantial. It wasn't handed to us; we worked very hard for that. We have that relationship because of the work 20, 30 years ago. Chicago is on the forefront of being politically progressive. We take pride in the fact that we have the first pylons -- the only ones in the world -- created by Mayor [Richard M.] Daley. The Legacy Walk has been supported without question at the top level of city government, all the way down through every department. The cooperation and enthusiasm is really remarkable in a city like this, and for those of us that have been around for a long time, incomprehensible. Before, no one in government would return your call, let along proudly declare their support. It's pretty amazing.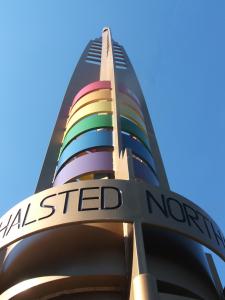 What were the criteria that the selection committee looked for in choosing the 18 inductees?
The selection committee was assembled of activists with long-standing reputations, combined with historians. They selected from 180 nominees and put together a 15-page ballot that they voted on. They went through the totals and came up with a series of candidates and alternates, which was submitted to the City of Chicago, which is co-sponsoring the project to make sure they were OK with the core vetting. We got the list back and announced everything. But the board itself only looked at who alternates would be, and were always mindful of demographic balance. On the first ballot cast, we were blessed with a great balance of people. The board was responsible for ultimately maintaining a demographic balance on the street. There will be plaque rotation, starting in 2014 to maintain a demographic balance, and everyone in 2012 will be rotated out. The ones rotated out will go in a visitor center, and some may be rotated back out on the street. We want the plaques to be representative of the cultural diversity of the city. I hope that at some point we'll have enough plaques to create a traveling exhibit and send them out on the road, but that's a couple years down.
Eighteen bronze plaques are being added to the pylons now, and an additional 16 plaques will be added next fall. Can you tell us anything about who is up for nomination for next fall's installation?
No, because they haven't been selected yet. The people that were part of the original pool this year will be designated along with another round of choices, so there will be twice the number of choices. The new pool will always be dynamic, as new people are nominated all the time, so we're never locked into a set pool.
*This interview has been condensed and edited.*