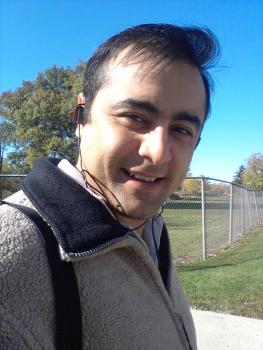 So, this morning I decided to journey the American way, as I wrote in my last blog. I put on the headphones and started the 50-minute journey from the hotel to the TV station, and you know what? I liked it. I couldn't listen to a thing around me. It was only me and some good Indian music (yeah, even though we have fought four wars with India, we Pakistanis still prefer listening to Indian music.) The downside was I had to be extra cautious not to skip my stop on the bus, but it turned out that I can trust my navigational skills in Chicago now.
Another thing that I have noticed in the past few days is that the Americans love to exercise (well, most of them I mean.) From early morning till late night, I can see people jogging and exercising in the gyms. As a former competitive swimmer myself, I am really impressed by this fact; that people here do prefer to engage in some sort of sport to keep themselves fit. As they say, healthy bodies lead to healthy minds.
Last night, we had the mayor of Chicago, Rahm Emanuel, on our show, who himself seem to be a health-conscious guy who also mentioned his exercise schedule on the show a little bit.
Rahm Emanuel's visit to the show was the hot topic yesterday. Preparations had started early in the day with sessions held to finalize the list of questions for him. I saw the whole interview from the control room, and I have to say that the anchor Carol Marin and the mayor himself were equally good in the questions and answers. I am not going to comment on his popularity here, but the way he answered the questions he could actually win an election -- even if it was held in Pakistan.
I am quite excited about tonight as I will be on-air on the show, Chicago Tonight. After getting a chance to taste the American food, traveling on the American railway and airplanes, now it's my chance to get a taste of American television.