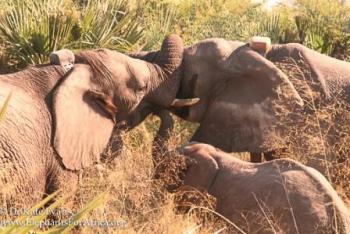 The world's largest land mammal is the African elephant. But because of habitat destruction, poaching and ill-will towards elephants, the mammals are nearing extinction. There are some estimates that African elephants could be extinct by 2020.
Dr. Kate Evans, director and founder of Elephants for Africa, a conservation and education group dedicated to finding viable solutions for elephant conservation in Botswana and southern Africa, joins us on Chicago Tonight at 7:00 pm to talk about the history of the African elephant and what is being done to protect them. 
Dr. Evans was recently in town meeting with conservation leaders at the Chicago Zoological Society (CZS), which manages Brookfield Zoo, to bring them up to speed on the work of Elephants for Africa, and the current status of African elephants as poaching escalates across the continent.
CZS helps fund Elephants for Africa as part of the organization's commitment to conservation research and education efforts at Brookfield Zoo and around the world.
During her trip, Dr. Evans visited students at Nathanael Greene Elementary School on the South Side of Chicago. It is one of CZS's Level of Engagement program partner schools in the Chicago Public Schools system. The Level of Engagement is designed to provide teachers and their students with the opportunity to develop the study of science, technology, engineering, and mathematics through innovative thinking and creative problem-solving skills.
View the following video of elephants in the Okavango Delta in Botswana and view a photo gallery of the land mammals.