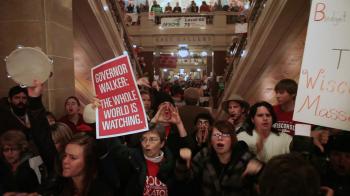 For filmmaker Brad Lichtenstein, the premise of As Goes Janesville was supposed to be a simple one. It's a documentary about a once prosperous town – Janesville in Rock County, Wisconsin – that goes into a downward spiral after a local GM plant closes, taking 11,000 jobs with it. Faced with economic extinction – middle class jobs are few and far between in Janesville, and many families are forced to move elsewhere for work – the town becomes a battleground in which different theories of economic revival are tested.
In the end, however, As Goes Janesville snowballs into something much bigger: the paradigm-shifting fight between Gov. Scott Walker and public employees over collective bargaining.
As Lichtenstein documents Janesville's families and their heartache, this is the story that boils up to the surface, intersecting with the film's subjects in fascinating ways. Laid-off GM worker Gayle Listenbee gets political, taking her daughters to an anti-Walker protest so that she understands that it's not, as she says, "the company that gave us days off work and eight hour work days – it was the union."
Mary Willmer, a local bank president, throws her support behind Walker; for her, the governor's formula of deregulation and private sector tax breaks is the only way to make Janesville reach its former heights. Tim Cullen, a folksy state senator tired of partisan gridlock, becomes Walker's rival in a recall battle that has the whole world watching. (Lichtenstein calls Cullen, who eventually dropped out of the recall race for lack of fundraising success, the film's "tragic hero.")
And of course, within the film is a 30-second clip that's assumed a power all its own in the last few months. It's Scott Walker's famed "divide and conquer" moment from January 2011, in which he tells billionaire donor Diane Hendricks that his plan to make Wisconsin a Republican state begins with stripping public employees of their collective bargaining rights. You can view it here:
"He was completely aware of the camera," Lichtenstein says of Gov. Walker in the clip. Seconds earlier, Lichtenstein had introduced himself as a documentary filmmaker for PBS, and said that, no matter what, his footage would not "see the light of day" for one year. It's a promise he kept, releasing the contentious clip in May 2012 as part of a 10-minute trailer for the film.
The clip took on a life of its own – fueling those who said Walker's rollback of collective bargaining rights was not based in necessity, but designed for political gain. Gov. Walker's unsuccessful Democratic challenger, Tom Barrett, used the clip in ads in what became the most expensive election in Wisconsin history.
"I felt like I was in the middle of a big historical thing," Lichtenstein says of the moment. "When I shot that scene, I could feel it. I had goosebumps… But I had no idea it would become such a big deal."
In the end, Lichtenstein says his film is a way to see this singular, viral exchange in a much deeper context.
"People expected [the film] to be partisan because of the 'divide and conquer clip'" he says. "But they don't feel that way when they actually see it. I think it captures the real heartache inside families."
Lichtenstein, along with Kartemquin Films and 371 Productions, is currently working on an ambitious outreach campaign to not just get people to see the film, but get people from opposite sides of the aisle and picket line in the same room to talk about it. The campaign, he says, is going "OK." The filmmakers tried to get the U.S. Chamber of Commerce and several major unions together for a screening, but the groups weren't interested in that kind of high-level collaboration, he says.
Lichtenstein's team is now using a more grassroots approach. Screening the film at small festivals and community events allows them to broach the topics of political and economic polarization in a more honest way, he says. The team's also showing the film to support groups for laid-off workers who are re-training for new jobs (much like Cindy Deegan, one of the documentary's main subjects, who goes back to school to train as a medical lab technician in hopes of landing a job at Janesville's newest hospital.)
The goal is to highlight common sense, community-driven approaches to fight the recession, and bridge divides that may seem intractable, Lichtenstein says.
'We want to identify common goals and common interests, and talk with a shared set of facts about the economy," he says. "My hope is that we can put this on the table and really get people to talk about this."
Watch a 10-minute clip from As Goes Janesville below. Lichtenstein joins us on Chicago Tonight at 7:00 pm. Watch the full documentary on WTTW11 at 10:00 pm.