An issue that's as urgent as any in the recent discussions over the future of Chicago schools is the dropout rate. Last year, a new formula to more accurately track how many ninth-graders graduate within four years was used for the first time in Illinois. The results were staggering. While some Chicago schools actually improved under that formula, there are still some schools where a 50 percent dropout rate is common.  As part of WTTW's American Graduate initiative -- "Let's Make It Happen" -- we caught up with one young man who left school without graduating.
The day after Labor Day, Chicago Public Schools welcomed back students from their summer break. Edmond Shoat was not among them. He shouldn't have been anyway if he'd graduated from high school as he was supposed to last year. But he didn't. He dropped out just two weeks before school ended.
"I was on probation. I was jobless. I didn't have nothing. With only two weeks left, I just gave up on everybody," said Shoat. "I didn't care no more. Like man, forget everybody. F everybody. I just couldn't do it no more. It was too much going on."
Edmond, who also goes by EJ, is only 19 years old but he's already experienced a lot of turmoil in his short life: from the murder of a close uncle to landing in jail on weapons charges. He's also the father of a 3-year-old boy named Rajan who lives with his mother in another state. Ironically, EJ says school was the bright spot in his turbulent life.
"The school did all that they can. School is a big help. They was encouraging. They was a big help," he said. "They was trying, trying they hardest. It was too much going on. If my mind was focused on school, like I could do work all day."
EJ's life started in the notoriously dangerous Cabrini Green housing projects. His father, he says, was a trucker and frequently absent. At the age of 13, EJ's uncle, who was only 7 years older than him, was fatally shot at Cabrini Green.  Edmond says his family heard the shooting from their apartment.
"So we went down there to see what was going on and he was just laid out on the ground. He was dead. We couldn't do nothing. So, I'd say about a month later, my whole family moved out of the projects," said EJ. "My mom, she worked at a nursing home. And you know, sometimes she'd either quit the job or we'd have to move. We couldn't pay the rent. Or we'd find another job and move somewhere else. We did a lot of moving around."
He finally landed at Chicago's Senn High School on the city's North Side, a massive and sprawling campus that, up until recently, was one  of the worst performing schools in Chicago. But EJ began to do relatively well, even joining the football team.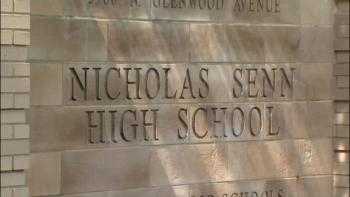 "Senn, it was great. As soon as I got through the doors, like I was welcomed with arms. Football team grabbed me. So, since then, I was kind of in the brotherhood of football," he said. "The whole school asked around like, 'Oh, you play football?' This and that, and I'm like, 'OK, yeah, I play football, but I do got grades too. So, it was a good experience at Senn. The teachers was welcoming."
But then came the fight.  EJ and another student had an encounter -- possibly gang-related -- in the school. What EJ had on him got him into big trouble.
"I forgot I had my pocket knife. I got arrested for unlawful use of a weapon. I forgot I had my pocket knife with me," he said. "And, you know, me and him got into a scuffle and then I got arrested on that day. And I spent the night in the district, and I think I spent like a week up in the County [Jail] waiting for trial and what not when my family went and got the money together. That's how we had to move. My family got the money together, got a lawyer, and I fought the case for like a year."
EJ was only 16 at the time. He says a tough but understanding judge reduced the charge from a felony to a misdemeanor, and made EJ do 35 hours of community service at Chicago's morgue.  It was around this time that EJ's son was born. Through it all, EJ was frequently absent from school but he says several teachers at Senn, including chemistry teacher Antonio San Agustin, tried to keep him on track.
"He was a good kid. And he came to class, always looking to make up his assignments, because he was absent quite a bit," said San Agustin. "And I didn't have problems with him making up the assignments. He was a good kid."
While Mr. San Agustin and some other teachers tried to help EJ, it wasn't enough to offset what was weighing on him outside of school. Even Senn's relatively new principal says when she arrived there in the Spring of 2010, efforts to combat the school's 50 percent dropout rate were, in her words, a mess.
"It was a little out of control. We had all of these partners working. I didn't know for sure which kids they were with," said Principal Susan Lofton. "I didn't know if the child was going regularly. I didn't know what the goals were that had been set. That needed to be my business. So we pulled them all in and said we need weekly, if not bi-weekly report-outs. And some of the partners were like, 'Well, we have confidentiality. We have certain clauses in place.' And I said, 'We're not the enemy. We're all working together."
Lofton says over the last two school years much has changed at Senn, from rising test scores to better discipline and a multifaceted approach to target students like Edmond Shoat who are at high risk of dropping out.
"At this point, we have much stronger parent buy-in. We will put a student on contract. We will call the parent up and say, 'Look. This is what we're seeing.' Not casting blame, but this is what we want to do to problem-solve, and this is what we expect the outcome to be," she said. "We expect the child to raise grades. We expect the child to become invested in an after-school activity. We expect the child to graduate, and we expect college acceptances and scholarships. This is what we expect. That line of thinking never gets pushback from a parent. They're with you. Their challenge is: how do we do this?"
Mariame Kaba is the Executive Director of Project NIA, a grassroots organization she founded in part to address the large number of minority youth in the juvenile justice system -- many of who are dropouts.
"When everything else is failing, and when the kids have no other options and they are raising themselves, and they have no money and they can't eat nutritious foods, school is still the best place," said Kaba. "Young people value relationships and value relationship-building. And if we can find a way to restore relationships between teachers and students, or students and the administration, or teachers and the administration, that school community can be that place that holds our young people. Because we know, we just know all the statistics are bearing out the fact that if a kid drops out of school, their life chances are just diminished in just hugely consequential ways."
Where Edmond Shoat's life may now be headed is a question no one, not even EJ himself, can answer. He says he will not return to school. He's tried to get his GED but fell short on his first attempt. For the time being, he's working as a personal assistant for a disabled man. Among his hopes is to one day live close to his now 3-year-old son who lives in Atlanta with his mother. EJ also says he has a dream.
"My dream besides being a family man is I love getting on that stage. It's like a different atmosphere for me," he said. "I like telling people stories -- my story. I like that center of attention. I'm not trying to say the center of attention like being greedy or anything. Like an actor, performer."
But the statistics are not on Edmond's side. Without a strong guiding force to get his life on track, he's on his own for the time being. But just maybe, he'll be one of the few who makes it.
Under the new federal dropout calculation formula, about 75 percent of high schools throughout Illinois experienced a drop in their graduation rate. According to a study conducted by Northeastern University in Boston and released last year, about 42,000 high school dropouts between the ages of 19 and 24 live in Chicago. More than half of them are in jail or are unemployed.