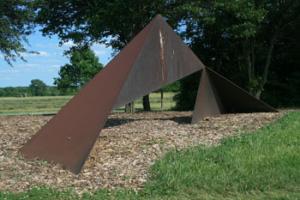 The Nathan Manilow Sculpture Park is one of the most distinguished sculpture parks in the country and the only site to exhibit a collection of cutting edge, contemporary outdoor sculpture in the Chicago area. It spans more than 100 acres of prairie landscape at Governors State University campus.
The collection was established in the late 1960s by Lewis Manilow and named in honor of his father, Nathan Manilow, a developer who was committed to the economic, educational and cultural development of the south metropolitan region.
By the 1970s, the NMSP became the model of a university-centered sculpture park. The park has since grown into a major collection of 27 works set within the wild prairie of the University's campus.
Events and programs which build an appreciation and understanding of contemporary sculpture and highlight the surrounding landscape are scheduled year-round. Admission to the park, along with tours, are free. Visitors are welcome dawn until dusk, 365 days a year.
In the following video, Lew Manilow discusses the early history of NMSP. He is joined by sculpture park docent John Ray, who provides commentary on one of the sculptures.
In the following video, Manilow and Ray discuss four sculptures from the permanent collection and offer insights into abstract sculpture.
Visit the image gallery below to view some of the sculptures. Be sure to read the captions for more information. All photos are courtesy of Nathan Manilow Sculpture Park at Governors State University. Visit the PDF below to see a map of the sculpture park.