We remember Morris Topchevsky, a Chicago artist who was an eyewitness to world-changing events, on Chicago Tonight at 7:00 pm.
Topchevsky was one of many artists who spent time working at the Hull House during their careers. View a slideshow with information about other influential residents of the Hull House.
Chicago Tonight spoke with Director Lisa Lee of the Jane Addams Hull-House Museum. Read the Q&A below: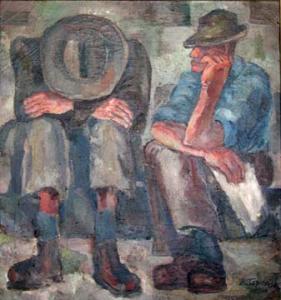 Why was Chicago the location for this settlement house?
Jane Addams was from a small town. She went to college in Rockford, and so Chicago was the major Midwestern city that she gravitated towards in her home state of Illinois. People forget it was also one of the major thoroughfares for immigrants. People think of Ellis Island or Angel Island on the East and West coasts, but these immigrants often came to Chicago too, so it was a great space to start her experiment in democracy.
What was the mission behind creating this house?
She [Addams] had done what privileged white women did -- tour Europe -- and while she was over there, she saw the first settlement house in the world: Toynbee Hall. She was greatly impressed that college-educated people would settle in neighborhoods and try to come up with the questions and answers with the people they're trying to help, and become transformed in the process too. It became her life's destiny and she came to Chicago to start it. Sometimes people don't realize "settlement" doesn't mean just helping immigrants, but reflexively to settlers themselves. She wanted to address social issues. Immigrants needed ways to bridge barriers and boundaries, and this was the perfect ideal for how to transform society.
How would you describe the residents that came to Hull House?
We always describe them as wildly impatient. A lot of settlement houses were coed, but really they were incredible sites for fostering the birth of womens' political culture in the U.S. Most of the resident reformers were daughters of abolitionists who witnessed a huge transformation take place, and wanted to affect social change through peaceful means. They were overeducated, often prescribed "bed rest" for "nervous ailments." They were expected to be educated and go back to live traditional lives, and these were women who refused to do that. They came to the settlement house to pursue life in the public realm. The settlement was a blurring of boundaries between private and public life.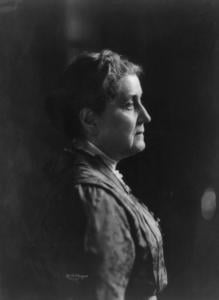 What happened to the Hull House after Jane Addams passed away in 1935?
After her death, there were different issues that the neighborhood was facing with urban transformation. Immigrants weren't settling in one neighborhood. There was not just one center- Halsted, Maxwell and Taylor streets- which used to be predominant. By then, immigrants were moving Uptown, to the west side, down to the south side, and the Hull House chose to decentralize. Then, when Mayor Daley decided to open the University of Illinois, Chicago campus, there was a really fierce battle that went all the way to the Supreme Court to stop him from knocking down the neighborhood and Hull House. The residents lost that case, but as a conciliatory gesture, the University saved two buildings and created this monument. The Hull House Association (which closed this past January) moved around throughout the city continuing to do work.
Is the museum involved with reform programs?
We try to creatively interpret and keep the legacy of Hull House alive in different ways as a cultural institution. The Hull House seamlessly blurred the importance of art, culture, creativity and social service. It offered both arts classes and food programs, dancing and union organizing. It recognized all these things were critical to social change and justice. We try to do that kind of work as a museum also. We have a soup kitchen in our resident dining hall. We have an art lending library where people can come and take out pieces of original artwork, and tours to educate about meaningful issues like immigration rights and progressive education reform. We think these issues are still some of the most important issues that need addressing today.
You've been quoted before saying, "No one is more relevant than Jane Addams." Why is that?
Yes, and I'm still saying that. I think in these times we're so often working in our own silos in our social missions. You might be someone who cares about organic food and someone else who cares about immigration rights, but for us, Jane Addams reminds us that in order to be someone who cares about clean food, you also need to care about the laborers that pick the food, and she did a marvelous job of linking issues together. She was among the first generation of women entering the public sphere, and the first thing they did was open a public daycare. But they realized children were going to work in sweatshops and disappearing from city streets, so she fought to have playgrounds and passed anti-child labor legislation. Kids needed places to go to school, so they enacted mandatory school laws. And then, when children were getting into trouble with the law and being charged unfairly as adults, they opened the nation's first juvenile court. All these are critically linked together. There is so much great work happening today on the ground, working for social justice, but they're often separate and distinct from one another. Addams' destiny was solidarity with the human race.
The Hull House never identified with a particular religion or political ideology, correct?
It was a secular space. They would celebrate Hanukkah alongside Christmas. There were radical socialists and Christian Democrats. Many different political affiliations found home here. At one point, Addams was considered the most dangerous woman in the U.S., not herself, but because she believed dissent was critical to democracy, and everyone needed public space to think and argue with each other and practice democracy. That was perceived as very dangerous.
Over the years there have been numerous stories of the Hull House being haunted. What do you think of these superstitions?
The superstitions actually started with Addams herself, writing in The Second Twenty Years at Hull-House about the devil baby. It was one of the really widely circulated stories about hauntings here. In the book, she wrote about why this myth was so popular, creating a beautiful story about the need for women to use narrative and story to have power in families over husbands. If husbands were out of line, you could say, "Be careful or we'll have a devil baby!" She showed how a lot of untruths rooted in people that were disenfranchised were attempts by the powerless to have power in the world. We always use that haunting story to instruct, but personally I've never had a supernatural experience here.
View the work of Chicago artist and social crusader Morris Topchevsky at an exhibition at Oakton's Koehnline Museum of Art, running through September 21.
Lindsay Prossnitz and Yasmin Rammohan contributed to this report.