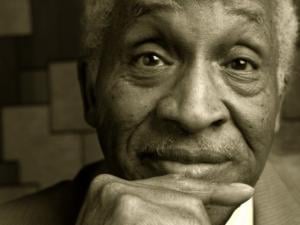 Legendary Chicago musician Von Freeman died last weekend at age 88. We revisit our 2003 conversation with the acclaimed sax player on Chicago Tonight at 7:00 pm.
I had the pleasure of meeting Von Freeman in 2007 as I was pursuing my Master's degree at Northwestern University's Medill School of Journalism. In the last quarter of my year-long program, I was part of the magazine publishing project where a group of fellow students and professors collaborated to put out a magazine called Midwest Current.
I was interested in profiling a local musician for an article in the magazine. I did some research and came across a Chicago musician who performed regularly at a downtown jazz club. His name was Von Freeman. I found out when he was playing and attended a live jazz show.
I walked up to him and introduced myself, told him I was writing an article for grad school, and would he speak with me for a few minutes? He smiled, flirted with me a little and agreed to sit down and have a conversation. He was gracious, kind and energetic. After we chatted, I spent the evening watching him play spectacular jazz.
The following article is what I wrote five years ago based on that experience.
A man saunters into Andy's Jazz Club on Saturday evening. He is immaculately dressed. His light grey hair and smile convey years of wisdom. His blue button-down shirt stands out against his neatly pressed dark grey pinstriped suit. His tie and white handkerchief tucked strategically in the chest pocket of his suit clearly display his sense of style. He is wearing sunglasses. He casually makes his way through the crowd, stopping at a few tables to say hello. Clearly, he has regulars coming to see him perform. He makes his way onstage. He picks up his saxophone and the rest is history. Literally.

Von Freeman, born and raised on Chicago's South Side, is a jazz legend in the Midwest. Born Earl Lavon Freeman on Oct. 3, 1923, Von knew almost immediately that he was a musician. At a very young age, he attempted to create his own saxophone from his father's Victrola. He put holes in the head of the Victrola that held the needle and made a mouthpiece out of wood and tissue paper. He would blow on it pretending it was the instrument that would one day make him a legend.

Hypnotic melodies float from Von's saxophone tonight at Andy's Jazz Club. The crowd is mesmerized by his precision and stamina. Accompanied by a bassist, pianist, drummer and occasional singer, Von gives the crowd a true performance. "I've always been very selective about who I play for and where I play. Because I work hard when I play. I try to give the audience a complete show," he says.

In between songs, Von takes a break to address the crowd. He casually jokes with them as if the audience in the packed club were just a few friends in his own living room. He is very comfortable in this setting - performing onstage, laughing and talking to his many fans. After all, he has done this for years. "This next song is dedicated to all the women out there. I love all women - all shapes, sizes and colors," he says.

Von spends most of his days "studying music, reading music and writing music" in his South Side Chicago home that he shares with his brother George. He enjoys sporting events and generally stays away from jazz clubs when he is not playing. "I don't go out much myself. If I want to hear music, I sit down and get out my jukebox and records. I've been playing music for so long that going out to listen to music is like going out to play," Von says.

A woman approaches the stage during a break. She hands Von her cell phone. A longtime fan that was unable to attend tonight is on the other end of the line. Von chats with the fan over the phone as the woman grins with delight. Many people wonder why Von didn't venture outside of Chicago to hone his craft. The truth is, Von is simply a Midwesterner first and foremost. He is more interested in learning to play and perfecting his craft than in attaining stardom.

I ask Von to name a few of the clubs he has performed in across the Midwest over the years. He says he doesn't remember the names of many places since he has been playing once or twice a week at venues for over 60 years. He does remember playing at Dakota Jazz Club in Minnesota where he recorded a CD called "Live at the Dakota." When asked what he liked about the place, he says, "I like the Minneapolis women for one thing. There are very good-looking women there."

Von has played with many notable performers over the years, such as Charlie Parker and Dizzy Gillespie. He has been a regular at Andy's for years and now performs on the second Saturday of every month. He can also be seen every Tuesday night at the New Apartment Lounge on 75th street.

Between sets, Von joins longtime fans at a table near the stage. They follow him around Chicago like moths to a flame. From couples in their early 20s to seasoned fans in their 80s, Andy's Jazz Club thrives tonight on laughter, good food and cocktails, and above all, great jazz. Von Freeman made the right decision by staying in the Midwest. This man is a local celebrity.