"The Planets"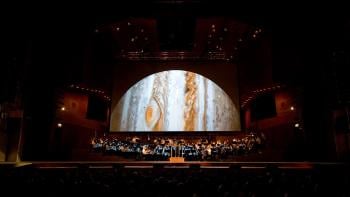 Dr. José Francisco Salgado's lifelong passion in astronomy started when he was in the third grade. One day he found one of his father's books on the moon landing, filled with diagrams of spacecraft.
"I was instantly captivated by the fact that we visited another world and the technology that took us there," says Salgado, now an astronomer and visualizer at the Adler Planetarium. "I said I wanted to study space. I didn't even know the word 'astronomy.'"
Salgado's position at the Adler now lets him create those moments of awe for thousands of children each year, preparing stills and videos for some of the museum's exhibits.
His work has also spread outside the planetarium's walls, a series of movies that illustrate classical symphonies with images of our solar system and galaxy. The music ranges from Holst's The Planets to Strauss' The Blue Danube.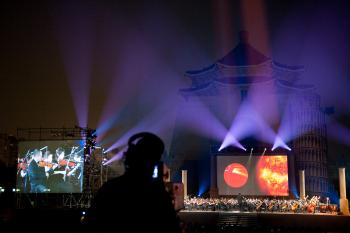 Salgado joins us on Chicago Tonight at 7:00 pm to discuss his career and the upcoming performance of The Planets by the Chicago Symphony Orchestra at the Ravinia Festival on Tuesday.
Salgado began his first musical project, The Planets, when he was approached by the Chicago Sinfonietta. The Sinfonietta was about to perform Holst's suite and wanted some visuals to accompany it.  
"They expected a pretty slideshow," says Salgado, who had been working largely with stills. He thought, "I could make a film that follows the tone and the tempo of the music very closely—a film that augments the music instead of competing for attention."  
He gathered still images from historical documents, space probes, and telescopes on the Earth's surface, along with animations produced by NASA and the European Space Agency. He began matching the images, frame by frame, note by note, with the music. For some sections, he created his own animations to better match the speed of the music.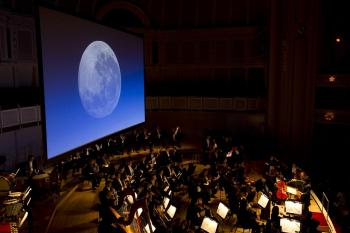 "It gives the impression that the film came first and then someone scored the music, when in fact, it's the opposite," says Salgado.
The film was a success and has since been performed in over a dozen countries, inspiring viewers to learn more about the universe around them, Salgado says.
"I can just see people coming from the concert hall, and saying, 'Wow, I didn't know Jupiter had so many moons.' It is awe-inspiring, kids going home and making their own rover models because of the films," Salgado says.
The Planets spawned other film projects, including Moonrise which mixes shots of the lunar landing with time-lapse photography taken by Salgado of moonrises from around the world.
"I want people to crave for knowledge and learn more," Salgado says. "I really don't make any distinction between the Andromeda Galaxy or Prague [from Moonrise]. I want to present something that will make people say, 'That looks fantastic. What is it? Where did you take this?'"
View excerpts from The Planets below: