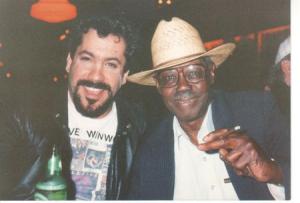 Two Chicago blues piano legends, Erwin Helfer and Barrelhouse Chuck, will be giving audience members an earful of entertainment as they pound away at Millennium Park on Thursday night. Their soulful boogie-woogie blues sound comes from the heart.
"It's not something that you can get from school, or reading books… it's life experience," said Barrelhouse Chuck. And to sum up in his own words, "it's been a great ride."
From opening for blues legends like Willie Dixon, B.B. King, and Muddy Waters when he was just a teenager, to playing with rock legendaries Keith Richards, Eric Clapton and Billy Gibbons this past February, Barrelhouse Chuck has run the gamut.
While playing in New York at the "Howling for Hubert" concert, Barrelhouse Chuck recalls meeting Keith Richards.
"He came into the room and went around introducing himself to everyone individually, and he comes up to me and says, 'I know you, you're Barrelhouse Chuck, you've got love in your eye man!' and gives me this big hug," reminisces Barrelhouse Chuck. "My jaw dropped. He was so nice and personable, one of the nicest rock guys I've met."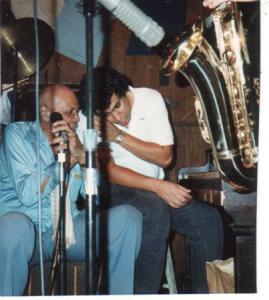 Barrelhouse Chuck has been able to play with a variety of musicians spanning blues, jazz and rock. He and Helfer are two of the last few Chicago blues pianists left who can say they learned from the masters.
"I learned from some of the greatest blues players of all time, and I love them all, and now they're a part of me and part of my influence (musically)," said Barrelhouse Chuck.
Some of his idols that he studied under included: Sunnyland Slim, Pinetop Perkins, Blind John Davis, Little Brother Montgomery and Muddy Waters, among others.
"All the blues guys were accessible and really friendly, they would just draw you in," he said.
Barrelhouse Chuck-a.k.a. Charles Goering- got his stage name from the first song he learned to play- Barrelhouse Woman by Leroy Carr.
"Little Joe Berson was a friend and heard me sing this song one day, and he just started to call me 'Barrelhouse Chuck' and it just stuck," he said.
Barrelhouse refers to a type of piano that used to be played frequently back in the 20s and 30s at turpentine camps down south. Now Barrelhouse Chuck likes to play with the Farfisa, a special organ brand from Italy from the 60s.
"It adds another dimension of tones, there's a lot of warmth and the sounds reference an organ instead of an acoustic piano," he said.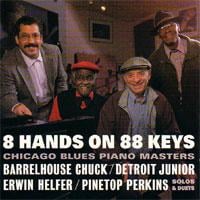 At the Pritzker Pavilion Thursday night, he and Helfer will be playing four hands, meaning they will both be on the same piano. The two have been good friends since 1979 when they met at a blues lounge in Hyde Park.
"I got a job there (Cornell Lounge) and that's where Erwin was playing, and he was very nice to me. Right away he loved the way I played, and I already had his records and was a fan of his," said Barrelhouse Chuck.
He was big fan or Helfer's then, and still is now.
"He's beloved by the whole city of Chicago! He is my favorite piano player and can play so many styles. I wish I could play his stuff, but I can't," he boasts of Helfer. "He (Erwin) is one of my dearest friends in the whole world, and I have the deepest love and respect for him."
The playlist for Thursday night will include Helfer playing In a Sentimental Mood and Barrelhouse Chuck will play tribute to boogie-woogie blues innovator, Clarence "Pinetop" Smith. But Barrelhouse Chuck's sad, slow blues can be heard echoing every Wednesday night from the Barrelhouse Flat at Lincoln and Sheffield.
"It's my home base," he said.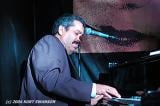 And it's where he's able to tell his stories through his music.
"I was a guy dreaming about how great it would be to meet musicians, and then years later getting to play with them… and then there came a time when they left," he said. "Music can be a hard thing, and all these emotions come through, bittersweet."
Listen to the audio attachment of Barrelhouse Chuck and Erwin Helfer playing together below. And watch Chicago Tonight at 7:00 pm for more on Helfer, as he pounds the keys and provides a lesson in local music history.
Audio Attachments:
Barrelhouse Chuck and Erwin Helfer playing together, "Half of a Pint Boogie"