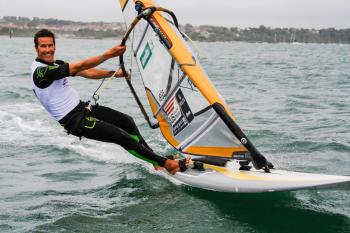 First-time Olympian Bob Willis started sailing when he was just 8 years old, at the Columbia Yacht Club.
Willis, now 25, spent his high school years at Francis Parker High School, a time when he began transitioning from sailing to wind surfing.
"I grew up here in Chicago," Willis says. "I picked up wind surfing when I was like 13 or 14 as an outlet to sailing."
Willis says while he loved sailing, he turned to windsurfing as a teenager because of its speed and physical challenge. 
"I really enjoy racing boats," Willis says. "But with the addition of the physical aspect and the speed, racing windsurfers is just a little bit more exciting to me." 
Conditioning for the sport, he says, requires developing strong core muscles and lower body strength.
"It requires an immense amount of core strength and leg strength, and upper body strength," he says. "[When I'm holding the sail] all the energy is coming down through my core, and you know through my legs down to the board."
Willis spent his early years learning the basics of sailing right here on the shores of Lake Michigan. And he shared his skills by turning to coaching.
"Most modest, mellow guy I've ever met," says Everett Stanley, one of Willis' former students. "But on top of that, when he's ready to compete, he's probably the most vicious and ready-to-sail guy I've ever met."
What started out as a hobby for Willis soon became much more. By the time he was 18, he had made the transition to competitive wind surfing. And this past December, he made the cut for gold fleet at the International Sailing Association & Federation Sailing World Championships.
As the top-ranked U.S. windsurfer, he is also the first Chicagoan ever to make the U.S. Olympic sailing team.
"I'm the only one on the Olympic team that comes from the Midwest, so it's pretty special to me," Willis says. "I like representing Chicago, and I love the city and I love the Midwest, and it's great being able to represent sailing here in the Midwest because oftentimes people overlook that a bit, but actually it's a great spot to sail and compete." 
Willis says he hopes his early experiences training on the waters of Wolf Lake in Indiana and at Lake Michigan will give him the edge that he needs when he hits the waters at the London Games.
"So the conditions in Weymouth can be anything, and here in Chicago we can get a variety of conditions as well," Willis says. "It can be windy and wavy, or it can be flat and light air, and in Weymouth we can get those same conditions. The micro climate around Weymouth is clearly a little different than here and the unique wind patterns are different from what they are here, but in terms of the terrain and the water, the sailing here has offered a lot of variety and has prepared me for sailing in Weymouth." 
Since the U.S. windsurfing team hasn't brought home a medal in 20 years, Willis says winning one would mean a lot for the country and his hometown.
"It would absolutely be incredible," he says. "To bring home an Olympic sailing medal to Chicago would be unbelievable. I mean, as I said, most of the sailors come from the East or West Coast, and to bring home the pinnacle of sailing to the Midwest, in Chicago would truly be unbelievable." 
And, undoubtedly Willis will have people in all over the U.S. and right here in Chicago cheering him on for his Olympic debut on July 31.
"I'm super proud of the guy," says Heidi Rittmeyer, a childhood friend and former sailing student. "It's even better to know he's coming out of Columbia Yacht Club, my home yacht club. And just the fact that he's from Chicago makes it even better."