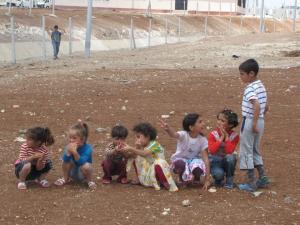 As violent clashes intensify between the Syrian military and armed rebels seeking to overthrow President Bashar al-Assad, the number of refugees fleeing their homes to neighboring countries like Turkey has swelled.
Nestled at the base of a hill on the Syrian border, the laughter of children can be heard -- temporarily distracted from the violence just a few miles away.
Their playground sits just a quarter mile from Syrian military snipers.
It's called Kilis: a camp where thousands of Syrian refugees have come to live under the protection of the Turkish government.
Since the uprising against Syrian President Bashar al-Assad's regime began some 17 months ago, the U.N. estimates more than 10,000 people have been killed in the conflict.
Tens of thousands more have fled and are now living in camps like Kilis, which is the largest and most well-designed of the camps in Turkey, with pre-fabricated structures able to house some 18,000 displaced individuals.
Dr. Zaher Sahloul, a Chicago area physician and President of the Syrian American Medical Society, has been leading teams of doctors into the camps for the past year.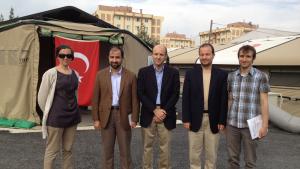 "I mean, there's a huge humanitarian crisis in Syria," said Dr. Sahloul. "We're talking about 60,000 refugees at least in Turkey, Lebanon and Jordan. There's 1.5 million refugees inside Syria, internally displaced persons."
Dr. Sahloul says each day his team could see the mental stress that refugees face.
"Every patient we saw had one member of their family who were killed or injured during demonstration, or snipers who shot at them, or shrapnel that went into their house," he said. "Many of them had their livings and houses destroyed, and that created a lot of stress and trauma. And even after one year of being a refugee, you can still see that in their eyes."
One of the refugees who left a lasting impression on Dr. Sahloul was 27-year-old mother of three, Asma Tareq.
"Asma is one of the very unique ladies in the camps. You know, we met with her, and she came in and she assisted us when we had our medical day in the conference," said Dr. Sahloul. "So she brought the other women and children, and she was helping us and putting some dressing and giving medications. At the end of the day, she prepared a meal for us, and so we felt that there's a connection with her."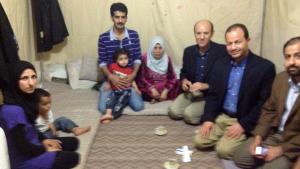 We met Asma outside her camp at Islahiya.
"I came to the camp in Turkey because of the crimes carried out by the Shabiha pro-government militia of Bashar al-Assad and because of the killing of children, the raping of women, hunger, and lack of clean water," said Asma. "Because of all that, we came to Turkey."
Asma carries a photo of her 10-year-old brother who she says was killed during a funeral procession, along with six other young men.
"Even though I've already seen it, I still cry," she said. "Whenever I think about my country, I burst into tears."
Everyone here has a story. Survivors carry around photos and videos of the dead on their cell phones. Many post the videos on YouTube for the world to see.
Yasser Yousuf is a member of the Free Syrian Army, an armed rebel group fighting to topple President Assad. Yasser showed us the cell phone video of a fallen comrade who he says was killed by Syrian security forces trying to smuggle a family across the border to Turkey.
He was the only one to escape alive.
"Of course I'm going to go back and fight," he said. "Either we live with dignity or we die with dignity."
Abdullah Turmanini recounts how his 37-year-old son Mohammad was killed just days earlier when Syrian tanks shelled the area he was traveling through.
Mohammad leaves behind a widow in the camps and six children. The youngest is only 15 days old.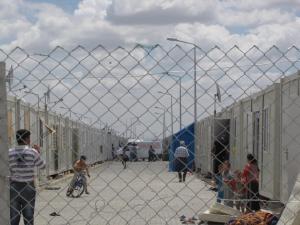 "May God help us to get through to overcome this oppression," said Mohammad's widow.
In the camps, there are countless stories of escape, survival and of unspeakable tragedy. And while some people still hold on to the hope of returning to their homes in Syria, others here say they will never go back.
"It's not easy. The problem that their situation, living in a tent for 10 months and some of them longer than that, and having no hope that the situation in Syria will improve and they have the ability to go back to their houses and villages. Some of it are actually across the border. They can see their houses, but they cannot go there because they hear a lot of horror stories of people who went back, and they were detained and tortured, and killed by the Syrian authorities," said Dr. Sahloul.
Asma says she will only go back if the regime falls, so that she can return with her head held high. For that to happen, she says the international community must acknowledge what is happening in Syria with actions rather than words.
"What we want from the Americans -- and thank God the Americans are our brothers and sisters, and we respect them -- but we're demanding that they help us," she said. "We're fed up with this evil system. It's a shame that Syria is being buried, people are dying and no one is feeling our suffering."
So, as the upheaval in Syria persists, thousands will seek refuge in neighboring Turkey, hoping to escape the violence in their country, and waiting for the change they hope will someday allow them to return to their own homes.
Dr. Sahloul is scheduled to leave for his fourth visit to the Syrian refugee camps on the Turkish border on Thursday evening.
Chicago Tonight Callaway Fellow Lindsay Prossnitz was also on the Turkey/Syria border for this story. Read what she had to say about her experience in the Kilis camp, speaking with refugees.