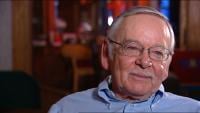 "Do you know what a homosexual is?"
That question shook James Darby to his core back in the 1950s when he was serving in the U.S. Navy during the Korean War. The question was asked by the Counterintelligence Division, or CID.
"I almost crapped my pants," said 80-year-old Darby. "I thought they were after me and they knew about me."
It turns out Darby had nothing to worry about. His secret was still safe.
"I was investigated and I thought that was it. But it turned out they were after bigger fish than me," he said. "I went on liberty with a couple of guys; one was gay and I didn't know. They were tracking him and everybody he went anywhere with." 
When asked how he felt about homosexuality by CID, Darby says he told them: "'It's against my religion; I'm Roman Catholic.'"
"Then I whispered to myself: 'So is lying, cheating and stealing, but I do all that, too!'"
Darby served in the Navy from 1952-1956 as a radio operator, Russian language translator and cryptologist. 
"I knew I was gay and one of my commanders knew I was gay," he said. "But during the Korean War, we were a small, elite group of 12 Russian translators who moved from ship to ship. Our service was valuable, so they may have overlooked some things."
Despite this, Darby decided not to re-enlist after four years "because I'm a gay person and I felt that I would not last."
Darby got his G.I. Bill and used it to pay for college. He taught in the Chicago Public Schools system for 30 years.
After he retired, he founded the Chicago chapter of American Veterans for Equal Rights, or AVER.
It's estimated that nearly 14,000 members of the military were discharged under the "Don't Ask, Don't Tell" policy until President Obama signed the repeal on Sept. 20, 2011.
Now, Naval Station Great Lakes in North Chicago is home to what's thought to be the first officially sanctioned gay and lesbian support group on a U.S. military base – anywhere in the world. Gay Lesbian And Supporting Sailors, or GLASS, was the brainchild of Petty Officer Ann Foster.
"I never, ever thought I could see the day that this would happen; that a gay organization could come about on a military base," said Darby, who attended boot camp at Great Lakes decades ago.
Darby attended GLASS's inaugural meeting on February 13, 2012.
"This is the first, so this is very historic. We were ecstatic to meet so many people in uniform, and have the commanding officer welcoming us," said Darby.
His advice to current members of the military who are openly gay?
"I think that they are very brave to come out like this, and I hope they realize that they are pioneers and paving the way for the next generation, and making life easier for everybody in and out of the military," said Darby.
"There are so many ramifications to what they are doing. Their actions are really helping to get rid of the Defense of Marriage Act, or DOMA. We all thank them for that."
Darby has had his share of run-ins with the law over gay rights. He was arrested at a White House demonstration in 1993. 
"The world has changed in my lifetime and for the better. I'm so pleased to see that these young people have the courage to step out and do this, because it does take a lot of courage," said Darby. "We are an older generation and never experienced that kind of freedom."
Watch Chicago Tonight at 7:00 pm and visit the links below to learn more about GLASS.
Update: The co-founder of GLASS, Petty Officer Ann Foster and Chief Dena Partain will travel to the White House on June 15 to meet the president in honor of Pride Month. And they are marching in the Chicago Pride Parade on June 23.