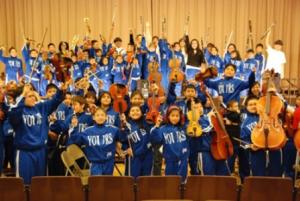 A remarkable, free music program in a Chicago Public School is changing lives. Jay Shefsky has the story on Chicago Tonight at 7:00 pm.
Named for The People's Music School's founder, the YOURS Project (Youth Orchestras United Rita Simo) is a program providing free, orchestral music education to Chicago Public School children.
The program is modeled after "El Sistema," a publicly financed music education program in Venezuela, founded in 1975 by economist and musician, Maestro Jose Antonio Abreu, under the name "Social Action for Music." It's estimated that 70 to 90 percent of students in El Sistema come from poor socio-economic backgrounds. The goal of the program is to uplift and improve the lives of children who come from low-income families, which then can improve and transform the community as a whole.
"Music has to be recognized as an agent of social development, in the highest sense because it transmits the highest values - solidarity, harmony, mutual compassion. And it has the ability to unite an entire community, and to express sublime feelings," said Abreu.
Learn more about El Sistema in the following 60 Minutes video.
Modeled after El Sistema, the YOURS Project was founded by volunteers in October 2008. The students begin at age 6, and spend 15 hours per week learning and practicing classical music before and after school. The project aspires to be a city-wide network of "nucleos" (locations that house these orchestras), the first of which is located at the William G. Hibbard Elementary School in Albany Park.
Today, in partnership with the Ravinia Festival, the Hibbard Nucleo has more than 150 students in three different levels of orchestras.
The People's Music School was founded in 1976 by Rita Simo with only $625, a donated piano and a dream to make the world a better place. In 2007, Chicago Tonight profiled the school and its founder. Watch the video below to learn how the school came to fruition.