A Chicago blues artist stages a comeback with a little help from his friends. After a nearly 10-year hiatus from the local blues scene, 90's blues guitarist Rockin' Johnny has returned to the stage and touring scene with a new album and fervor for live playing. And he's done it with the help of his longtime friend and collaborator, Jimmy Burns.
Chicago Tonight spoke with Rockin' Johnny about Chicago's ever-changing blues scene and his recommendations of bands to check out at the upcoming Chicago Blues Fest. Read our Q&A below.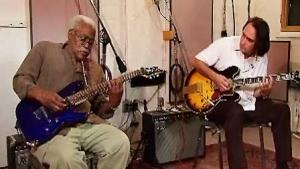 You were born in South Carolina but did most of your growing up in Mississippi, a state steeped in blues history. Is that where you caught the blues bug?
I knew about it growing up and I was taking guitar lessons, but I wasn't seriously into it. My dad was into folk music. That didn't really get me going. I didn't get the bug until I came to Chicago to attend the University of Chicago.
How were you first introduced to it, then?
I went to this West Side bar to hear Tail Dragger. And we still work together today. We're going to Spain in July. Anyway, many years ago, I went to see him at a club at Pulaski and Van Buren. It was the first time I'd ever heard that kind of in-your-face post-World War II blues. It was just a really exciting experience. I knew I had to throw away everything I knew about guitar and start over from square one, and play this kind of music. It just spoke to me.
How did you go about starting over like that?
I started listening to the good stuff exclusively. Then I started imagining these guys playing in front of everyone. I'd listen to Freddie King, and I'd imagine him playing those songs in front of people. Then I had a context for these songs. I also started going out every night. I really caught the tail end of a great generation of some great guys, of something very special. I could hear good blues every night. The scene is very different now.
What do you mean by "tail end of a great generation"?
In the 40s and 50s and 60s, there was kind of this golden era. At that time, there were more black people living in Chicago from Mississippi than there were in Mississippi. They brought that whole culture here. The first generation of artists, like Muddy Waters and Howlin' Wolf, were playing around here, and I met a lot of guys who played with them. Most of those guys are now dead or no longer active. Like Sam Lay, who was Howlin' Wolf's drummer. I used to play with him, and now he can no longer play drums. I got to tour, play and record with them, and they taught me so much. The blues are still there, but the way they played is no longer around, not in the same way.
As a young, 20-something Caucasian man, did you have problems getting into the scene at some of these historically black blues clubs?
Some people accepted me. Some didn't. But most did. If you go to a black club, people there know you're a musician. I just wanted a chance. A lot of people were really supportive, enough to get me started.
After a nearly decade hiatus from the blues scene in Chicago, how do you feel it has changed?
A lot of people have died. There are less places to play. But this music will never go away. People who love it are very loyal. My audience has been very loyal. Despite being gone for nearly 10 years, they didn't forget me. I didn't know what it would be like when I returned. But this music is tenacious, and it will find new ways to present itself.
Some of these bars that were historically bastions of the Chicago blues scene, like Kingston Mines, have arguably become tourist destinations, catering to an audience that wants to hear old hit songs rather than traditional blues. Do you see that?
The sort of soul blues scene, what I play and what made Chicago famous, isn't as strong as it was. There's a lot of talk about soul blues versus hard rock blues. Hard rock blues has sort of become more popular as of late. But a lot of artists in the area, they're not feeling it, because they want to hear something else. At least there's a scene out there, and there are new technological developments that have empowered artists.
What does the future of blues look like?
There's a great crop of musicians coming up, some in Europe in their 20s and 30s. It's a small, niche thing, but it's there. The dominant form is more hard rock blues these days. That type of music sells more records, but that's not what made Chicago great as a blues destination.
What about your sound? Has it changed?
Nope. It's still pretty much the same. It's a little better, because I'm more relaxed. When I was in my 20s, I was working to establish myself. There were a lot of doors to bang on and doors I needed to open. When I came back, I already had my reputation. I didn't have to build that up again. Now, I can just enjoy myself, and sing and play. My life is beginning at 40 for me. Now I can come back to my love affair.
Wondering which acts are worth checking out at this year's Chicago Blues Festival? Johnny shared some of his recommendations.
Lil' Ed
"Ed is one of my heroes. He's been around for a while, but he's truly in his prime. Everyone should work the way he works on stage. The music would be better. He just never stops. He's so intense. He's a link to real blues playing. Those guys are my friends, and he's just a super exciting performer."
Listen to Lil' Ed & The Blues Imperials perform Never Miss Your Water in the video below.
Omar Coleman
"Coleman is a harmonica player from the West Side. He just came out of nowhere, but he's very good."
Listen to Omar Coleman perform Cut You Loose (Acoustic) in the video below.
Cash Box Kings
"They're a powerhouse Midwestern band that came around while I was out of the scene. They're very good. They play the kind of music I like, and are a great example of refreshing, new talent."
Listen to Cash Box Kings perform Off the Hook in the video below.
Mississippi Gabe Carter
"Carter did some ingenious thing. He did a thing on YouTube where he's standing on this fire escape with the sun behind him. The way the video is filmed, you can't tell if he's white or black. It got a million hits. He's a solo guitar player and plays on the street a lot. He's my favorite pre-war style player right now."
Listen to Carter perform Black Woman in the audio player below.
Watch Chicago Tonight at 7:00 pm for more on Rockin' Johnny and Jimmy Burns.