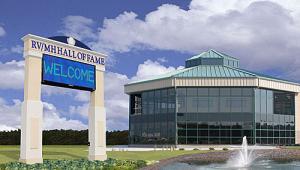 Elkhart, Indiana has long been known as the RV capital of the world. But when the bottom fell out of the RV market in 2008, unemployment in Elkhart soared to over 20 percent. Two years ago, Elkhart jumped on the electric vehicle bandwagon hoping to bring down those unemployment numbers. It lured Norway-based Think Auto to town with federal stimulus money, tax breaks and space in a former RV plant.
Elkhart Mayor Dick Moore says in return, Think promised over 400 well-paying jobs. The deal also included two all-electric Think cars for the city. Mayor Moore says the cars drive well, have good pickup and cost about $3 worth of electricity for every 100 miles.
"We're awfully happy that they've chosen Elkhart, Indiana to build these cars, and we understand they're in somewhat of a difficult situation right now, but our hopes are still high, our confidence is still there," said Moore.
The mayor may be the only one holding on to hope. Think autos are still visible through the window of the Elkhart plant, but there is no sign of any activity. Think filed for bankruptcy protection in Norway last year. A Russian investor just purchased Think at auction, but has not announced any plans for the ailing company.
Dorinda Heiden-Guss, president of the county's Economic Development Commission, admits that Think has been a major disappointment.
"Any time you get your hopes up, you look forward to 415 new jobs, significant multimillion dollar investment; it'd be a big win for the community, for the county, for the region. And obviously it didn't come to fruition so that was disappointing," said Heiden-Guss.
There were problems with the Think car from the start: three recalls for defective equipment; then the Indiana company producing the batteries for Think went bankrupt. And there was a deeper problem. With a sticker price of $41,000, the Think car found few buyers.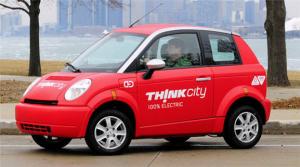 "Have you seen the Think car? That would be pretty hard to sell for people that buy cars in this country," said Bill Wylam, President of International Energy, LLC.
Known as the father of the electric car industry, Wylam, whose nickname is "Battery Bill," began working on electric vehicles for General Motors in the 1950s. He doesn't see the American car buyer warming up to a Think car.
"I mean, there are niches where people would want that kind of car, but it probably looks a lot more at home in downtown Brussels or Paris than it does in Indianapolis," Wylam said. "That type of car, I think, was a problem."
But the mayor, who still has hopes for a Think comeback, touts the car's advantages.
"It's not a toy, it's not a play thing, it is real," said Mayor Moore. "As you can tell, it operates very, very well. The steering is good, the breaking is good, and all of this operates with no gasoline, no bad exhaust emissions. It's all done on a battery."
Indiana has invested millions of state and federal dollars into creating an infrastructure for electric vehicles. Indianapolis has 100 short- and long-term public charging stations.
Paul Mitchell heads a consortium of clean tech energy companies that have pushed hard for more electric vehicles. But even he admits that developing a brand new car is tough.
"It's going to continue to be an uphill battle for somebody to build a car from the ground up in a global industry where there's major automakers who have years of experience and deep supply chains to advantage them," said Mitchell, President and CEO of Energy Systems Network.
Ironically, as the electric car industry struggles, the industry that has been largely responsible for the high 20 percent unemployment rate in the region has begun to revive. The RV industry picked up in sales and slowly began hiring again.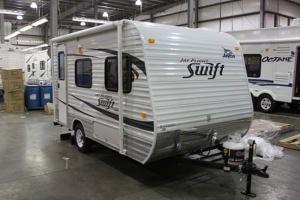 In Elkhart, Jayco has hired back 600 workers over the last two years. The company cut its workforce in half in 2009 as sales plunged 60 percent during the recession. But now, Jayco's largely Amish workforce is growing again.
Mark Raber got his job back and says he feels good about the economy.
"I think I'm optimistic about it. Looking at the other factories in the RV industry, other guys are working six days a week, and definitely, even a year ago, we were nowhere close," said Raber. "I know the unemployment rate is higher than it's been but I think we're going to be OK."
Jayco now has a new, lighter RV designed to use less gas, which Jayco President Derald Bontrager thinks will continue to boost sales, even if gas prices remain high.
Jayco is on target to sell 31,000 RVs this year; only 4,000 less than its peak sales before the recession hit. Bontrager understands how important Jayco's recovery is to the surrounding economy.
"We have a huge impact on this economy," he said. "I hear it all the time, walking the streets and in stores they ask, 'How you doing?' Because they always say how you're doing has a big bearing on how all the other retail establishments in the area are doing."
Mayor Moore still looks to electric vehicles and other clean energy technologies to boost job creation in the future.
But for now, he says: "I need immediate quick recovery and it's right here. Don't turn your back on the RV industry. They know what they're doing. They have been through this cycle many, many times. Watch and see what happens."
So, for now, the hottest vehicle in Indiana is not from the future; it's from the past.