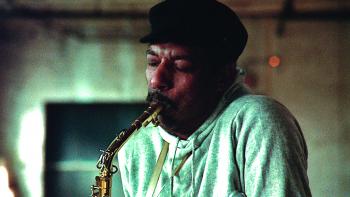 When Stony Island was released in 1978, it was one of the first movies to showcase Chicago, let alone the less than glamorous South Side.
The movie about a rhythm and blues band trying to get their big break was director Andy Davis' debut. Now famous for his other films set in Chicago, including The Fugitive, Davis joins us on Chicago Tonight at 7:00 pm to talk about his tribute to South Chicago. The movie will be screened this week at the Siskel Film Center and will be released on DVD for the first time later this month.
Accomplished R&B musician and producer Gene Barge starred in the movie as a seasoned sax player helping to put the band together. Barge moved to Chicago in 1964 after a string of hits, including the number-one song "Quarter to Three" for Gary U.S. Bonds.
"I lived in a hotel called The Strand on the corner of 63rd and Cottage," a few blocks away from Stony Island Avenue on the South Side, Barge said. "Stony was a hub of recreation and business from Hyde Park to 95th Street. Stony Island sort of was the link between several neighborhoods. It was an artery through the South Side."
Barge moved to Chicago to become an "A & R man," or artists and repertoire supervisor in charge of recording sessions, for Chess Records. At the time, the South Side "was alive with music," Barge said, as clubs tried to feature live music every night to attract dancers. At Chess, Barge produced for Muddy Waters and Natalie Cole.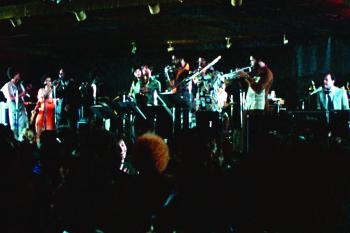 It was that R&B music that Andy Davis wanted to capture in Stony Island.  Davis co-wrote the movie with Tamar Hoffs, who also grew up on the South Side. Davis and Hoffs both had younger brothers passionate about rhythm and blues (Richie Davis stars in the movie as the band's guitar player.) 
With a script ready, Davis and Hoffs needed to find talented musicians to make up the band, and through mutual friends got in touch with Barge. 
"I didn't know anything about it. I didn't have a clue," Barge said. "But then again, most of the people in the cast hadn't been in a movie before either."
Barge brought talented session musicians with him to staff up the Stony Island Band. And it was up to the band to write over a dozen original songs for the film. 
"The whole idea was to create, not to use a lot of Motown songs," Barge said. "It was a new band trying to find its way into the big time. If I'm sitting at Chess Records, I'm not looking for someone to do what Curtis Mayfield does, but to play a new song that reflects what he's all about."
Scenes of the band genuinely rehearsing made their way into the film. 
"We rehearsed right in front of the cameras," Barge said. "The actual plan in Andy's mind was to show this band being shaped and going through the growing pains. They wanted to make it look like a real band."
Visit the Audio Attachments below to hear some of the songs Barge worked on for Stony Island.