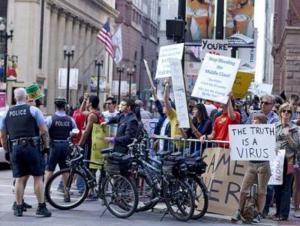 The protester has become a significant symbol in America, with Time magazine naming "The Protester" its 2011 person of the year. And "the protester" is coming to Chicago in May for the NATO summits—but in the thousands. The White House's decision to move the G-8 summit to Maryland's Camp David didn't stifle protesters; they called it a victory.
According to The Coalition Against NATO/G-8 War & Poverty Agenda's (CANG8) website, the group is protesting the NATO summit to "give people a place to have their voices be heard and to share a vision of what the world could be when people are put before profit; when money goes to jobs, healthcare, education, pensions, housing and the environment, not war; when we say no to war and austerity."
Though groups like CANG8 received city permits to protest on May 19th, they reapplied to protest on the 20th—the day of the NATO summit. But the city of Chicago denied a new, identical permit application for just one day later, citing a lack of police resources and heightened security.
The Chicago Department of Transportation said the protest would "substantially and unnecessarily interfere with traffic" if it were held on that Sunday, according to the Chicago Sun-Times. Concerns loom if the First Amendment rights of protesters are being violated, with "Chicago's Protest King" Andy Thayer crying foul over the new decision. Planning has been underway since August 2011.
Mayor Rahm Emanuel has pledged that protesters' First Amendment rights would not be violated, but said he has rights, too.
The mayor, in an effort to maintain order, proposed poorly received ordinances in an attempt to thwart protests, which included soaring fines. Critics said the proposed ordinances violated the Bill of Rights, and the city quickly revised the plan. But Emanuel is still taking steps to prepare for protesters: he bought Chicago police more than $190,000 worth of protective gear at the request of the Fraternal Order of Police.
The problem, the Washington Post reports, is that no one knows how many protesters there will be or how long the demonstrations will last.
Chicago is no stranger to controversy underpinning protests. In February, the city settled for $6.2 million in a class-action lawsuit, which claimed Chicago police unlawfully arrested more than 700 protesters during the 2003 Iraq war demonstration. In 1968, Chicago saw protests at the Democratic National Convention, and more than 2,000 rioters were arrested.