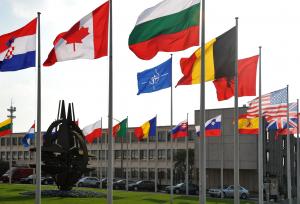 On May 20 to 22, 2012, President Barack Obama will welcome leaders from NATO's 28 member states to his hometown of Chicago for a high-level meeting on international security, economics, and other pressing 21st century concerns. For President Obama, hosting NATO is an opportunity to reclaim his diplomatic gravitas before his re-election campaign. This is the first NATO meeting to take place in the U.S. since 1999, when world leaders from North America and Europe met in Washington D.C.
In many ways, the alliance faces a strategic turning point and must decide on its most important priorities for the coming years. The global economic crisis looms large at this year's meeting: currently, members of NATO constitute over 70 percent of the world's defense spending, but this could change as countries with struggling economies re-assess their military ambitions.
The idea of "smart defense" – in which members of NATO pool their resources and coordinate their efforts to meet collective security concerns – will likely play a major role in any discussions on defense. NATO's intervention in Libya last year, which led to the toppling of Col. Moammar Gadhafi, is the most striking example of the new smart defense paradigm.
Recently, Afghan President Hamid Karzai expressed increasing frustration with the final stage of the war, speaking out on the destabilizing impact of U.S. night raids and the presence of troops in rural villages, which he says is unnecessary at this point in the war. He's also hinted that he wants an accelerated withdrawal of U.S. and NATO troops. But after a phone conversation on March 16, both President Obama and President Karzai have reaffirmed their commitment to the official withdrawal timetable, with U.S. troops exiting Afghanistan by the end of 2014 and direct U.S. combat operations ending in mid-2013. The specifics of withdrawal will be discussed in-depth at this year's NATO summit, which President Karzai will attend; though it's unclear how central Karzai will be in strategic conversations on NATO's pull-out from his country.
Newly inaugurated French President Francois Hollande is also expected to voice dissent over the war in Afghanistan at the summit. The Socialist ran for president on a platform of pulling French combat troops out of the conflict by the end of 2012, a date that's significantly earlier than NATO's planned withdrawal by the end of 2014.
As of May 17, one additional dignitary was added to the guest list for the summit: Pakistan President Asif Ali Zardar. The president was invited only after he agreed to end Pakistan's six month blockade of supplies intended for NATO troops in Afghanistan – a move the country made after a U.S. airstrike killed 24 Pakistani soldiers. The Obama administration called the airstrike "regrettable" but refused to apologize for the attack, or put an end to its drone campaign within Pakistani borders.
Other topics that loom large in 2012 include how to maintain favorable relations with Russia after Vladimir Putin's re-election as president, and how best to guard against cyber attacks in a new age of digital warfare.