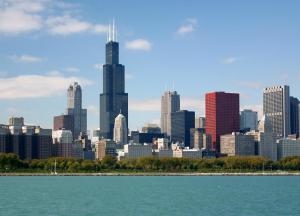 Leaders from around the world will gather in Chicago for the May NATO Summit. Mayor Rahm Emanuel is touting the meeting as an "opportunity of economic exposure and economic energy."
But, the economic impact of hosting the NATO summit in Chicago may not be known for some time. The initial price tag for both summits (when the G-8 was still included) varied between $40 and $65 million. The city's host committee raised over $36 million from private companies and and has $19 million in federal grants--a combined $55.5 million that the city insists will cover the entire NATO bill.
But as of February, according to the Chicago Reader, Chicago has not yet received federal dollars to cover the event. Last fall, the city applied for $7.5 million in funding, but the grant never came through. City officials say they are confident that Chicago will receive the bulk of available "National Special Security Event" money this year. But what the amount will be and what it will cover will not be known until after the meetings.
In September 2011, Chicago was awarded a $54.6 million federal grant to fund security and emergency planning. The city, county and state agencies jointly applied for the grant, which was awarded by the U.S. Department of Homeland Security under its Urban Areas Security Initiative.
So far, the city has spent about $1 million on new face sheilds for police officers in a no-bid contract paid for with a federal grant.
Despite this, the Chicago Reader reports that this grant isn't designated specifically for the NATO summit.
The summit costs will also be defrayed by private donations, and Mayor Emanuel has created a committee to raise money from the business community. The committee is headed by John Bryan, former Sara Lee CEO, and Anne Olaimey, Emanuel's political fundraiser.
The mayor has handed many of the hosting duties for the summits to World Business Chicago. Funded in part with taxpayer money, WBC controls the host committee and will be in charge of raising private donations to pay for some portion of the summit costs.
Lori Healey, executive director of the Chicago NATO host committee, said they will disclose summit donors sometime this year, but how much individuals contributed will not be disclosed until a year after the summit.
Business leaders say they hope the NATO summits in Chicago are a chance to showcase the city as a global commercial center, political player and tourism draw. But they are also concerned about the potential business loss due to street closings, security and protests.
Businesses are taking precautions should trouble develop when protesters hit the streets. Board-up companies have heard from these concerned shop owners. Businesses want to operate normally but don't want to get caught flat-footed if demonstrations spiral into property damage, according to director of operations at a board-up and glass company.
Some have asked for a hair-trigger response, wanting precut window framing and plywood stored at their businesses — along with a worker in their building throughout the summit weekend who could put up boards in a snap.
Other smaller businesses have decided close their stores and board them up before the summit.
Despite economic concerns, city officials insist the events will be a net gain for Chicago's economy.