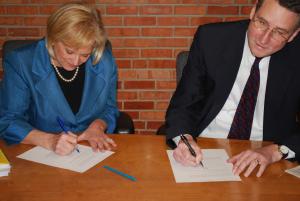 The candidates for Illinois Supreme Court Justice were left in the dark at Tuesday afternoon's candidate forum—not because they weren't prepared with ammunition against each other, but because an actual power outage during the web-exclusive taping halted production.
The pitch black studio was barely visible while Chicago Tonight host Elizabeth Brackett and producer Alex Silets exchanged laughs with the candidates: Mary Jane Theis, Aurelia Marie Pucinski, Joy Virginia Cunningham, and Thomas Flannigan.
All four were handling themselves quite while under the palpable pressure of a candidate forum, not to mention the now infamous WTTW Blackout of 2012. (Too soon?)
Fortunately, after about 25 minutes, the power was restored and Elizabeth and the candidates were able to pick up where they left off.
But before that all went down, the candidates arrived at WTTW.
Flannigan arrived first—alone—at around 3:00 pm, and Pucinski arrived shortly thereafter accompanied by her daughter, Rebecca Kiethley, and her press person, George Bogdanich.
Pucinski was notably bubbly. Wearing a cast on her left foot, she explained that she slipped during Christmas and broke a metatarsal, and joked about how people think she's taller on TV. Flannigan proved to be more reserved.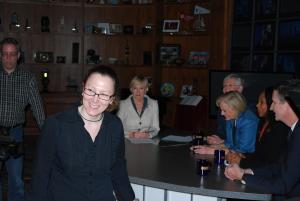 In a conversation before the taping, both Pucinski and Flannigan stressed the impact the Supreme Court has on people's lives, and Pucinski in particular explained that this campaign has a few "peculiar issues." Those issues are, according to Pucinski, campaign financing, the influence of significant endorsements, and the fairness of the system.
Pucinski and Flannigan were brought down to the makeup room.
Incumbent Mary Jane Theis arrived next, at about 3:45 pm with staff members Terrie Pickerill and Brendan O'Sullivan. Joy Virginia Cunningham arrived shortly thereafter with her press person, Kathy Posner.
An open, creased piece of paper belonging to a candidate said, "Maintain eye contact with Elizabeth Brackett" and "Always repeat the question, even if it is as simple as 'what did you have for breakfast?'"
The first half of the taping for broadcast went smoothly without a hitch, and Brackett's dogged questions didn't faze the candidates.
But it was the power outage that may have shifted the tone, particularly with Theis and Pucinski. The two went back and forth over Theis not recusing herself in the decision about Rahm Emanuel's residency during last year's mayoral campaign. Theis is Emanuel's neighbor.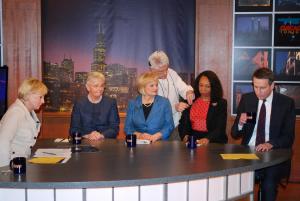 Theis, the incumbent, said any allegations of corruption undermine confidence in the court system. This was an apparent retort to Pucinski bringing up a Crain's Chicago Business article, and saying "having [a] famous neighbor means bragging rights."
Theis sat back, noticeably disturbed.
Visit the image gallery below to see behind-the-scenes photos.
Click here to watch the candidates' discussion from our show. Click here to visit Chicago Tonight's Illinois Supreme Court page.