Even in a down economy with unemployment here hovering around 10 percent, Central Illinois-based Excel Foundry & Machine has a problem: it has jobs it can't fill. 
Located in Pekin, Illinois, about 20 miles outside of Peoria, Excel manufactures after-market parts for open pit mining equipment. 
With a workforce of about 300, the niche manufacturing company currently has 50 openings, most of which are high-skilled, high-tech manufacturing jobs.
"The ability for us to go out and find an employee with the skill set we need and plug them right in to our workforce just doesn't exist," said Doug Parsons, Excel's president and CEO.
The entire industry is struggling with the same problem. 
According to the Bureau of Labor Statistics, job openings in manufacturing grew from 98,000 in January 2009 to a projected 264,000 in December of 2011—an increase of over 169 percent. At the same time, hiring has only increased 62 percent.
Dennis Vicchiarelli is the managing director of World Business Chicago, a nonprofit focused on bringing manufacturing and other high-tech companies to the city. He says the gap is due in part to the changing nature of manufacturing itself, which is still perceived as dirty, tedious and backbreaking.
"It's not manufacturing in the sense of what we would have witnessed maybe 20 or 30 years ago," Vicchiarelli said. "It's a lot of advanced manufacturing, meaning that these are highly automated, computerized facilities and requiring a very, very skilled individual who can work in these facilities. So it's a little different."
Experts say a shift away from traditional shop classes, vocational training and apprenticeships has left students without a clear picture about what a career in manufacturing would look like.
With automation and outsourcing to other countries, the demand for less skilled jobs in American factories has diminished. And with an aging workforce looking to retire, manufacturing is seeing a deficit of workers who can fill jobs that require higher technical and computer aptitudes. 
"You've got kind of a workforce that's aging now, you've got a disinterested younger generation and then you've got what's left in the middle and that's not enough to fill the need," Parsons said.
The problem is compounded for companies like Excel that are taking advantage of opportunities in niche manufacturing and prospering. The company has seen its sales increase from $15 million to $100 million over the last nine years.
In fact, they're doing so well, they're in the midst of a $15 million expansion.
With that expansion, Excel Foundry expects to create about 100 new jobs over the next two years. But with an already exhausted pool of skilled workers, the company is looking to educational partners to help manufacture a workforce.
 
Part of the solution may be at Illinois Central College, less than 20 miles from Excel, where students are learning the basics of welding.
But now, the college is also in the business of training machinists and welders for specific jobs at area companies, like Excel and Caterpillar, who have found new hires; many of whom have the drive, but not the skills, to hit the ground running.
"It's a real basic program," said Michael Sloan, dean of agricultural and industrial technologies at the college. "Just blueprint reading, traditional machining and [computer numerically controlled] CNC operation, and we can train somebody in that program in about six weeks."
Since 2005, the college has trained 400 CNC machine operators for Peoria-based Caterpillar, and it just recently trained its first class for Excel.
Austin McClanahan was one of six employees in that class.
"Well, I really didn't know what I wanted to do when I first got out of high school, but one my teachers, one of my welding teachers mentioned this and I came out here applied and got the job," McClanahan said. "And I've been loving it ever since."
Once he was hired as a CNC operator, Excel sent him back to school to pick up the skills he needed.
"It was a lot of one-on-one," McClanahan said. "And it helped a lot in everything I do."
The partnership helps Excel by cutting down on their employee training costs. Instead of spending thousands in on-the-job instruction, the college program costs Excel about $650 per student with state funding picking up the remaining $350.
It's the kind of model the Obama administration has endorsed. 
Last month, the president announced a new $8 billion program to bolster partnerships between community colleges and businesses.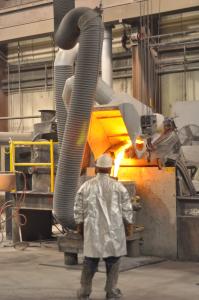 The goal is to train two million workers for jobs in high-growth and high-demand industries, including advanced manufacturing.
"We also need to give more community colleges the resources they need to become community career centers, places where folks can learn the skills that local businesses are looking for right now, from data management to high-tech manufacturing," Obama said.
Chicago's Mayor Rahm Emanuel recently pledged nearly a half billion dollars in capital investment to upgrade Chicago's City College system, and is implementing a program to close the skills gaps in other industries, like healthcare and transportation where specialized workers are also in demand.
"You have people looking for jobs. You have employers looking for skilled workers. And the only thing that can link them up is the educational system," Emanuel said.
But in addition to that link, Illinois Central College Dean Sloan says there has to be interest from students.
"But people are afraid to think about a manufacturing career because they think 'why would I want to go into a career that's short-lived?' But that's a fallacy," Sloan said. "That's not true."
He says CNC machining classes are nearly empty despite the demand for workers.
"I have a lot of enrollment in culinary arts," he said. "Whereas CNC operators are one of our high-demand areas. We have 200 openings just within the Peoria area."
The key, say some experts, is a sustained effort at making manufacturing careers more attractive.
"There's sort of been attention given to manufacturing over the years but it kind of happens in fits and starts," Vicchiarelli said. "It hasn't been a consistent long-term approach that you really need if you're gonna make some of the large scale changes, cultural changes. You know those aren't gonna happen overnight."
Excel CEO Parsons agrees. With U.S. manufacturers taking the lead in niche sectors that require technically demanding, specialized production, experts say the industry is redefining its economic viability.
The training initiative, Parsons says, is the first step in revitalizing interest at the most basic level.
"I think we need to get to the homes and educate parents who still have that stigma that it's that dead-end job, it's dirty, it's for losers," he said. "It's not. It's really kind of the future."
It's a future McClanahan buys into. He says machining has given him an opportunity to work with his hands and earn a good living. The starting salary is about $40,000 a year—but more importantly, he's developing a skill set that's in high demand.
For a behind-the-scenes look at how this story was produced, click here.