It's not often you see a letter by George Washington, a limited edition Barbie doll and Groucho Marx's autograph as part of the same exhibit. But that's exactly what's on display as Northwestern University opens its library archives to the public.
"Because we're a library and not a museum, many of our most treasured materials are stored away where people can't see them," said University Library staffer Nina Barrett, who created the exhibit, in a press release. "This is a way to showcase what makes the library such a rich, exciting intellectual resource."
Few of the pieces have come through the same channels. The letter by George Washington is part of a complete collection of presidential and vice presidential signatures (through Richard Nixon and Spiro Agnew) donated to Northwestern's archives by a Chicago financier.
The Barbie doll--decked out in a Northwestern Wildcats cheerleader outfit--was part of a line of college cheerleader Barbies put out by Mattel. The one on display was bought by a Northwestern library staffer for her daughter, and then donated to the archives.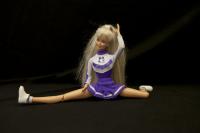 And the letter from Marx was written to Northwestern English professor Bergen Evans, host of the primetime TV game show, Down You Go: a Hangman-knockoff. Marx appeared on the show as a celebrity contestant and the two struck up a friendship. There are 13 letters from Marx to Evans in the library's collection.
Check our photo gallery below for more infomation on these pieces and others in the exhibit, along with the exhibit's placard descriptions.
The exhibit, which is free and runs through March 15, is on view at the Northwestern University Library on its Evanston campus. The library is open to the public 8:30 am to 9:00 pm Monday through Friday, and 8:30 am to 5:00 pm on Saturdays.