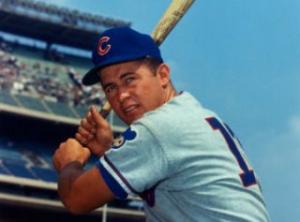 A year after his death, Ron Santo finally makes it into the Baseball Hall of Fame. We have reaction on Chicago Tonight at 7:00 pm.
On Monday, it was announced that Santo, a nine-time All-Star who amassed 342 home runs and five Gold Glove awards, has been elected to the National Baseball Hall of Fame by the Golden Era Committee.
Santo was the lone candidate to garner the necessary 75 percent of votes cast by the 16-member Committee, which considered a ballot of eight former players and two executives whose contributions to the game were most significant from 1947-1972.
The Golden Era Committee held meetings on Sunday in Dallas, the site of the baseball winter meetings.
Santo becomes the 12th major league third baseman to be elected to the Baseball Hall of Fame, and the first elected at the position since Wade Boggs in 2005.
There are now 15 third basemen in the Hall of Fame, including three selections from the Negro leagues.
In 15 major league seasons, Santo compiled a .277 lifetime batting average, with 2,254 hits in 2,243 games, while totaling 1,331 runs batted in and 365 doubles.
Santo, who passed away on Dec. 3, 2010, will be joined in the Hall of Fame Class of 2012 by any electees who emerge from the Baseball Writers' Association of America voting, which will be announced on Monday, January 9.
What are your thoughts on Ron Santo's election into the Baseball Hall of Fame? Post your comments below or sound off on our discussion board!
To read Monday's full announcement and for more information, please visit the PDF and links below.