The video cannot be displayed.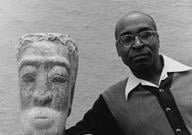 Rare sculptures, lost and found. We hear about Marion Perkins, a talented Chicago artist whose career was cut short, on Chicago Tonight at 7:00 pm.
Marion Perkins was born in Arkansas in 1908. He was sent to Chicago at age 8. Forced to drop out of high school to begin work, he labored for the rest of his life as a dishwasher, a postal clerk, and as a freight handler.
During the 1930s, he began to carve as an artistic "pastime," and with some sculpture classes, became recognized as an artist with immense talent.
Perkins was unable to devote 100 percent of his time to his art as a sculptor. Yet, despite this, he became one of the most important visual artists in the Chicago Renaissance. His work was featured in the 1940 American Negro Exposition.
In the 1950s, Marion Perkins was one of Chicago's foremost sculptors. He participated in nearly one dozen invitational exhibitions at the Art Institute of Chicago from 1942 to 1957, and received three awards of distinction.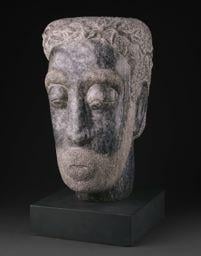 His career was capped by the museum's 1951 purchase of one of his most extraordinary pieces, Man of Sorrows. The sculpture is indeed powerful, but its emotional intensity is not achieved through brute force of carving or any "primitivizing" influence. Rather, it succeeds through its brilliant balance of exaggeration and restraint. Its sheer physical presence is conveyed through the impressive bulk of the marble block—often scavenged from abandoned buildings.
 The head's simplified, protruding eyes are shut tight; the pursed lips are both hidden and defined by a short stubby beard; the hair is veined with smoothly carved thorns. Christ's contained expression of agony is arresting.
Marion Perkins' career was short; it did not begin until he was over 30, and he died in 1961 at age 53. Yet he combined, as few others have, a unique artistic vantage point with a fierce dedication to social justice.
In 1959, he was one of the founders of the National Conference of Negro Artists, and gave the keynote address to its first convention, on "Problems of the Black Artist."
Art historian Daniel Schulman wrote that "Perkins' work…is remarkably beautiful, emotionally authentic, and politically impassioned…A reconsideration of his valuable, but largely unknown, legacy is long overdue."
For more information on Marion Perkins and his work, please visit the links below.