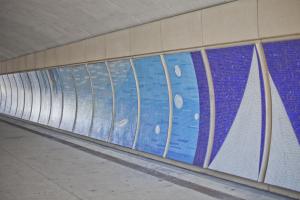 We meet the man behind the volunteer organization that beautifies the darkest areas of Chicago, on Chicago Tonight at 7:00 pm.
On your commute every morning, perhaps you pass one of several mosaic murals on an underpass before turning onto Lake Shore Drive. On weekends, maybe your children scamper along an artfully painted play structure: part sculpture, part playground. Ever wondered how they got there? Wonder no more – the Chicago Public Art Group has been transforming public spaces with collaborative community artwork for more than 30 years.
Since 1971, CPAG has produced hundreds of neighborhood public art projects in Chicago. Originally formed as the Chicago Mural Group, the founders of the project sought to "establish creative partnerships between artists and communities in an effort to transform and enhance the lives of residents in urban Chicago neighborhoods," according to their mission statement.
Now, the group consists of 20 core artists who oversee development and artist collaboration. Since their beginnings as muralists, their works have expanded to include landscape design, mosaics, sculpture, as well as artistic outreach symposiums and workshops. CPAG continues to partner with a variety of community groups, including churches, schools, and social service agencies to train artists, educate communities and produce quality artwork.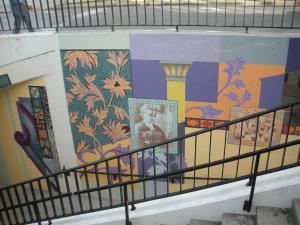 Jon Pounds, Executive Director of the Chicago Public Art Group, joined the group in 1983. His early work involved creating temporary street installations and evolved over time to incorporate playgrounds, sculptures and murals into his projects. Bringing to the group a keen eye for organization, Pounds became the Director of CPAG in 1989. Under his leadership, the group has become more responsive to addressing specific community needs.
Pounds is also well-known outside of Chicago for his workshop presentations on public art and community design, having traveled to San Francisco, New Orleans, Boston and Cleveland to share his expertise. He has also acted as consultant for several mural organizations on the east coast, and received the 2001 Chicago Community Trust Community Service Fellowship.
One of Pounds' most notable projects is the Water Marks mosaic installation at Navy Pier in Chicago, for which he acted both as project sculptor and general manager, a $330,000 project that took four years to complete.
View the map below to find out current and past project locations.
For more information, view the links and photo gallery below.