The video cannot be displayed.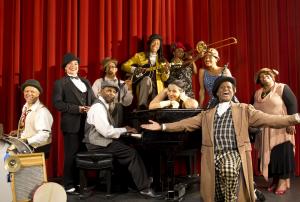 A largely forgotten chapter in American entertainment comes back to life this weekend when a musical revue about Black Vaudeville hits the stage. We have a live performance in our studio on Chicago Tonight at 7:00 pm.
The Old Town School of Folk Music will make its first foray into the world of theatre with its commission of the World Premiere of Keep a Song in Your Soul: The Black Roots of Vaudeville.
Set in the Great Migration era of 1910–1930, the show tells the story of a young woman who is lured from the rural South by the promise of a better life in a northern city, followed by her devoted boyfriend. There, the two encounter further challenges, finding the realities behind the city's false gleam.
The show is developed by the Grammy Award-winning Carolina Chocolate Drops, MacArthur Foundation "Genius" Award honoree Reginald R. Robinson, best known for his performances of Ragtime era music, and legendary Chicago tap icon Reggio "The Hoofer" McLaughlin, all of whom will perform in the show.
Learn more about Black Vaudeville and watch a performance in the following video:
Featuring more than 20 historic songs written and performed by African Americans between 1830–1930 on the Chitlin' Circuit, as well as original music and new arrangements of the classic songs by the creative team, the production explores Vaudeville's black heritage through music and dance to reclaim the spirit and substance of this rich taproot of American entertainment.
"'Keep a Song in Your Soul' is the perfect work for the Old Town School of Folk Music's first theatrical piece," said Executive Director Bau Graves. "The show mines a treasure trove of songs from the vaudeville era to paint a vivid, sometimes unsettling portrait of the lives of African-Americans at the time, while also telling a compelling story through music and dance. The music is at times hilarious and uplifting, and alternatively troubling and very emotional. I am confident that audiences will find it to be a fascinating, moving and ultimately inspiring exploration of a musical heritage and an era that is abundantly deserving of greater attention."
The production will be staged Nov. 3-6 in Old Town School's Gary and Laura Maurer Concert Hall at 4544 N. Lincoln Ave. There will be an open forum Q&A with the cast of Vaudeville immediately following each performance with a different guest moderator each night.
For more information and to purchase tickets, visit the links below.