The video cannot be displayed.
A rich collection of Chicago art is on display at a suburban library. Meet curator Suellen Rocca, an accomplished painter who helped shake up the art world in the 1960s, on Chicago Tonight at 7:00 pm.
At the heart of the Elmhurst College Art Collection is an extraordinary collection of works by Chicago Imagist and Abstractionist artists.
Focusing on artists working in Chicago between about 1950 and the present, the collection displays a broad range of artistic ideas and influences. Elmhurst's collection dates to 1971, when the College received federal funding to purchase art for the newly built A.C. Buehler Library. With the goal of buying art that had a particular meaning, the College focused its collecting on the works of a group of emerging and affordable Chicago artists—a group that would later be known as the Chicago Imagists.
Over the years, the College has added many more works to the collection, thanks to matching grants from the Illinois Arts Council, bequests from artists, and generous donors. Today, the College's professional collection comprises more than 100 works of art, including many important works by major Imagists and Abstractionists.
Check out a few of the images and descriptions (written by Curator Suellen Rocca) below.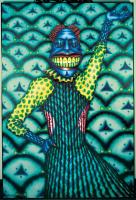 Ed Paschke (American, 1939 – 2004)
Cobmaster, 1975, 0il on canvas, 74" x 50"
Purchased in 1976 with a matching grant from the Illinois Arts Council's Partners in Purchase Program.
Ed Paschke was fascinated by the underbelly of society. As a young man he sought out situations that would expose him to the elements of society most of us are curious about but do not wish to experience directly. He frequented nightclubs and made paintings of strippers, pimps and prostitutes. Additionally, the worlds of wrestling and carnival sideshows provided inspiration for his work
Never literal in his approach, Paschke often translated what he saw by creating composite images. In the tradition of Surrealism which juxtaposes unlikely objects to create disturbing new meanings, Paschke admits to be captivated by "incongruous things that would have shock value."
Cobmaster is a performer, part male, part female whose oversized grin, braided hair and sunglasses suggest racial stereotypes but whose brilliantly colored blue face immediately mocks those very stereotypes. Wearing a highly patterned costume and ruffled clown collar perhaps a metaphor for the masquerade of role playing, Cobmaster is set against a psychedelic like background. In this outrageous, disquieting painting Paschke acting as a social critic powerfully confronts our assumptions about gender, sexual identity and race.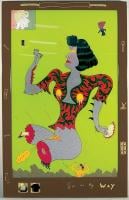 Jim Nutt
Toot Toot Woo Woo, 1970, acrylic/wood/Plexiglas, 46 ½" x 30"
Included in the 2011 Jim Nutt exhibition Coming into Character at the MCA, and represented the United States in the 1971 Venice Biennale.
Jim Nutt's Toot Toot Woo Woo from 1970 is painted on the reverse side of plexi-glass. In doing so, he revives the tradition of reverse painting on glass that dates back to the icons of the Byzantine Empire and was widely popular as folk art in 19th century Austria and Bohemia. The content of his painting contains elements of sexuality and violence depicted a la comic book style with humor, albeit dark humor. As we examine the drama that is Toot Toot Woo Woo we observe a dominatrix-type female with her legs and flesh torn away, floating above a small, helpless looking male adrift in a flow of wave-like forms who proudly proclaims "I'm on my way."
The title Toot Toot Woo Woo, a phase commonly used by children to imitate the sound of a train whistle may be a reference to the thrill of being 'on my way'. The disturbing nature of this painting has two surprising aspects, the first is its humorous comic-like presentation and the second is its exacting precise craftsmanship.
Everything about the way this painting is made from the reverse plexi-glass technique to the carefully painted images and instructions on the back of the painting demonstrate an extreme fondness for craftsmanship. The reverse plexi-glass technique requires that the entire painting be carefully planned to the last detail before the artist ever lifts his brush. The process does not allow for a single error or change. What is normally painted last is painted first and so forth. When completed the plexi-glass provides a perfectly smooth shiny surface for the image. Furthermore, the frame is not an afterthought but an integral part of the painting and is dotted with painted and collaged images.
The contrast between the content and the craft in Nutt's work creates an irresistible tension. It draws the viewer in and makes him wonder how content which is so banal, even scatological can also be so beautiful. It is incongruous how the subject which is so aggressive can be so exquisitely rendered.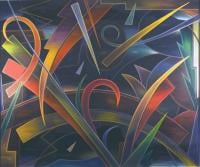 William Conger (American, born 1937)
South Beach, 1985, 0il on canvas, 60" x 72"
Illinois Arts Council's Partners in Purchase Program in 1986
William Conger along with Frank Piatek, Miyoko Ito and Richard Loving (all represented in the Elmhurst College Art Collection) were members of the group 'Allusive Abstractionists' who were known for their interest in abstraction as metaphor.
Bursting with energy and luminous color South Beach uses the language of abstraction to evoke the memory of place. Conger's titles (Diversey, Fullerton, Webster Bridge) hint at his personal connections to places in and around Chicago. In particular Lake Michigan has held a fascination for Conger.
South Beach, located along Lake Michigan in Evanston, just outside Chicago holds great significance for Conger. As a child, in the early 1940's Conger lived directly across from the beach and enjoyed many happy days at the lakeshore with friends and family. In 1985, the year Conger made this painting, he began his academic career at Northwestern where his office and painting studios overlooked both South Beach and his childhood home. According to the artist this painting commemorates those experiences by abstractly expressing the reverie and excitement he felt at the time.
In South Beach a shimmering body of water is glimpsed behind a dynamic foreground filled with a dazzling array of jagged and curved shapes suggestive of lightning bolts and tall prairie grasses. The painting is filled with a sense of explosive joy.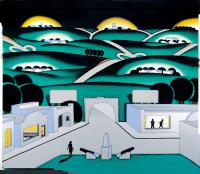 Roger Brown (American, 1941- 1997)
See Seven Cities, 1971, Oil on Canvas, 47 ½" x 59 ¼"
Received in 1976 from the estate of Dr. Ralph Klein, class of 1949
Chicago Imagist, Roger Brown often recounted memories from his childhood in Alabama. He described traveling by car late at night after visiting relatives and seeing the glow of the lights from the numerous small towns they passed. Perhaps these early memories were an inspiration for the painting, See Seven Cities.
As an adult, Brown continued his travels taking cross-country road trips around the United States. In the spirit of American artist, Edward Hopper whom he greatly admired, Brown's long road trips provided a wealth of visual inspiration for his paintings. Brown developed a personal vocabulary of schematized forms to represent both the rural and urban landscape that was influenced by his appreciation for the works of 'self-taught artists'. Brown's interest in popular culture is evident in the highly simplified cartoon like forms and mini-sized silhouetted figures in his paintings.
See Seven Cities transports us far beyond memory and experience into a disturbingly dream-like space. Brown creates an extraordinarily, mysterious scene composed of a hauntingly, empty town square in which a drama is acted out. A few silhouetted figures inhabit this enigmatic scene: a disputatious couple viewed through a large picture window and a lone female confronting a canon. Brown paints a tunnel leading from the town square to the green and glowing seven cities landscape to offer escape from this eerily dangerous place.
Sandra Jorgensen, longtime Chairperson of the Art Department, Professor of Art and artist in her own right was curator of the art collection from the 1970's through 1990's. Her connoisseurship and vision was critical to the development of this remarkable collection. Sandra passed away in 1999 after taking early retirement in order to focus on her own artwork.
The art collection is housed in the A.C. Buehler Library on the Elmhurst campus, where it inspires and enriches the College community, the Chicago arts community, and the general public. The exhibit is open free of charge during regular library hours. For exhibit hours and information about guided tours, please contact the Library at (630) 617-3160. For more information, please visit the links below.