The video cannot be displayed.
We meet two hardworking Chicago artists as they prepare for their moment in the spotlight as part of Chicago Artists Month. We get a preview of free open houses and studio walks on Chicago Tonight at 7:00 pm.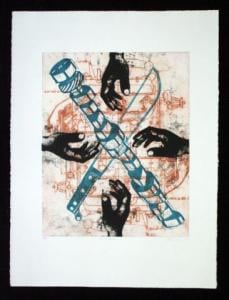 Throughout October, Chicago Artists Month invites you to explore the work of hundreds of artists as they conduct workshops, tours, and neighborhood art walks, as well as display their artwork in exhibitions across the city. Chicago Artists Month also showcases the work of a small group of visual artists whose talent and creativity particularly represent the spirit of the Chicago art community.
This year's theme, Artful Networks, is focused on the idea of artistic community – that working relationships between artists and others inspires creativity and fosters artistic growth. These communities also create networks of dialogue and support.
Two of this year's featured artists are Thomas Lucas, a master printmaker, and Christine Simpson Forni, whose primary medium is metal.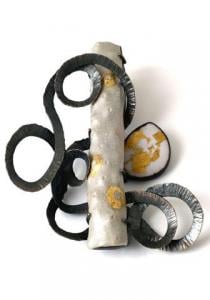 Lucas also works in paint, drawing and ceramics. But for all his art, he finds inspiration in art history, and in the connection forged between objects and people through art. For him, printmaking is about collaboration – between artist and printer, and the community.
"I started pulling prints for artists when I was an undergrad," said Lucas. "Initially, I was all about getting the printing experience, but then it was more about the spirit of collaboration. Creating a new relationship is what it's all about for me."
Lucas received his MFA from The School of the Art Institute of Chicago and a BFA in Printmaking from Tyler School of Art, Temple University in Philadelphia, Pennsylvania. Lucas has extensive teaching experience and was formerly the Visual Arts Chair at The Chicago Academy for the Arts. Now, he is the Director of Printmaking at Lillstreet Art Center.
Simpson Forni's work, on the other hand, is meant to represent conversations with nature. Though her wearable art, she seeks to raise awareness about the damage coral suffers from pollution and overharvesting for jewelry.
"I enjoy drawing, painting, sculpture, printmaking and photography," said Simpson Forni. "But I love the engineering and intellectual challenges of metalsmithing and making jewelry. I enjoy the sound and power of the hammer hitting the anvil."
Simpson Forni received her BFA in 1989 from Iowa State University. She has taught at Loyola University, the Highland Park Arts Center, The Oriental Institute, and also the Lillstreet Art Center.
Chicago Artists Month is presented by the Chicago Department of Cultural Affairs and Special Events and the Chicago Office of Tourism and Culture.
To watch Lucas' printmaking in action, view the video below:
To learn more about Simpson's  jewelry, watch the video below:
To see more of the artists' work, visit the gallery and the links below.