The video cannot be displayed.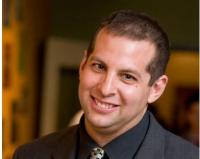 As Illinois watches still another corruption trial, a watchdog group that encourages accountability in government has a new leader. We talk with the head of the Illinois Campaign for Political Reform on Chicago Tonight at 7:00 pm.
Brian Gladstein, a native Chicagoan, joined the Illinois Campaign for Political Reform this past September as Executive Director. The Campaign, which was founded in 1997 by Sen. Paul Simon, is a nonprofit, non-partisan public interest organization. Its primary goals include advocating public participation in government, promoting government accountability and addressing the issues of money and integrity in politics.
Gladstein, however, is no stranger to advocating for political and government reform.
He attended the University of Illinois at Chicago, where he received a master's degree in urban planning and policy/community. His bachelor's degree in public affairs and environmental science from Indiana University similarly reflected his pension for civic engagement.
For more than a decade, Gladstein worked for the Jewish Council on Urban Affairs. As its Program Director, he helped develop an organization to encourage informed Chicago political participation, the Developing Government Accountability to the People Network. To keep Chicagoans up-to-date, DGAP's website provides a breakdown of the most prominent issues, evaluations of city government leaders and campaign contribution data, as well as contact information for local representatives.
For more information, visit the links below.