The video cannot be displayed.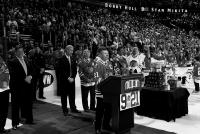 Blackhawks legend Stan Mikita joins us on Chicago Tonight at 7:00 pm to talk about his new book, Forever a Blackhawk, and the start of the new hockey season.
The name Stan Mikita is synonymous with greatness when it comes to hockey in Chicago and throughout the NHL.  As one of the most charismatic and electrifying athletes of his or any era, Mikita thrilled fans with his unique combination of speed, skill and toughness.  Along the way, he became known as one of the finest centers in hockey history and is still widely regarded to be the best at his position of the 1960s.
Mikita now has his electrifying career highlighted in the new book Forever a Blackhawk, where he traces his life and career from his days as a youngster in Czechoslovakia and then Canada to his current role as a Blackhawks ambassador. 
The following excerpt is from Chapter 1 of Mikita's book.
Chapter 1: FROM SOKOLCE TO ST. CATHARINES
It might seem as though I was born on skates, but that is not the case. I was born in Sokolče , a small village in the eastern portion of what used to be Czechoslovakia, and I did not know that hockey even existed until I was eight years old. I watched some of the kids in the neighborhood play hockey on the nearby pond, but the game never really grabbed me. What did catch my attention were the skates that belonged to my brother Juraj, who we also called George. He was three years older than I was, so obviously his feet were not nearly the same size as mine. But his were the kind of skates you could sort of make fit, much like modern inline skates. So one day when he wasn't around, I put on his skates and more or less adjusted them until I felt comfortable, then headed off to the pond. I fell on my behind at least three times. I just did this by myself, with nobody supervising and nobody watching. I didn't get caught until three days after I returned the skates. My mistake was that I had walked to and from the pond on the skates over gravel, and my brother noticed that the blades were a little rusty and dull. He asked me if I had "borrowed" them. Naturally, I said no. And naturally, Juraj said if I didn't tell him the truth, he would rough me up. So I admitted that I used them for 20 minutes. And that was that. I had no interest in hockey, and even less interest in trying to steal those skates again and having my brother threaten me. The idea of people being able to glide along a hard ice surface intrigued me, but I postponed my interest in skating, and eventually hockey, for a long while. 

What happened in between, now that's quite a story. For one, my name was Stanislav Gvoth. My father, Juraj (or George) Gvoth, worked as a maintenance man in a textile factory and my mother, Emilia, worked on our land, which wasn't much. She helped raise vegetables and potatoes. We lived in what I would call a bungalow consisting of two small rooms. Behind the house was a barn where we kept a cow, a horse, chicken, geese, and a couple of pigs. Indoor plumbing was only a rumor; when it came time to take a bath, Mom would have to get water from the pump outside, heat it up over a primitive wooden stove, then pour the water into a tub along with me. The notion that we were poor never occurred to me, nor did I know anything about politics. I vaguely remember World War II and how German soldiers came through our village. They would basically take over our bungalow for a few days while we moved to the barn. I recall them being nice to me, maybe because I was so young and so cute. They would assign me certain chores, like fetching food or soup from their mess hall nearby, and once in a while I would get some candy as a reward. They also let me go with them to the rifle range and pull a trigger. I would stand beside and behind a soldier when he fired. I felt the vibration through my whole body. What a recoil.

Meanwhile, Emilia discovered that the soldiers had lice. She went to the commanding officer, the captain or sergeant, and he actually listened. He took the two soldiers outside, started a fire, and threw all their clothes into it. Then our house guests took everything from the bungalow, furniture and mattresses included, and burned all of that. Then, I want to say it was the very next day, a big truck pulled up with all new stuff for us. Nice bed, new chairs. No more lice, and soon the soldiers were gone. We had a second wave of German soldiers who came into our village and billeted themselves in our homes. But the commanding officer of that group made sure to tell my mother that they would not be bringing any lice with them this time. I have to say that, in my limited recollection, we were treated well by the German soldiers. By the time I was five or so, World War II was over, but that didn't mean we were living in a free society. On the contrary.

In 1948, we were visited by my aunt and uncle, Anna and Joe Mikita, who had left Czechoslovakia years before and settled in St. Catharines, Ontario, Canada. Joe was my mother's brother. When my brother was born, Joe and Anna sent my parents a letter to congratulate them, adding that if our family had another child, he or she would come back with them to Canada. I don't know whether my parents took this seriously, but when my aunt and uncle returned on their six-month visa, it became obvious they were not kidding. Joe and Anna had no children of their own, and Joe, for one, had no use for "those damn Russians." Anyway, one night in the bungalow, they were discussing the subject with my parents. I was hungry, so I broke into the conversation. Mom told me to go back to bed. I started to cry because I wanted a piece of bread, but my mother thought I was crying because my parents didn't want to let me leave. So my mom said, "Okay, take him." Talk about a life-changing moment. What if I hadn't been hungry that night? What if I had just gone to sleep and never cried while my parents resisted saying good-bye to their youngest son?

Remember, I was only eight years old and had no idea what was actually happening. I thought I was just taking a little trip, embarking on a nice adventure to another land where Joe and Anna lived like royalty.

Living in Czechoslovakia at that time, Canada and United States sounded like heaven. So I jumped on a train to Prague, the first big city I had ever visited. Such tall buildings! No sooner did I look up at one of them than I slammed into a pole. Right in the face. Then we took another train to Le Havre, France, where we got on a boat for a long trip to Canada. A really long trip. I want to say it took two or three weeks. I cried (again) when it hit me that going with Joe and Anna meant leaving my parents behind, but the full impact of my adventure really became clear on the ship, Carinthia, as we headed toward Montreal. Joe and Anna were on board, of course, but so was a niece, Irene, from Anna's side of the family. She was 11 and although her family, the Gondas, lived near us in Sokolče, I did not know her. While we were on the ship, Irene offered me a stick of gum. She said it was from our father.

"My dad is back in Czechoslovakia," I said. "No," Irene said. "This is from your new dad." Irene explained that Anna and Joe Mikita, my aunt and uncle, were now our new parents. Irene and I were being adopted. It was halfway through this voyage that I learned what adoption meant. That was the only way we could get out of Czechoslovakia. And now I had a sister, Irene, although two years later, my real parents back in the old country had a daughter of their own, Viera. I later learned that Joe and Anna had only used about 45 days of their six-month visa before leaving with Irene and me. Also, I learned that there had been some conversation about my older brother moving to Canada instead of me. I really don't know how serious that got. Apparently my mother insisted that her first born would stay at home, absolutely and positively. Juraj was easier to handle than I was. That might have influenced her decision to part with me.

This excerpt from Forever a Blackhawk is printed with the permission of Triumph Books / www.triumphbooks.com/foreverablackhawk.