The video cannot be displayed.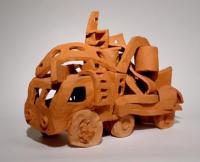 A Chicago artist has discovered that trucks are vehicles of inspiration to him. From a viaduct in Hyde Park to the Chicago Cultural Center, John Himmelfarb is steering his art in some surprising directions. We have the story on Chicago Tonight at 7:00 pm.
Check out Himmelfarb's Trucks series of acrylics on canvas, and some of his sculptures and public art in the image gallery below.
The Chicago Cultural Center currently has an exhibition on display called "Driven: New Trucks by John Himmelfarb." Visit the links below for more information.