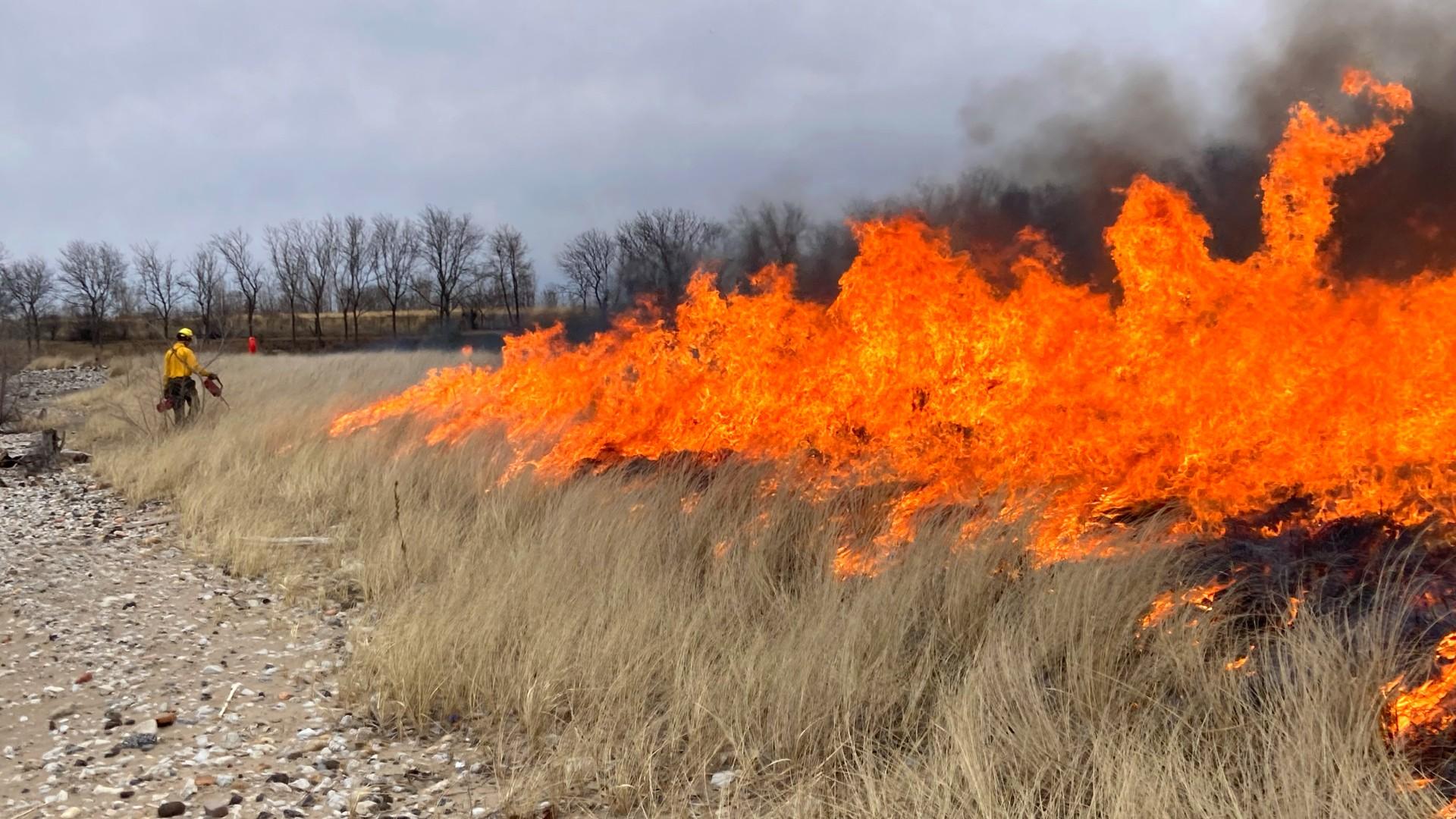 A prescribed burn at Rainbow Beach. (Courtesy Chicago Park District)
In a city synonymous with fire, the sight of flames rising up against the backdrop of Chicago's skyscrapers would typically raise an alarm.
But the Chicago Park District has been setting its land ablaze on purpose, these fiery scenes leading to healthier natural areas.
In recent weeks, the district has conducted prescribed burns at Rainbow Beach and Park 566 on the far south lakefront, two of the 15 parks targeted during a burn season that started in late November and is now coming to a close, according to Matt Freer, assistant director of landscape.
These controlled fires are one of the tools the district uses to manage its natural areas, Freer said, explaining that burns knock back weeds — which lack the deep roots native plants have to withstand fire — and can help control certain invasive species.
What's bad for weeds, though, is restorative for native landscapes.
Where some see charred earth, Freer knows that ground blackened by a burn means organic material — dead plants and leaf litter — has been converted into nutrients for the soil. And shorn of shading vegetation, that soil is now being warmed by a direct hit from the sun, making it a more hospitable place for native seeds to sprout.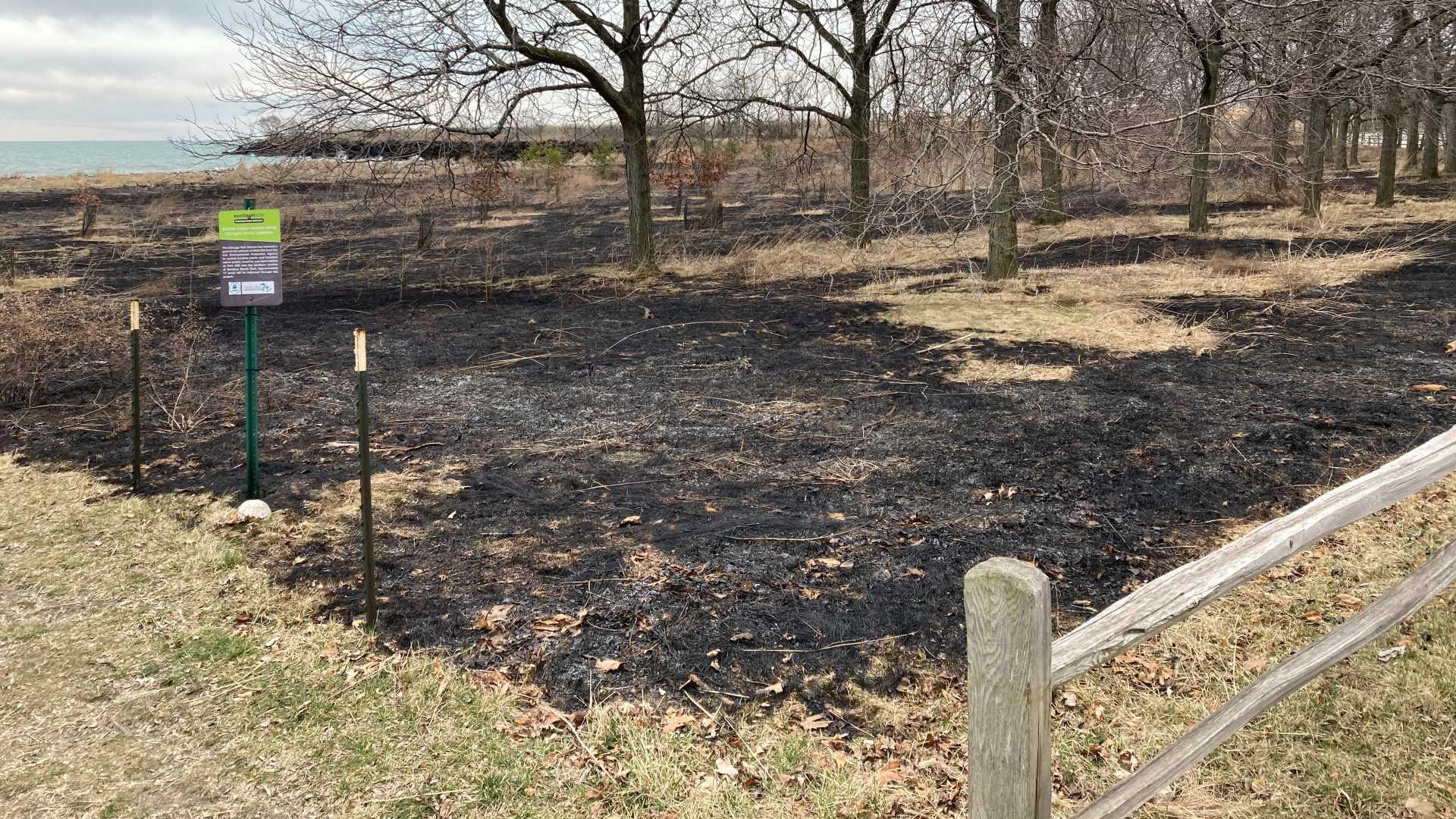 The scorched earth after a burn may look damaged but it's a sign of improved health. Pictured: Rainbow Beach. (Courtesy Chicago Park District)
Areas are burned every five to 10 years, Freer said, or more often for newer restoration sites where the native plant community is less well established and more weed suppression is needed.
To conduct a burn, all the weather gods need to align, and in Chicago, the biggest wild card is wind, he said.
At the Burnham Wildlife Corridor, which runs along the lakefront from McCormick Place to 47th Street, the district had to wait for a west-east wind. "We didn't want smoke blowing across South DuSable Lake Shore Drive," said Freer. "We don't want the fire to be a nuisance."
The district has been conducting prescribed burns for 20 years, he said. Initially, the parks relied on outside contractors to do the job, but in the last six to seven years, a number of people with "burn boss" credentials have joined the district.
Leading up to a burn, crews dig burn breaks, or trenches, where there's no fuel for the fire to continue. Burns themselves are fun to watch, Freer said, but are exhausting to take part in. Days can stretch to 12-hour shifts, and crew members are loaded down with equipment, dressed in what look like hazmat suits, toting tanks of water and drip torches. Firefighting tools like flappers (think of a cross between a broom and fly swatter) are close at hand to keep fires contained.
"The biggest tool is experience," Freer said.
The hard work is paying off. At a site like 300-acre Big Marsh Park, where the district conducted multiple burns this season, these restoration efforts have led to the return of multiple species of long-absent birds.
Said Freer, "It absolutely is worth it."
Contact Patty Wetli: @pattywetli | (773) 509-5623 |  [email protected]
---