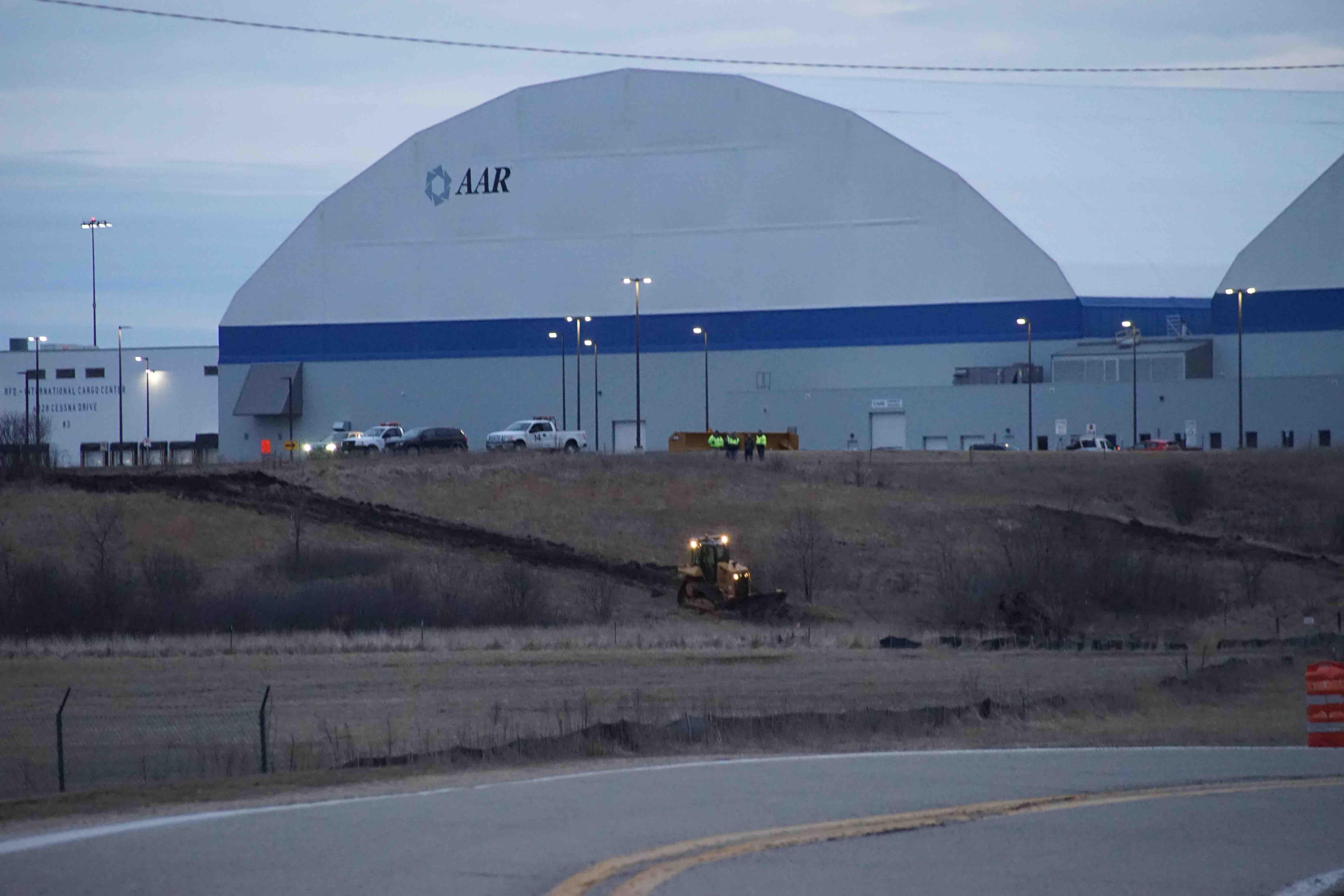 A bulldozer slices through Bell Bowl Prairie, March 9, 2023. (Courtesy of Jessie Mermel)
At 6 a.m. Thursday, bulldozer headlights appeared at the top of a small hill and in that moment, the 18-month fight to save ancient Bell Bowl Prairie ended.
Jessie Mermel was among a small group of people holding vigil overnight at the Rockford Airport, anticipating the imminent destruction of the prairie after courts declined to issue a last-minute stay on Wednesday. The prairie is being torn up to make way for a road that's part of the airport's midfield cargo expansion project.
"We just watched as this one single bulldozer made pass after pass. There were no words at that point. There wasn't much we could do but bear witness," said Mermel. "It's irreplaceable. How hypocritical to call ourselves the Prairie State."
Rockford Airport officials have not responded to a request for comment.
Bell Bowl had been one of the few remaining prairie remnants in Illinois, land carved by the retreat of the last glaciers and never plowed under or developed. In a state that once boasted 22 million acres of prairie, only an estimated 2,500 acres are left, according to the Illinois Department of Natural Resources. Grassland ecosystems are among the most threatened on the planet.
Situated within the airport's 3,000 acres, Bell Bowl had long been managed by the Natural Land Institute. In summer 2021, the institute was alerted to construction activity near the prairie, the first it was made aware of the airport's expansion plan, a plan agencies including the Illinois Department of Natural Resources had signed off on without consulting Natural Land Institute.
A protracted legal battle ensued. The movement to save Bell Bowl was initially bolstered by the discovery of federally endangered rusty patched bumble bees on the site, but ultimately federal agencies such as U.S. Fish and Wildlife Service determined enough habitat for the bee existed elsewhere in the area.
The Federal Aviation Administration recently closed the books on a reevaluation of environmental impacts at Bell Bowl and authorized an alternate roadway plan that leaves some of the prairie intact, but bifurcated. Activists continued to push for other roadway options that would have looped around the prairie, not through it, but those arguments fell on deaf ears.
"It seemed pretty willful," Mermel said of the airport's insistence on paving over Bell Bowl. "They never once had a conversation with us."
Along with grief, there's anger, she said.
"The legal system failed, our politicians didn't do anything, our mayor sat silent, the governor hasn't done anything, the airport board just sits there. It seems like there's no accountability," Mermel said. "We should have been able to do something."
But there's hope amid the heartbreak, too. 
"It's not all for nothing. There's an energy created here," said Mermel. "I do want to say, it has been an inspiring movement. People have done so much, cared so much."
That momentum will be needed to protect other unique Illinois natural areas at risk, said Illinois Environmental Council Conservation Director Lindsay Keeney. "Those fights are just around the corner," she said.
One of the ironies is that many of those fighting for Bell Bowl had never even seen the prairie. Shortly after word spread that the land was threatened, the airport blocked all access. 
Mermel was among those who managed to visit Bell Bowl before the airport's action.
"It was really amazing to me. From the road driving by, it's hard to see. But once I got in there, I was transported to a special place. All the biodiversity, all the plants," she said. "It was beautiful."
In the coming days, the Illinois Department of Natural Resources, the Illinois Nature Preserves Commission and the Forest Preserves of Winnebago County have announced they will conduct a joint sod rescue operation to salvage what's left of the demolition site and transport the soil to a nearby preserve. 
Contact Patty Wetli: @pattywetli | (773) 509-5623 |  [email protected]