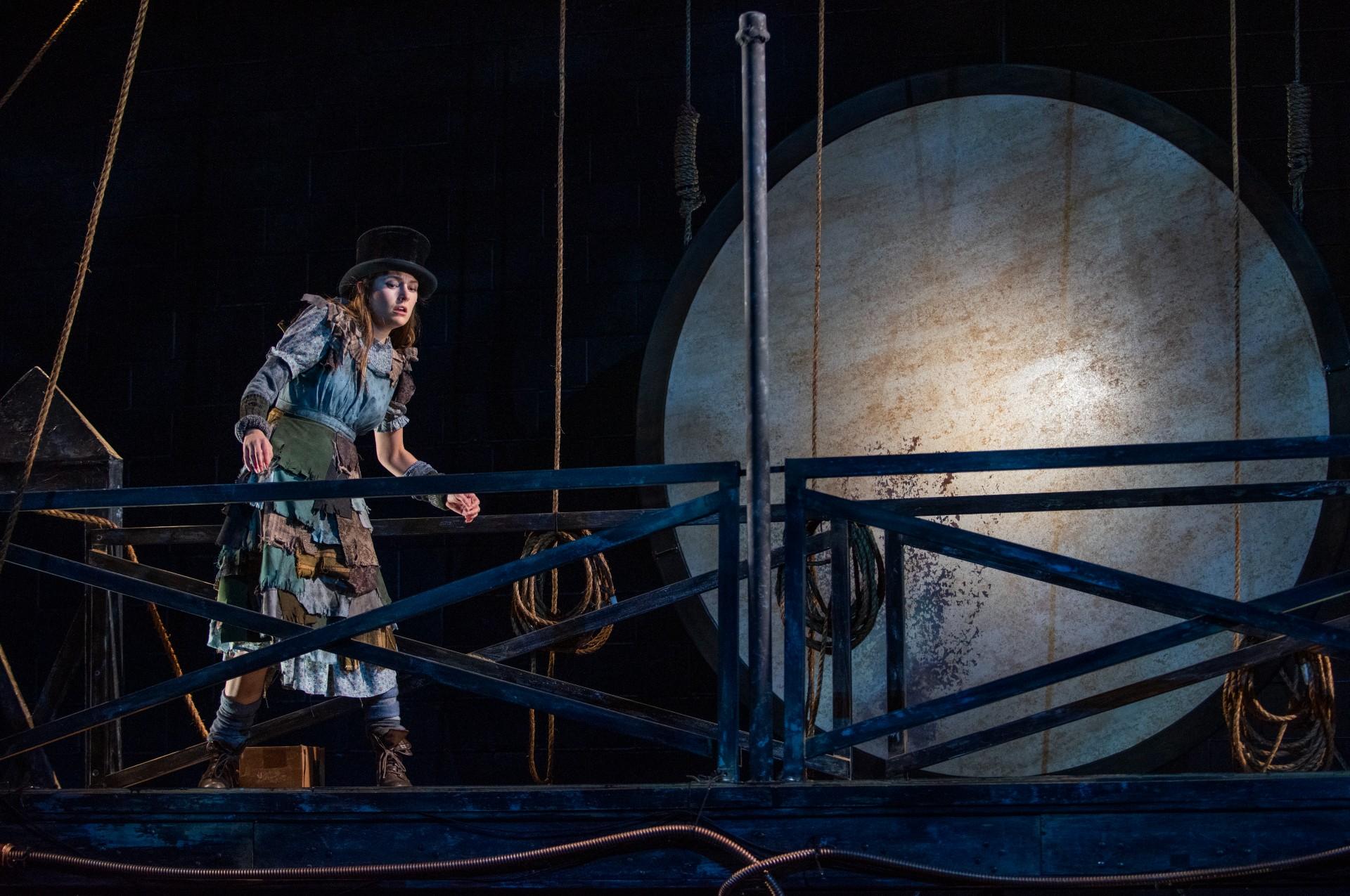 Cordelia Dewdney as Kit in "Mr. Dickens' Hat." (Photo by Michael Brosilow)
Although I wouldn't presume to speak for Charles Dickens, I am very tempted to say that he would be wholly enchanted by "Mr. Dickens' Hat," Michael Hollinger's tragi-comic "play with music" that is now receiving a superb world premiere by Northlight Theatre.
The production springs to life from the moment you take your seat and are drawn into an eye-popping environment anchored by an Erector-set like steel bridge, dozens of cartons and a great deal more. And then, under the ingenious direction of David Catlin (a Lookingglass Theatre veteran), a sublime cast of six proceed to play a total of 28 very different characters, both comic and tragic, good and evil, brainy and dim-witted, and playfully proto-Dickensian.
And just what is driving them all? Well, yes, there is the matter of the black top hat perched atop the roof of a conjoined milliner's shop and haberdashery in Victorian era England – a hat believed to be the very one that Dickens himself filled with water and offered to those injured in a train accident years earlier that now is worth a pretty penny. In addition, in its exceedingly clever way, the story that Hollinger (a Villanova Theater professor) spins here revisits many of the themes that run through Dickens' novels – from the impact of poverty, with the cruelty of debtors' prisons and their destructive effect on families, to the multifaceted relationship between parents and children, to the pervasive role of social status. And along the way it reveals the full gamut of human personality quirks and the innate impulses of those who are driven to either do good or evil. A holiday season alternative to "A Christmas Carol"? Not necessarily, but a hugely engaging correlative to be sure, as well as a wonderful showcase of Chicago talent.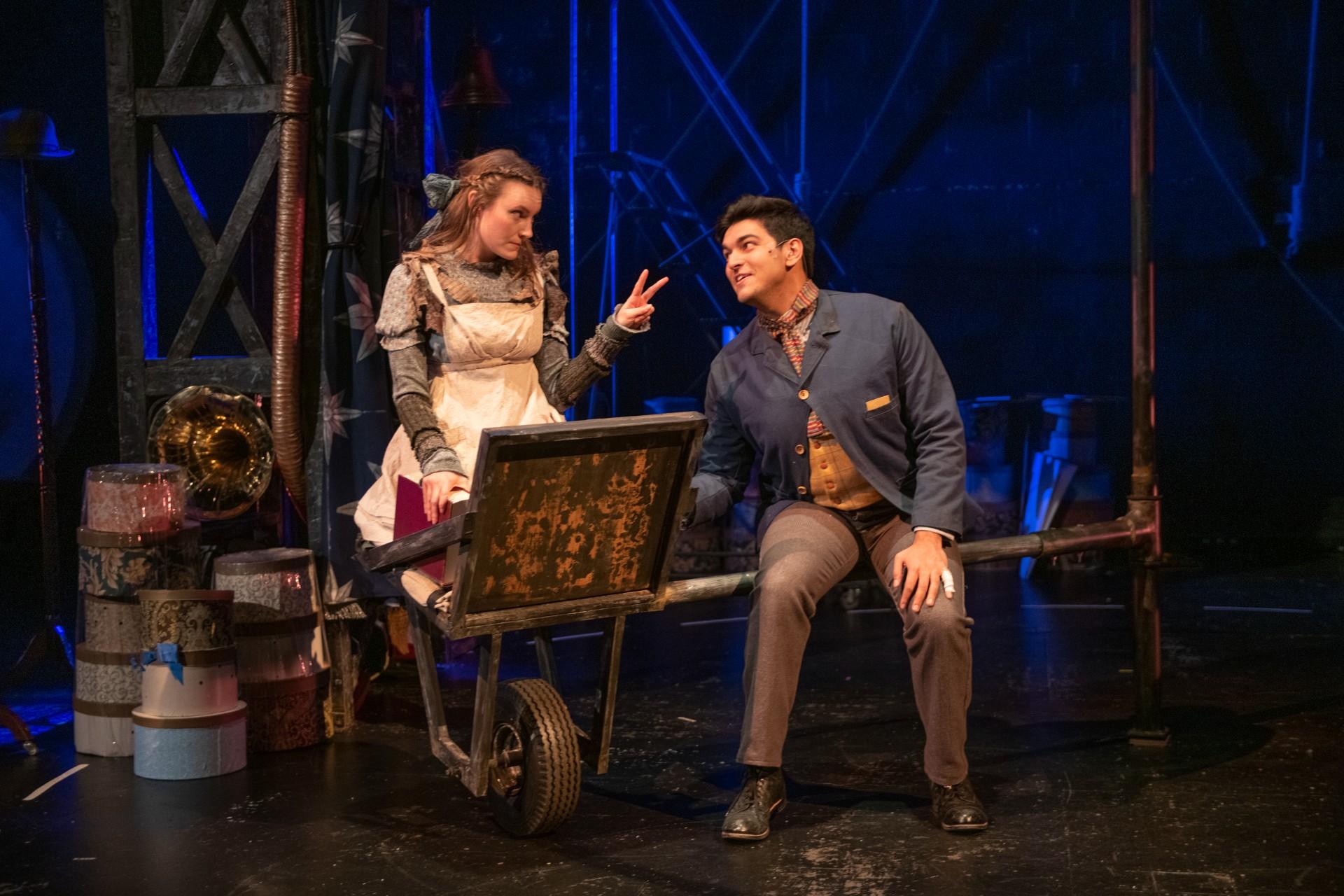 Cordelia Dewdney and Ruchir Khazanchi in "Mr. Dickens' Hat." (Photo by Michael Brosilow)
Among the principal characters (and even their names have a Dickensian flourish) are the widowed (but soon to be married) hatshop partners, Mr. Garbleton (Mark David Kaplan) and Mrs. Prattle (Kasey Foster), whose pet parrot has moments of its own.
Working in their shop is Kit (Cordelia Dewdney), a smart, fiercely determined girl (and an avid reader of Dickens' books) who is saving every penny she earns in order to bail her father (Nick Sandys) out of a debtor's prison. And working alongside her is Ned (Ruchir Khazanchi), whose intelligence is questioned by his stepmother, but whose kindness and decency are irreproachable, and whose feelings for Kit are palpable. Adding to the antics is Christine Bunuan, who plays both a comically addled constable and the status-conscious aristocrat, Lady Plume, who is in search of an impact-making hat to wear to a big event.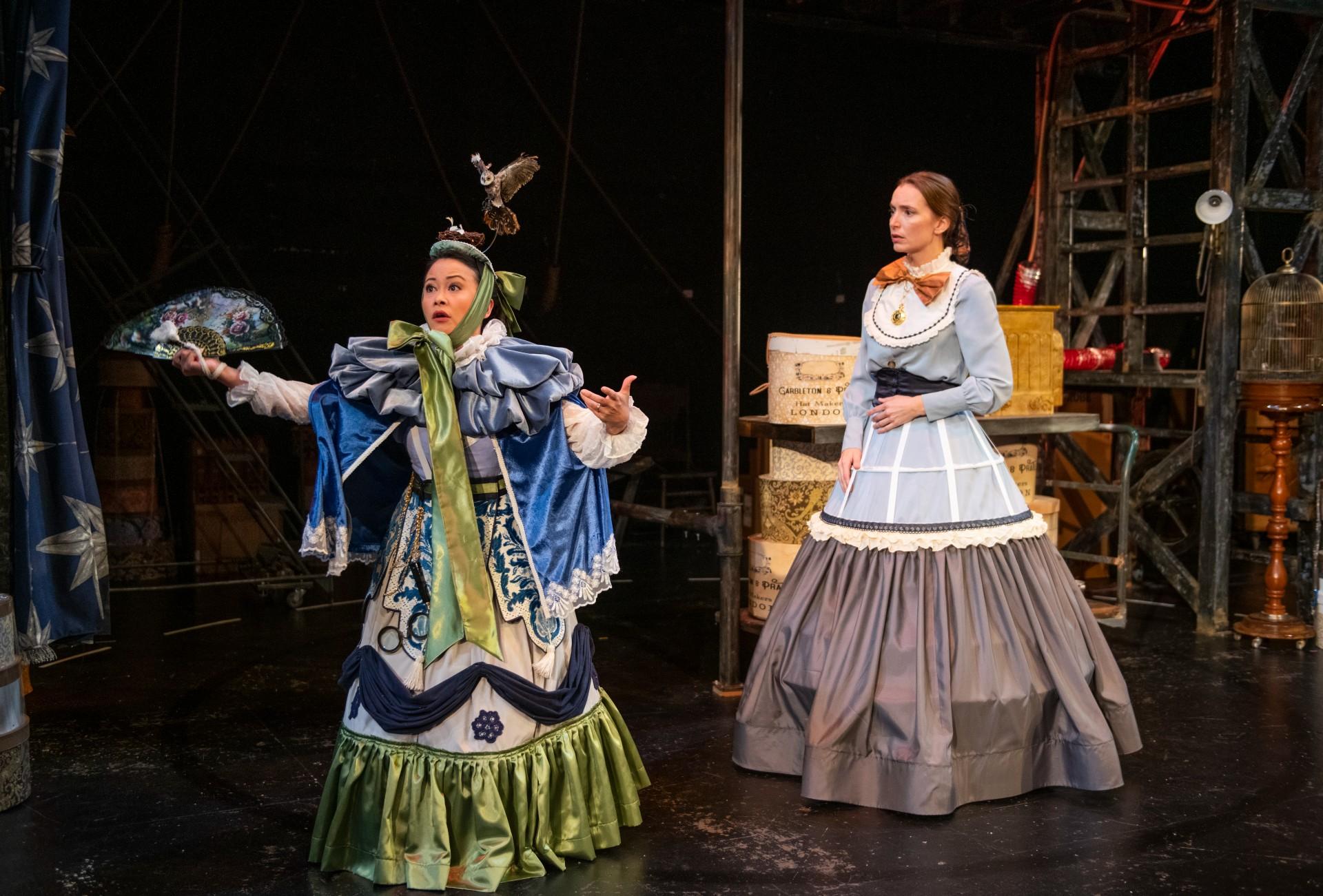 Christine Bunuan and Kasey Foster in "Mr. Dickens' Hat." (Photo by Michael Brosilow)
And then there are the criminals determined to steal the valuable hat that once belonged to Dickens. One of them, Fleece (played to perfection by Sandys), just happens to be the warden at the prison where Kit's time-worn father is being held. He believes that the sale of the hat will make him a fortune while his inept accomplice, Gnat (played by Kaplan) hopes to inherit the warden's job.
Every performer in this demanding show is multitalented and able to deftly shift from one character and mood to another in record time. (The rapid-fire costume and wig changes are brilliantly finessed by a backstage team who earned their much-deserved bows.) As fir Dewdney, she is a standout for the way she clambers like a gymnast over the set's perilously elevated train tracks in a wintry storm.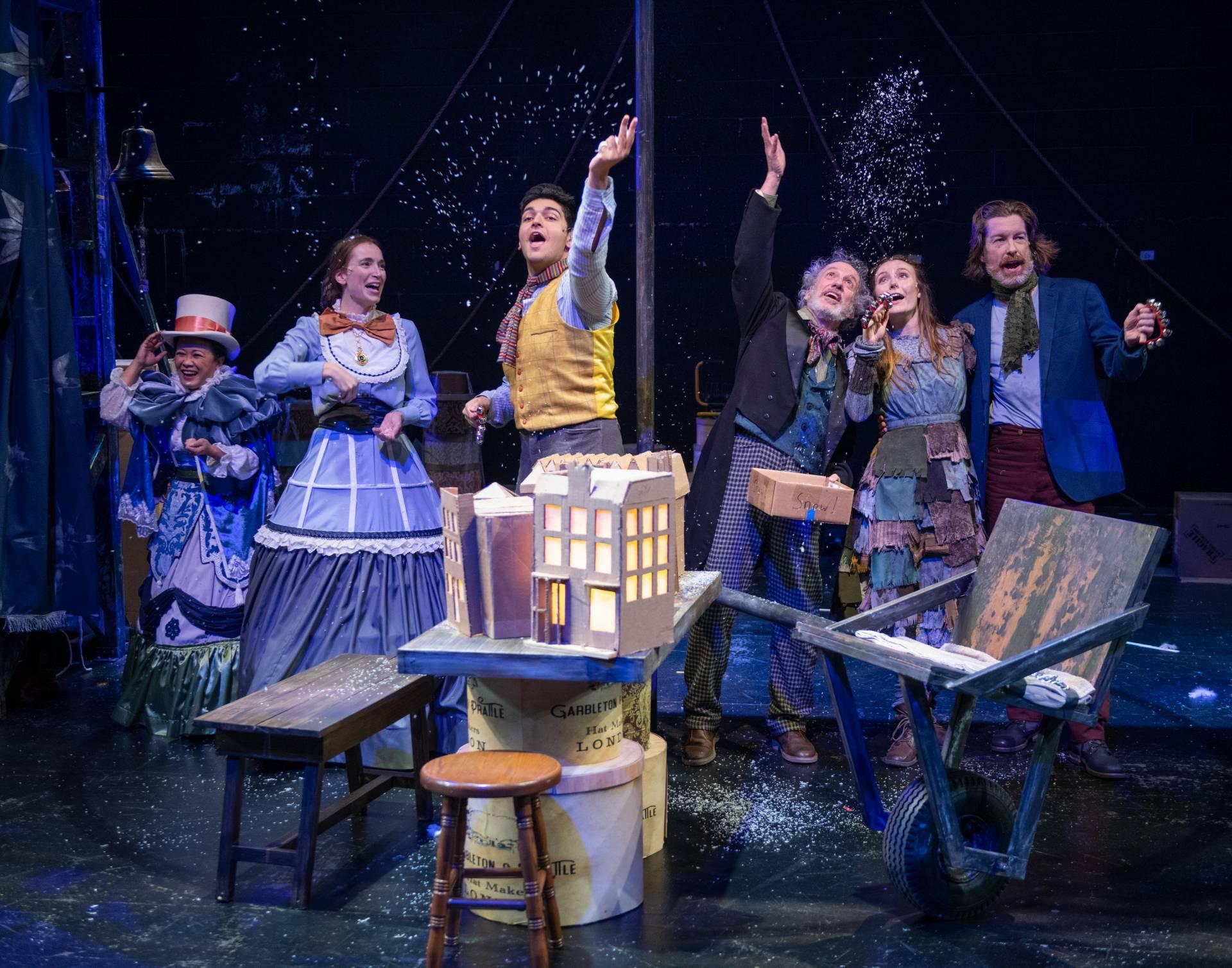 Christine Bunuan, Kasey Foster, Ruchir Khazanchi, Mark David Kaplan, Cordelia Dewdney and Nick Sandys in "Mr. Dickens' Hat." (Photo by Michael Brosilow)
Speaking of those steely train tracks, they are the centerpiece of William Boles' marvelous set (expertly lit by Jason Lynch) that in its own subtle way even suggests the Industrial Revolution that caused upheaval in many lives. Sully Ratke's character-defining costumes (including some terrific hats) are ideal. So is Chuck Larkin's music direction (with sound design by Andre Pluess).
All in all, an immensely wise and witty new show to which Dickens himself might readily tip his hat.
"Mr. Dickens' Hat" runs through Jan. 2, 2022 at Northlight Theatre, 9501 N. Skokie Blvd., Skokie. For tickets, visit northlight.org or call (847) 673-6300.
Follow Hedy Weiss on Twitter: @HedyWeissCritic
---