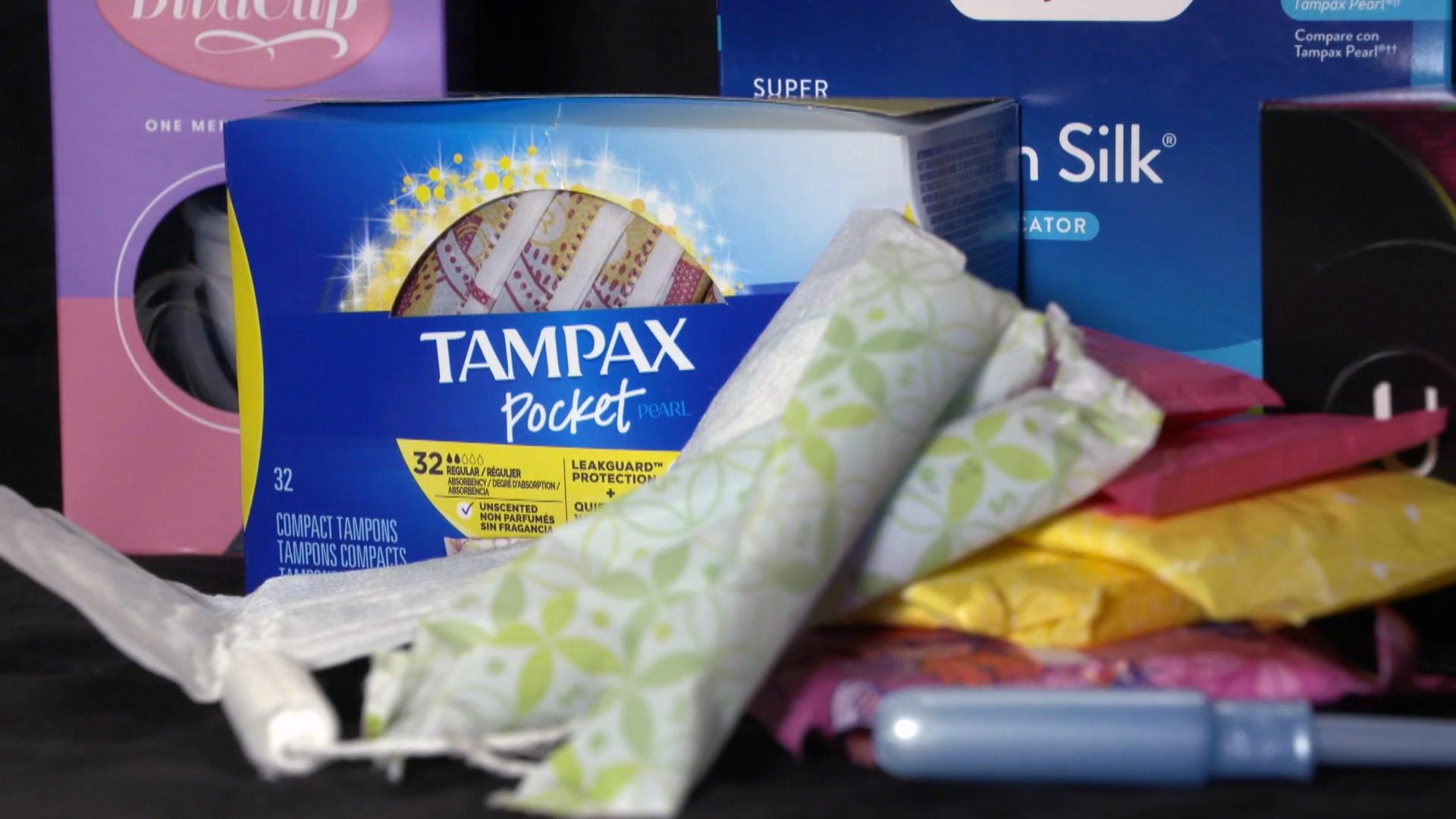 (WTTW News)
A new Illinois law signed this month by Gov. J.B. Pritzker will make feminine hygiene products available for free at homeless shelters.
Effective Jan. 1, the Feminine Hygiene Products for the Homeless Act (HB0310) will require all homeless shelters that grant temporary housing to women and youth to provide products such as sanitary napkins, tampons and panty liners free of charge, if their budget allows for it.
Local organizations serving those populations applauded the legislation, but say further action is needed.
"It's a step in the right direction," said Niya Kelly, director of state legislative policy, equity and transformation at the Chicago Coalition for the Homeless. "We have a ways to go, but we celebrate that we're acknowledging this is an issue with the hope that we can put some teeth behind it in the future by increasing funding to these line items as well as to organizations and people living in extreme poverty."
The legislation was not always without teeth. A version filed by state Rep. LaToya Greenwood in the previous General Assembly did not offer an exemption for organizations that could not afford to offer the products.
Greenwood said she got pushback over that from some organizations claiming their budgets were decimated after the state went two years without its own budget under Gov. Bruce Rauner.
"We went 700-some odd days without a budget. Some of those agencies had to close or had to cut back services," Greenwood said. "They didn't feel like they had the money there to support this legislation after going so long without a budget and many (organizations') funding is heavily dependent on state funding that they didn't receive for two years."
Greenwood filed an amended bill in January that would require shelters to provide feminine hygiene products if their budget allows for it.
Nieal Marie Ross, manager of youth supportive services at The Night Ministry, takes issue with that caveat.
"Feminine hygiene products are a necessity," she said. "They're as much of a necessity as giving you a meal, a roof over your head, a bed. … As much as you're expected to feed your guests in a shelter program, you should be able to provide these feminine hygiene products."
The Night Ministry says it's been providing those products for at least 20 years, thanks in part to donations.
Other organizations we spoke with about the new law also rely to some extent on donations in order to provide free feminine hygiene products, including Covenant House Illinois, which serves homeless youth ages 18-24, and Sarah's Circle, an Uptown-based nonprofit that serves approximately 800 women annually.
"We've been very fortunate because we've gotten so much donated," said Kathy Ragnar, executive director of Sarah's Circle. "Our budget does have a line item for … products such as this, but I'd say the lion's share is donated, to the point that we have to strategize about (how to) use our space well to accommodate the donations."
A drop in donations would "have a bit of an impact" on the organization's ability to provide the products, Ragnar said, but it would "not be insurmountable." 
While most organizations are in a similar situation, relying on a combination of donations and budgeting to provide the products for free, Kelly says the state needs to "put our money where our mouth is."
"Shelters depend on donors but we also need to make sure, since they provide a service to the state, that the state is properly compensating them to ensure they are reaching the whole person," she added. "And this is part of being that person."
Both Kelly and Ross believe the state should provide funding to organizations specifically for these types of products.
"There should be an allowance for a separate line item for these things so they don't get lost in the mix," said Ross. "If you say this is your budget for hygiene products, people think of soap, shampoo, razors and shaving cream. … Feminine hygiene products seem to get missed. If that was a separate line item, it would force people to be cognizant about that need."
Greenwood says legislators are discussing those same points. "Hopefully, we'll see some action next year," she said.
An estimated 8,550 people ages 13-50 who identify as female spent at least one night in a shelter during fiscal year 2019, according to the Illinois Department of Human Services. If the state were to cover the cost of providing free pads and tampons to shelters — based on average menstrual cycles and the number of times a day a pad or tampon is changed — the state would need an additional $352,615.68 for the budget's Emergency and Transitional Housing line item, according to calculations by Kelly.
"As someone who has to buy these (products) every month, we really need to make sure this is free," she said. "And making sure we're putting the funds behind it … so things can be implemented in a way that doesn't rob Peter to pay Paul."
Absent state funding, organizations need to find a way to provide these products, Ross said.
"There's not a lot of money in social services, and I'm confident we all do the best we can. If there's no money in the budget … we have to be resourceful," she said. "People can do drives. Go to your local church or bridge club to get donations – whatever you have to do. … We all know how to make things happen."
Contact Kristen Thometz: @kristenthometz | (773) 509-5452 |  [email protected]
---