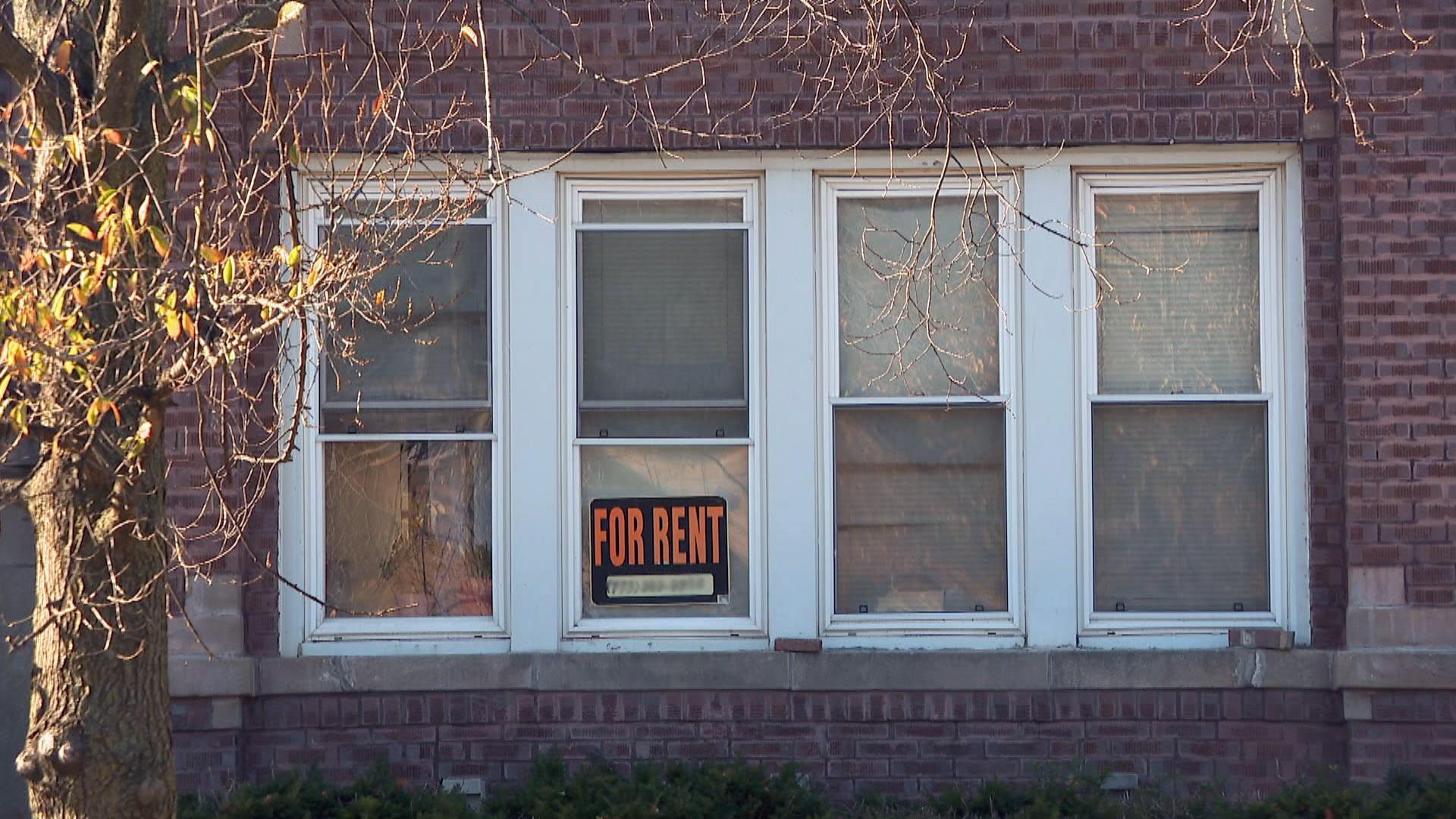 (WTTW News)
Chatham resident Edrika Fulford knows what it's like to be homeless. After quitting her job as a family case manager to take care of her ailing mother, Fulford became homeless in 2015. She had by that point lost her mother as well.
"When I experienced homelessness, I was just dumbfounded," she said. "I got a college degree. I know this is not supposed to be happening. I was wandering, I was sleeping on the train, and I would get up and wash up like in McDonald's or White Castle – whatever little restaurant."
Fulford spent about four years visiting homeless shelters and staying with family members and friends before getting an apartment of her own. But she's still concerned about her living situation, given that Illinois' eviction moratorium is set to end Aug. 31 — a Chicago law will automatically extend the city's ban on evictions for an additional two months, officials said. 
"I'm this close to being homeless again," said Fulford, a grassroots leader for the Chicago Coalition for the Homeless who receives disability benefits and says she is behind on both rent and utilities. "I'm always on the edge." 
Fulford isn't alone.
More than 224,000 renters in the Chicago metropolitan area said they aren't confident they'll be able to pay next month's rent; another 90,000 renters said it was likely they would be evicted in the next two months, according to the latest U.S Census Bureau's Household Pulse survey.
"People are clearly feeling at risk right now of homelessness," said Julie Dworkin, director of policy for the Chicago Coalition for the Homeless.
The eviction moratorium has been vital during the pandemic, according to Dworkin. "The fact that it's been in place, it's the only reason why we haven't had an overwhelming flood of people living on the streets or in shelters, or in these other living situations with others," she said.
Still, businesses are reopening and residents are starting to resume pre-pandemic activities — including landlords, she notes. "It's not realistic to think we could have an eviction moratorium in place forever," she said.
And it shouldn't last forever, according to Betty Bogg, executive director of Connections for the Homeless.
"Landlords have to pay mortgages on buildings. … Someone living in their investment property for free isn't something we should be asking of landlords. It's not like they're the enemy," said Bogg. "We don't see landlords as particularly eager to kick people out. They want their money, which they are entitled to."
Since the moratorium only paused rent payments — rather than erasing them — Bogg anticipates a surge in demand for eviction prevention services.
Connections quintupled its eviction prevention staff from one to five to meet demand during the pandemic, Bogg said. "Before the pandemic, people were two to three months behind on rent, now we're seeing people who are 12 months behind on rent," she said.
Illinois has provided emergency rental assistance throughout the pandemic in an effort to prevent evictions, and in May, Gov. J.B. Pritzker announced that $1.5 billion in housing assistance would be made available to residents. 
Illinois residents who lost their jobs or found their paychecks scaled back because of the pandemic are eligible for up to $25,000 to cover missed rent payments. Officials will provide $500 million in assistance in this round, which is expected to help 63,000 households. Applications will be accepted through 11:59 p.m. Sunday.
"Households who are behind on their rent or at risk of eviction shouldn't wait to get help," Illinois Housing Development Authority Executive Director Kristin Faust said in a statement. "IHDA staff is working to award these funds as quickly as possible to households in need. Funding is still available, and if you are struggling to make your rent, I urge you to apply for your share of support before the program closes on July 18."
But Dworkin isn't convinced there will be enough money to help everyone in need.
"In Chicago, for example, in the latest round, there were 26,000 households that applied for rent and utility assistance. They were requesting $137 million, but there was only $80 million available," she said.
Bogg shares Dworkin's concerns.
"People who are in poverty are deeply vulnerable to any kind of disruption, and now we're also seeing people who would never have dreamed that they'd need our services," Bogg said.
Many people who would have been ineligible for assistance before the pandemic due to income restrictions now need assistance, according to Bogg.
To make sure those people are able to receive assistance, her organization is urging funders not to add additional restrictions, she said. "Our work is to prevent homelessness, and certainly, some people prior to the pandemic had way more resources and a better chance of getting back on their feet sooner – even those folks could've burned through all those savings," she said.
To prevent a wave of evictions, Dworkin says there are a few things the governor can do as the moratorium is lifted.
"Anyone who has an application for rental assistance pending should not be evicted because there are huge rental assistance programs being implemented, and it takes time to process applications," she said. "And any landlord who wants to evict due to lack of payment of rent should be required to attempt to access rental assistance and be turned down."
In addition, if a landlord receives rental assistance, they should be prohibited from proceeding with eviction, according to Dworkin. "We've seen cases where (landlords) wanted to continue to evict even though they've received rental assistance, so that has to be a requirement as well."
A spokesperson for Pritzker's office could not be reached for comment, but a new state law seals records of any evictions between March 2020 and March 2022 in an effort to prevent pandemic-related financial woes from deepening a renter's ability to secure future housing. On Wednesday, the governor's office announced another round of rental assistance will open in the fall. 
As for Fulford, she says she's applied to every assistance program she's heard of and continues to make rental payments, though she's still behind.
"It becomes a thing where you rob Peter to pay Paul," she said. "You find yourself in a constant cycle of always being behind."
What lies ahead is scary, she says. And not just for her.
"Once the eviction moratorium is phased out, you're going to see an onslaught of people experiencing homelessness because the city made no plans for this," she said. 
Before the pandemic, 77,000 people in Chicago were experiencing homelessness, according to the Chicago Coalition for the Homeless.
"We know that homelessness existed before this (pandemic) and it's going to persist and it's definitely going to get worse," Dworkin said, "and the only solution is permanent housing resources that need ongoing funding."
Additional information about rental assistance can be found on the Illinois Housing Development Authority's website and the Illinois Department of Human Services' website.  
For eviction help and rental and utility assistance, visit the Cook County Legal Aid website, Eviction Help Illinois website or the Alliance to End Homelessness in Suburban Cook County website.
Contact Kristen Thometz: @kristenthometz | (773) 509-5452 |  [email protected]
---