When planning a new monument for the city, why not hire a local artist whose reputation is monumental?
Sculptor Richard Hunt was born in Englewood in 1935. His works have been exported around the world from his studio in Chicago.
WTTW News caught up with him before the unveiling of a monument in Bronzeville that was years in the making.           
---
TRANSCRIPT
Marc Vitali: Fifty years ago, this one-time electrical substation near DePaul was converted into a sculptor's laboratory.
Richard Hunt, sculptor: When I got this place in the beginning, they had taken out all the equipment except the crane, which of course I'm glad they didn't take it out, and so you have this big high-ceilinged open space to develop things in and move them around with the crane and get them out the back door.
Vitali: His process is intuitive.
Hunt: The way things work, I'll start putting some things together that I have an idea about. It'll suggest something. It gets me started.
Vitali: Some of his 21st century works are currently on the terrace of the Modern Wing of the Art Institute.
Hunt graduated from the School of the Art Institute in 1957 with a degree in art education. But ...
Hunt: One year as I was working on my income tax. I said, 'I made more money selling sculptures then I did from my teaching job,' and so I decided to quit teaching and just be a sculptor.
Vitali: He has called his creations a dialogue between himself, the technique and the material.               
Hunt: It's dynamic and it's three-dimensional. That is to say, you know, you can have a painting or a mural or something on a wall, and that's something that you look at that doesn't change, but if you have a sculpture somewhere, you look at it from here, you look at it from there, you look at it from another side. It reveals itself in different ways.
Vitali: He works with Corten steel, bronze, copper, brass – and all kinds of scrap.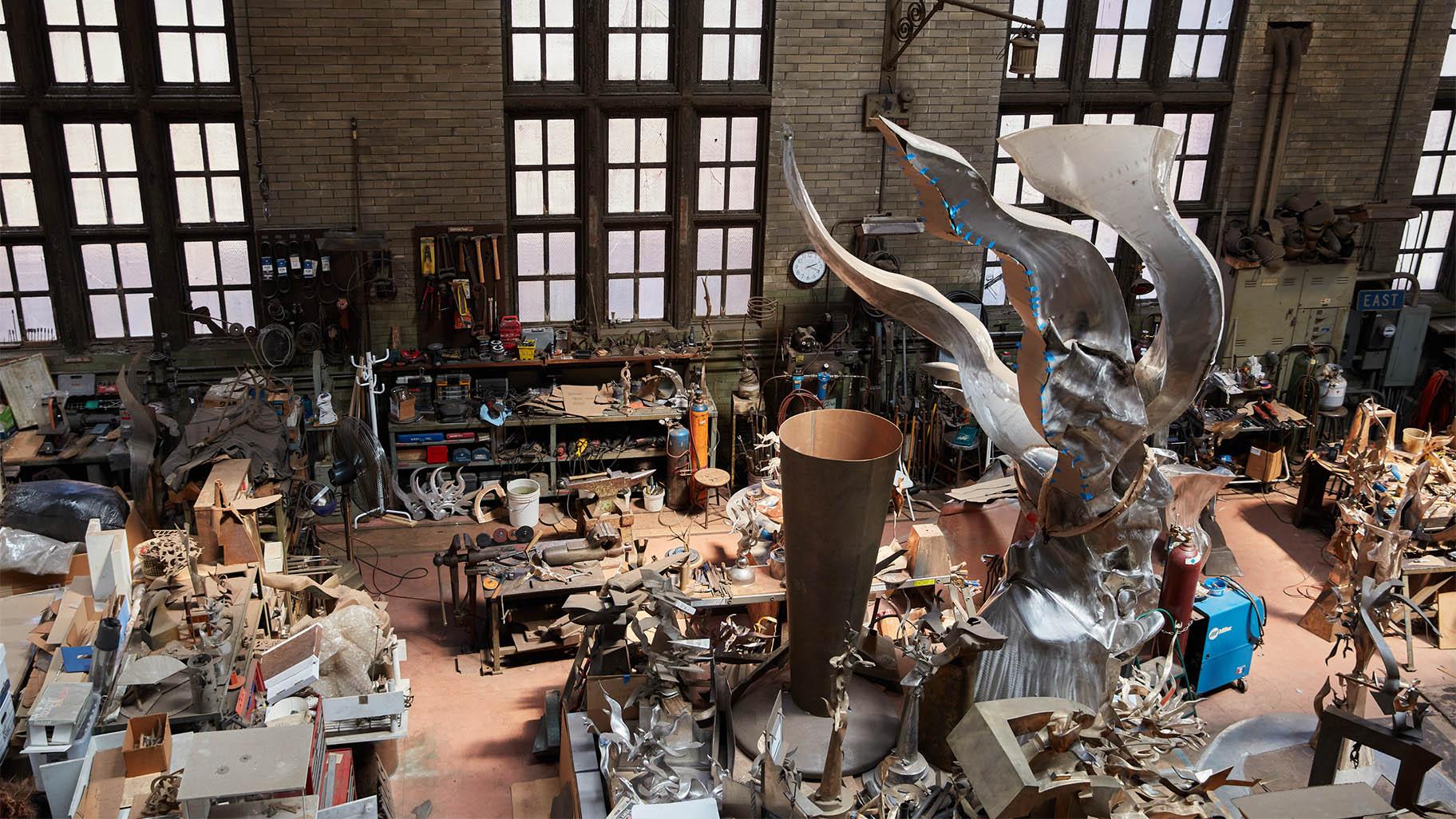 An aerial view of Richard Hunt's studio. (Courtesy of Richard Hunt)
Early in his career, he focused on found materials. In the 1960s, Studs Terkel asked him about it:
Studs Terkel: Mr. Hunt as we're looking at your various works, these statues – what's the materials?
Hunt: "Well the raw material for these are automobile bumpers."
Vitali: Hunt sculptures can be seen all over the city – from the Woodson Regional Library to Midway Airport and the Loop.
His newest work in Chicago is "Light of Truth," a monument in bronze to Ida B. Wells, the crusading journalist.
Michelle Duster, a local author who is Ida B. Wells' great-granddaughter, spent 13 years to bring to life this unconventional civic memorial.
Michelle Duster, author, "Ida B. the Queen": We made a decision before we even contacted Richard that we wanted to have something that would not be in her likeness. We wanted it to be a monument vs. a statue because Ida's life and her work was so multi-dimensional, so multi-layered that we felt trying to capture one pose would not capture all of who she was.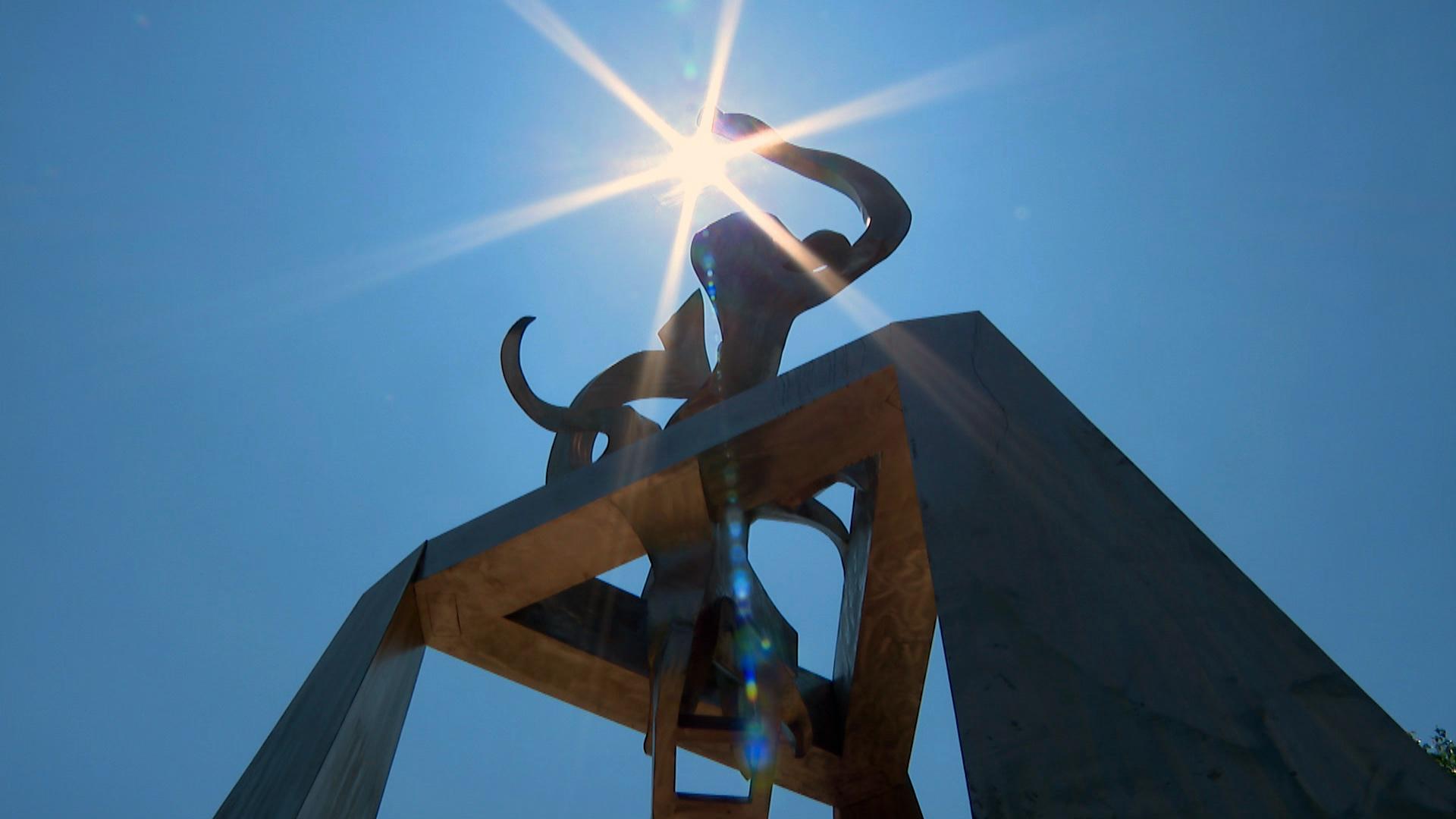 Richard Hunt's sculpture "Light of Truth." (WTTW News)
The Ida B. Wells homes were right here on this land from 1941 until 2002.
A tribute needed to be given to Ida on the land where the homes once stood, which is also close to the house that she physically lived in, and this is Bronzeville, this neighborhood has a strong, rich history.
Hunt: You know, I'm reminded of the past and then looking toward the future of this community which has been revitalized and is growing in a very significant way.               
Vitali: In the studio he's operated for half a century, Hunt is back to the grind, working on his next sculpture.             
Hunt: It's interesting how the cityscape has changed and I'm happy that I've had an opportunity to put a piece here and a piece there that hopefully enhances and draws attention to specific aspects.
---
More on this story
The monument to Ida B. Wells is called "Light of Truth." It will be dedicated at 10 a.m. Wednesday at 37th and Langley Boulevard in Bronzeville.
Richard Hunt's work is on display in the modern wing of the Art Institute of Chicago until Sept. 20. Find details here.
And you can find out a lot more about Ida B. Wells from our recent Chicago Stories special.
Follow Marc Vitali on Twitter: @MarcVitaliArts
---