This winter, Pilsen's iconic west 18th Street is finding new ways to get into the holiday spirit as small businesses partner with local artists to bring festive window displays to the neighborhood. 
The initiative is also a "healthy competition," said Alex Esparza, president of the Economic Strategies Development Corporation, a Pilsen-based nonprofit that organized the 2020 Pilsen Christmas Window Walk.
Residents can vote for their favorite display online; the winning artist will receive $1,000.
"It was the Macy's or the Marshall on State Street kind of idea, of families coming out and visualizing these window displays," Esparza said.
(WTTW News)
The window walk is both an opportunity for artists to showcase their work, and an effort to bring more foot traffic to 18th Street, Pilsen's commercial corridor which, Esparza said, has significantly decreased during the pandemic. 
Pilsen artist Leticia Rodarte says it's a welcome help during challenging times.
"It's been difficult," Rodarte said. "It's been very hard because under normal circumstances, artists have a hard time selling their art but now during the pandemic it's even worse because a lot of artists, they depend on the pop-ups, the public events to bring an income and right now we can't do that." 
For the window display she created at Café Jumping Bean on 18th and South Bishop streets, Rodarte used recycled items like cardboard, but she says corn husks are the "main character" of the display, which recreates a Christmas moment from her childhood. 
"Our kitchen was so humble," Rodarte said. "Whatever was found in the pot was stuff that my grandfather brought from the field that he harvested with his own hands. We didn't have a Christmas tree at all. We put Christmas lights around the lemon tree next to the kitchen, but it was beautiful because we didn't need any of that stuff."
Rodarte hopes it reminds passersby of their own memories. 
"Especially the Latinos that are familiar with the scenario, they will say, like, 'Oh I remember when I was a child, oh my God, my grandmother's tortillas … and my grandmother's this,'" Rodarte said. "It makes them happy. It's a moment amongst all the chaos."
Many organizations have pivoted to drive-thru events during the pandemic, but Pilsen's window displays are detailed, requiring them to be viewed up close.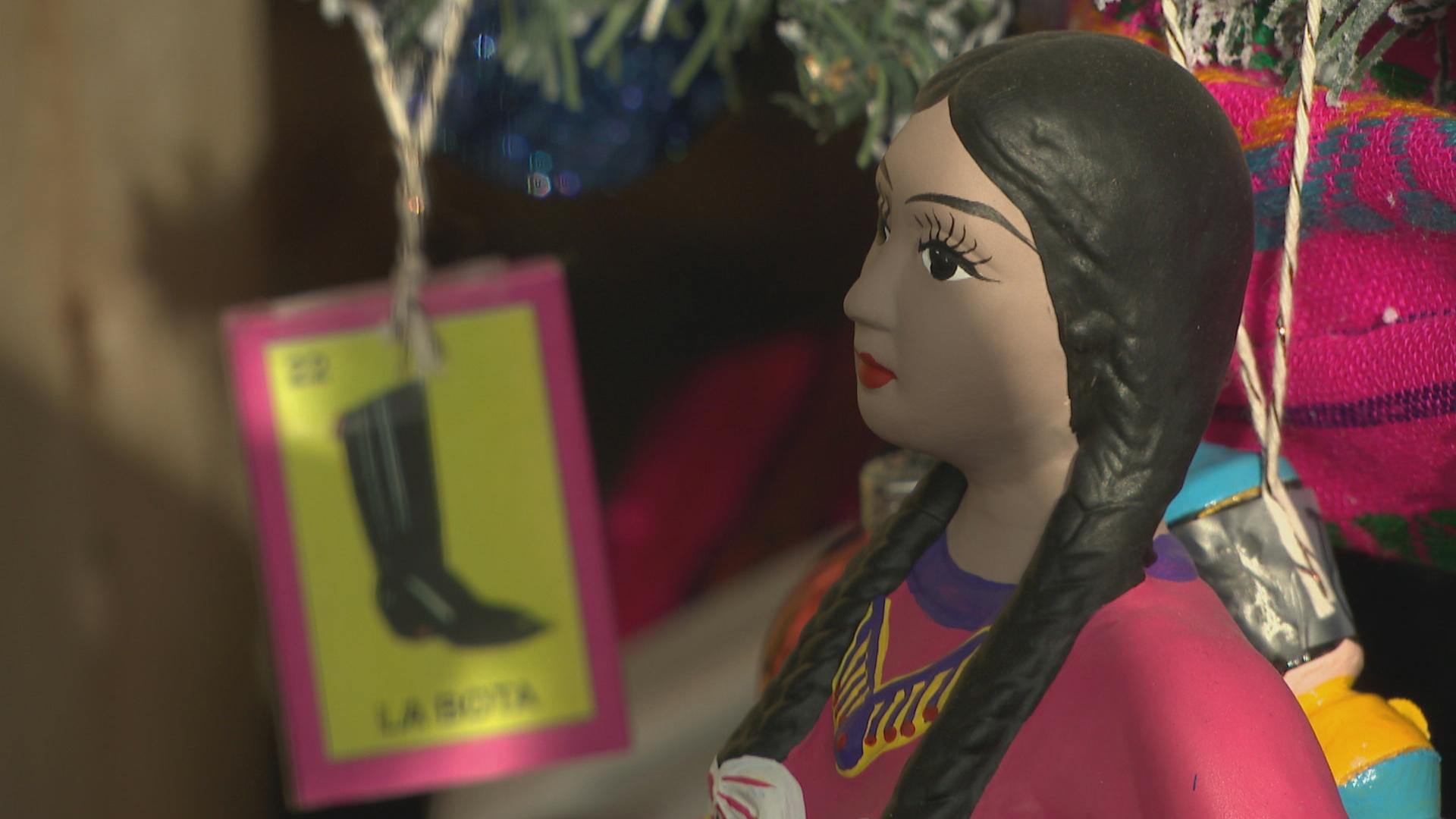 (WTTW News)
"It's very easy to drive through a neighborhood because you can drive through a neighborhood in five minutes, but that doesn't really generate anything outside of just traffic," Esparza said. 
He hopes the intricate displays will bring more business to the community.
That was also Stefanie Sysounthone's goal when she designed the storefront of Escaramuza, a Mexican gift shop.
"I'm hoping that this was able to help Julio bring in more business and visibility to his wonderful gift shop here," Sysounthone said. She owns Pinky Swear Studio, an event design business. 
(WTTW News)
Since the display went up on Small Business Saturday, Escaramuza owner Julio Velazquez said it has helped business. The decorations have attracted customers who want to take their picture with the display, he said. 
That's also true for Rodarte's display at Café Jumping Bean, said owner Eleazar Delgado. 
"I see the people stopping by taking pictures of it and checking in on social media with it, so that's been nice, and I see it up and down 18th Street. It's not just our location, I see it at the other spots that have it," Delgado said. "The artwork in the windows have definitely done a little bit to help with the mood of people."
Voting ends Monday, but the decorations will stay up through Jan. 3 on West 18th Street and surrounding streets.
---