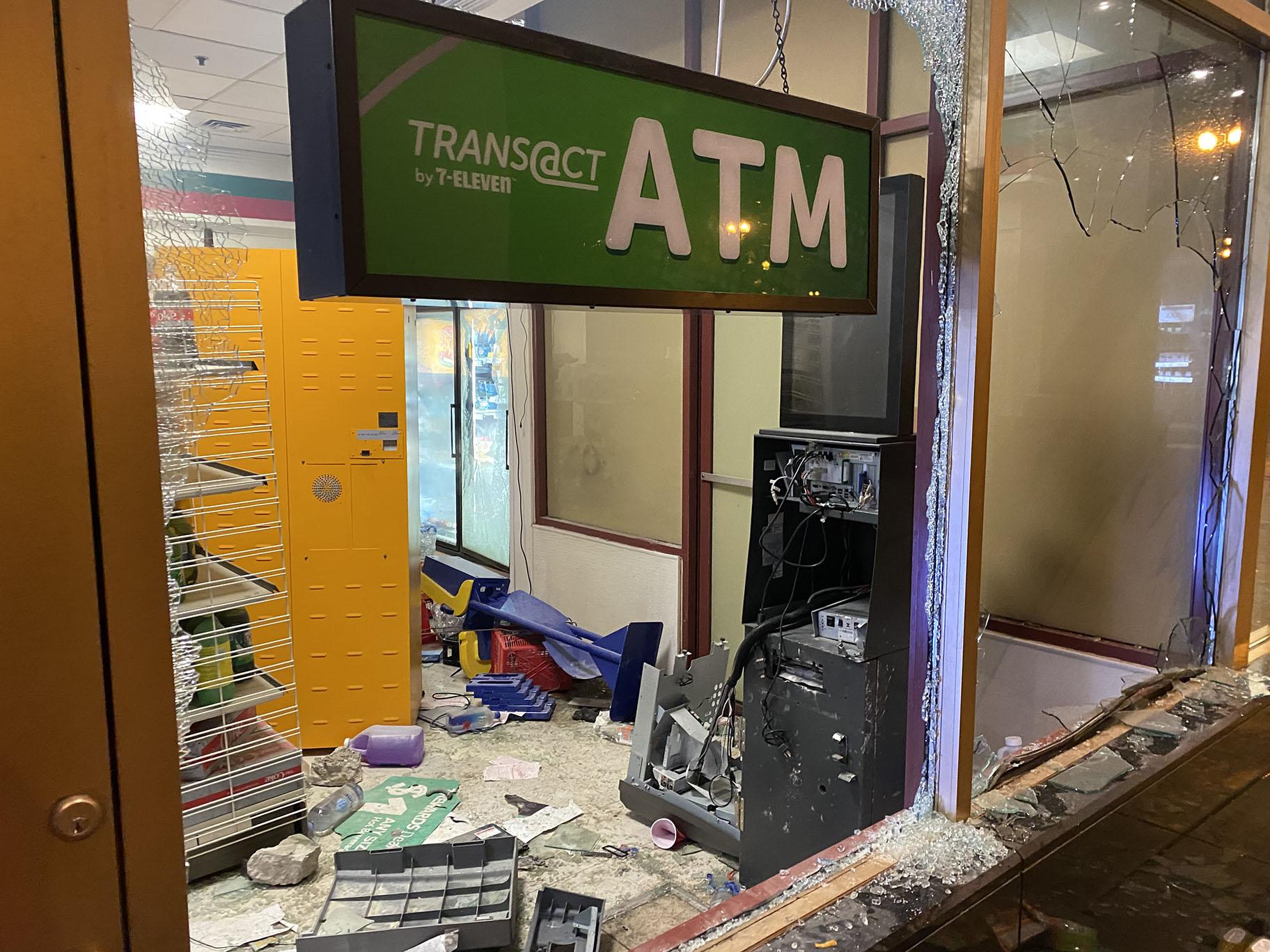 An ATM in the Loop is destroyed and windows are smashed on Saturday, May 30, 2020. (Hugo Balta / WTTW News)
An Illinois man who took part in protests in both Chicago and Minneapolis over the weekend is facing federal criminal charges after he allegedly handed out explosives and encouraged others to "light that b***h and throw it" at police officers.
Matthew Rupert, 28, was charged with civil disorder, carrying on a riot and possession of unregistered destructive devices, according to a federal complaint filed Monday in the U.S. District Court in Minnesota.
According to the complaint, Rupert, who lives in Galesburg, Illinois, posted a message on Facebook last week saying that he was intending to travel to the Twin Cities to take part in the protests following the police killing of George Floyd. He indicated he was looking for "goons" to join him and was booking hotel rooms.
On Friday, he posted a two-hour Facebook Live video in which he allegedly passed out explosive devices and encouraged others to throw them at police. 
"I've got some bombs if some of you all want to throw them back … bomb them back," Rupert is quoted as saying in the complaint as SWAT vehicles arrived at the protest. "Light that b***h and throw it at them."
Another man can then be seen on video lighting and throwing one of the explosive devices, the complaint states, at which point Rupert said, "He's throwing my bombs." An explosion can then be heard and Rupert allegedly said, "Good shot my boy."
The complaint states that on the video, Rupert also "actively damages property, appears to light a building on fire and loots businesses in Minneapolis."
Rupert then traveled to Chicago, where he posted more videos online early Sunday morning. He can be heard saying, "Let's start a riot" and "I'm going to do some damage," according to the complaint, and indicated he was at "South Plymouth and Ida B. Wells," which is near Grant Park.  
Rupert can be seen on video entering multiple businesses, including at least one that had been broken into, and placing items into his backpack, the complaint states.
Chicago police arrested Rupert at about 2:21 a.m. Sunday for violating the city's curfew, and found in his car explosive devices similar to the ones seen in his previous video, as well as a hammer, heavy-duty flashlight and cash.
Rupert appeared via telephone for a removal hearing Monday afternoon before U.S. District Court Judge Rebecca Pallmeyer – the chief judge for the Northern District of Illinois  – who ordered his transfer back to Minnesota to face the criminal charges there.
The FBI said anyone wishing to report "suspected arson, use of explosive devices, or violent, destructive acts associated with the otherwise peaceful protests" may do so by calling (800) 225-5324.
Contact Matt Masterson: @ByMattMasterson | [email protected] | (773) 509-5431
---