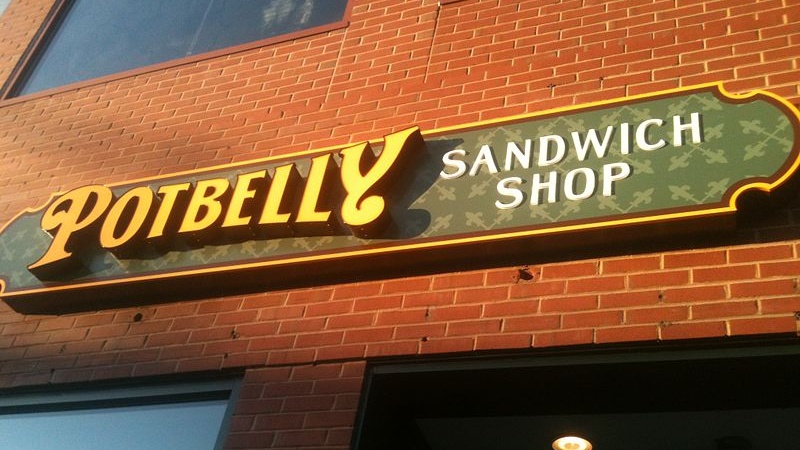 (Wikimedia Commons)
For Chicago-based sandwich chain Potbelly, which features a signature six-meat sandwich dubbed The Wreck, receiving a $10 million loan through the federal Payroll Protection Program (PPP) turned into one.
The Potbelly Corporation announced Saturday that it will return the money after having received "further clarification from the Treasury Department" about the loan.
"Potbelly's sales dropped dramatically when COVID-19 hit, forcing us to furlough employees, close shops, and significantly cut salaries at all levels of the organization. In order to financially support our in-shop employees, and based on SBA guidelines, we applied and qualified for assistance" under the PPP, Potbelly said in a statement. "We were surprised and disappointed when the fund was quickly exhausted, leaving many without help."
The PPP was created in March as part of the federal CARES Act. The loans given through the Small Business Administration are designed to help employers keep workers on their payroll throughout the COVID-19 crisis.
But high demand caused the program to quickly run out of funding.
Some of the businesses that did initially get in on the program include large corporations and publicly traded companies. That bred backlash from both the public and the U.S. Treasury Department which on Thursday issued new guidance.
According to the revised directions, when it comes to whether "businesses owned by large companies with adequate sources of liquidity to support the business's ongoing operations" qualify, borrowers "must certify in good faith that their PPP loan request is necessary."
"It is unlikely that a public company with substantial market value and access to capital markets will be able to make the required certification in good faith, and such a company should be prepared to demonstrate to SBA, upon request, the basis for its certification," the rules state.
Gov. J.B. Pritzker said Saturday at his daily coronavirus briefing that "companies that don't need the PPP money should not accept it."
The governor, a Democrat, said he is "very concerned" about how hard it has been for small businesses to access the program "because it is really the small businesses in our state that create most of the jobs."
Illinois' Department of Commerce made $90 million available in grants and loans to small businesses in the state, he said, but "it's not enough. I mean, there's no way that the state can do what the federal government can do, and that's why those federal programs are so important."
Pritzker, however, is under fire from business groups on multiple fronts.
The primary battle now involves a recent emergency workers' compensation rule that could prove costly for businesses. Under it, certain classes of employees —even those working remotely — will automatically be granted workers' comp benefits if they contract COVID-19.
Other business-backed groups, including those affiliated with Republicans, have said the economic distress caused by the coronavirus crisis is reason enough to remove from the November ballot a question about amending the constitution so Illinois could move to graduated income tax rates.
Critics of the change say it will punish small businesses by charging them for success, that it will lead to too much uncertainty, and that it will set in motion a path to higher tax rates in the future.
Pritzker on Saturday said those critics don't understand how income taxes work.
"People who are either going to break even or lose money this year won't pay any income tax, and people who make less than they normally would (will) pay a lower income tax," he said. "As I said before, now more than ever, we need to have a fair tax system for the state of Illinois."
Pritzker's Illinois Department of Employment Security has also been the source of frustration for laid-off workers trying to file claims who have not been able to get through.
The governor has said Illinois is working to bolster the website. IDES has also implemented a rolling system, in which individuals are to file claims on certain days based on their last names, as a way for the agency to handle the "extremely high volume" of claims for unemployment benefits.
In a Saturday morning webinar intended to help guide small business owners through federal options for aid, Illinois U.S. Rep. Sean Casten said he is working to get federal money secured for states, including Illinois, to beef up the infrastructure of their unemployment benefits programs.
A new round of PPP money will become available Monday.
Follow Amanda Vinicky on Twitter: @AmandaVinicky
---