Homework is a fact of daily life for all high school seniors, but Meydi Guzman Rivas has loads of it – she's got to catch up in order to graduate with her friends this May. She's been back at Crystal Lake Central for a week after missing roughly four months of class. 
"I'm going to make up all the work I missed, so I can graduate this year … I'm so excited about that," she said.
In October, Guzman Rivas and her father were arrested at an immigration court hearing.
They'd escaped their small town in Honduras in the summer of 2018, traveling through Guatemala and Mexico to seek refuge in America, with a plan to stay in Crystal Lake where a family friend resides.
Border patrol agents apprehended them immediately when they crossed the border into Texas, but they were released with the understanding that they'd regularly attend court hearings.
Her attorney, Nathan Reyes, says they did. But just after Meydi turned 18 in September, they went to what they thought they thought was their next scheduled date.
Immigration and Customs Enforcement, however, said they'd missed a court date.
They were immediately arrested, and separated. Guzman Rivas was taken to McHenry County Jail. 
Her school counselor, Sara Huser, noticed something was off. 
"I noticed that she had been absent for five days and that's not typically of her. I called the attendance clerk and I said, 'Hey, I noticed that Meydi has been absent for five days, do we know anything, have we gotten any phone calls?' She said, 'Sara I just connected with an emergency contact this morning who told me that Meydi and her father have been picked up by ICE.' My heart sank," Huser said.
Huser, a bilingual mother of four, says friends helped her get in touch with Guzman Rivas, who signed over power of attorney.
"Which was very knowledgeable, I didn't know that, because certainly a few days later Meydi was moved to Pulaski County and was not able to make any decisions. We were able to find representation for Meydi, I was able to sign the paperwork needed to do that because my friend had the knowledge that I would need the power of attorney," she said.
The Pulaski County Detention Center where Guzman Rivas was primarily held is some 400 miles away – a six- or seven-hour car ride south of Crystal Lake. She says no reason was given for the sudden transfer.
"They don't even tell you when they're going to move you. They take us out at 3 in the morning, they speak to us via speakers and they tell us: We're leaving. And we don't know where we're being taken to. So, when they moved me to Pulaski, they handcuff our hands and feet. And it's very difficult," Guzman Rivas said.
Days were long and lonely – Guzmn Rivas says she missed her friends and family and the cellphone she's otherwise constantly on (a friend made her a temporary paper replacement). She describes the detention center as "a big room. There are like cells. There are two beds in each cell. So two people in each room."
One source of solace: Pulaski uses a video conference app that made it easy for the Husers and Meydi to talk just about daily. Some chats were light (Huser says her 6-year-old daughter would try to tell Guzman Rivas knock-knock jokes), but often, there were a lot of tears.
"This is a jail. I refuse to say 'detention center.' I think 'detention center' makes it sound, not like a jail. It is a jail," Huser said.
The whole time, pro bono lawyers and Huser were working to get Guzman Rivas released. Friends sent Christmas cards and letters.
"You don't know how much I love and miss you. I would've given anything for you to not to have to spend Christmas in that place," reads one from a Crystal Lake best friend. "Remember that after the storm comes the calm."
Strangers contributed to a GoFund Me page that's raised $10,000 – money that was used to post Guzman Rivas's $2,000 bond when suddenly a judge granted it Feb. 12. 
The Husers gave the judge a promise: Until her own family was able to take care of Meydi, they would do so.
"She's a child, she came here as a child, she's a victim. I think as a mother, I can't imagine my child suffering the way that she did and having anyone say, 'We don't want you here.' It's not a political thing, it's a human thing," Huser said. "Anytime anybody is brutally attacked and their life is threatened and they want to save their life, they do what they can do. And I think as parents you do what you can do for your children and if that means coming to the land of the free and the home of the brave that's what you do. It just makes sense to me. This is the land of opportunity, this is a land of refuge and safety, and people have come here for that for 244 years plus, right? I think if people need America, we're here and we should welcome them with open arms."
In a private video of her release, made public for the first time on "Chicago Tonight," Guzman Rivas leaves a courtroom carrying a large plastic garbage bag of her belongings. An anxious and teary Huser embraces Guzman Rivas, before Huser's kids join in for a joint hug.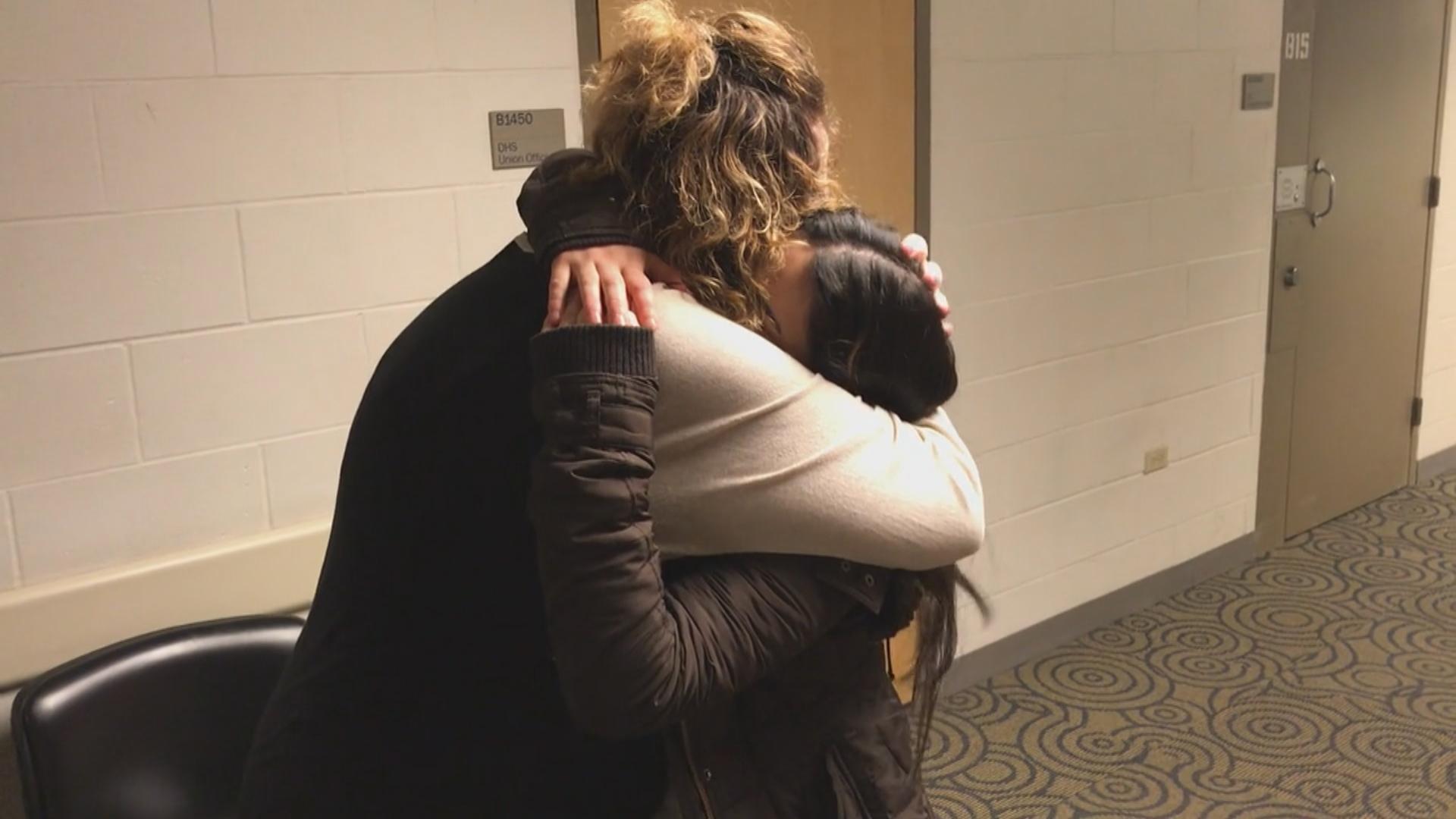 (WTTW News)
Now that she's out of jail, Guzman-Rivas spends her time talking selfies, hanging out with her friends, and playing games with the Huser kids. (That is, when she's not busy with all of that homework.)
"All of the people that have helped me, they know that I am really grateful for all the support that I have received here in the United States. I'm going to be always grateful," Guzman Rivas said.
Guzman Rivas says though she misses her mom, Huser has become like a second mother.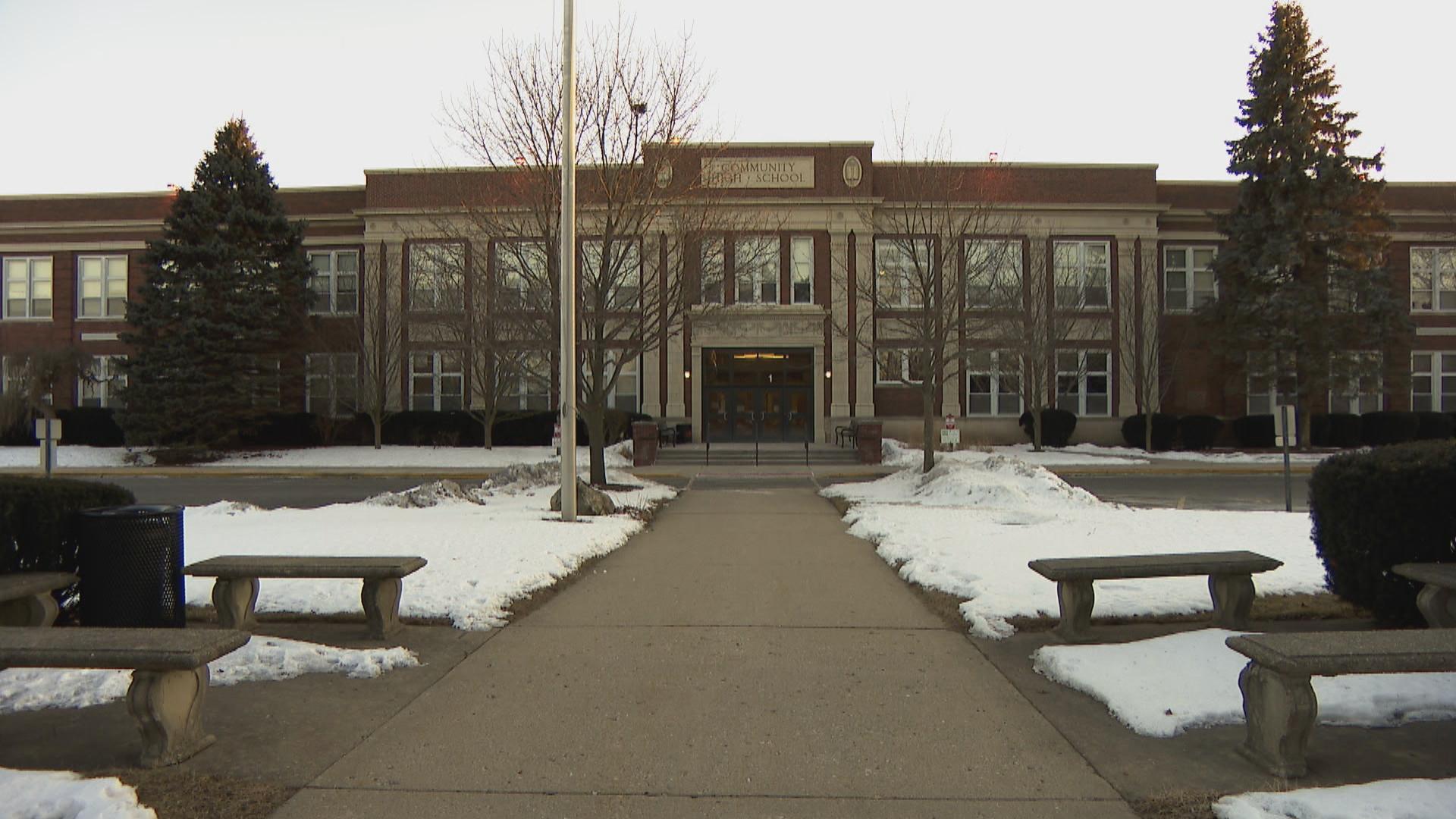 (WTTW News)
And while she said she's "blessed" and can't imagine anywhere as welcoming as Crystal Lake, she worries about the many immigrants who are still stuck behind bars. 
"When I was in McHenry county jail I was with Jenny. She's my friend. She's from Cuba and she's still in jail. She has nine months in jail. I'm really sad for her. Because I would like to be able to do something for her. It's really sad because I can think about all of the people are in jail and they continue there," Guzman Rivas said. "There is a lot of people that they are alone in jail, I can't imagine how it can be. I received a lot of support. I was always sad, I felt terrible. I can't imagine how they feel." 
She doesn't like to talk about what exactly happened that led her to flee, leaving behind her mom and siblings, but she was a direct victim of violence, her pro bono attorney said – violence that's the foundation for her asylum petition.
"At a broad level, what we are asking the U.S. to do is to recognize that Meydi is a victim of violence and that returning her to Honduras is only going to put her in danger," Reyes said. "Not slightly afraid – this is if you are returned there is a good chance the people that you fled are likely to seek their revenge and likely kill you. That is the level of threat and harm that we're dealing with here."
Her dad, also just released, has a separate legal team. 
Meydi and Huser did not grant WTTW News access to her case file – unlike most court documents, immigration case files are private, barring express approval from the parties involved. 
A court hearing Wednesday morning was brief and made no material changes to the case. Beyond that, there's no set timeline.
One date definitely on the calendar: Crystal Lake Central High School's graduation, is set for May 16.
Follow Amanda Vinicky on Twitter: @AmandaVinicky
---