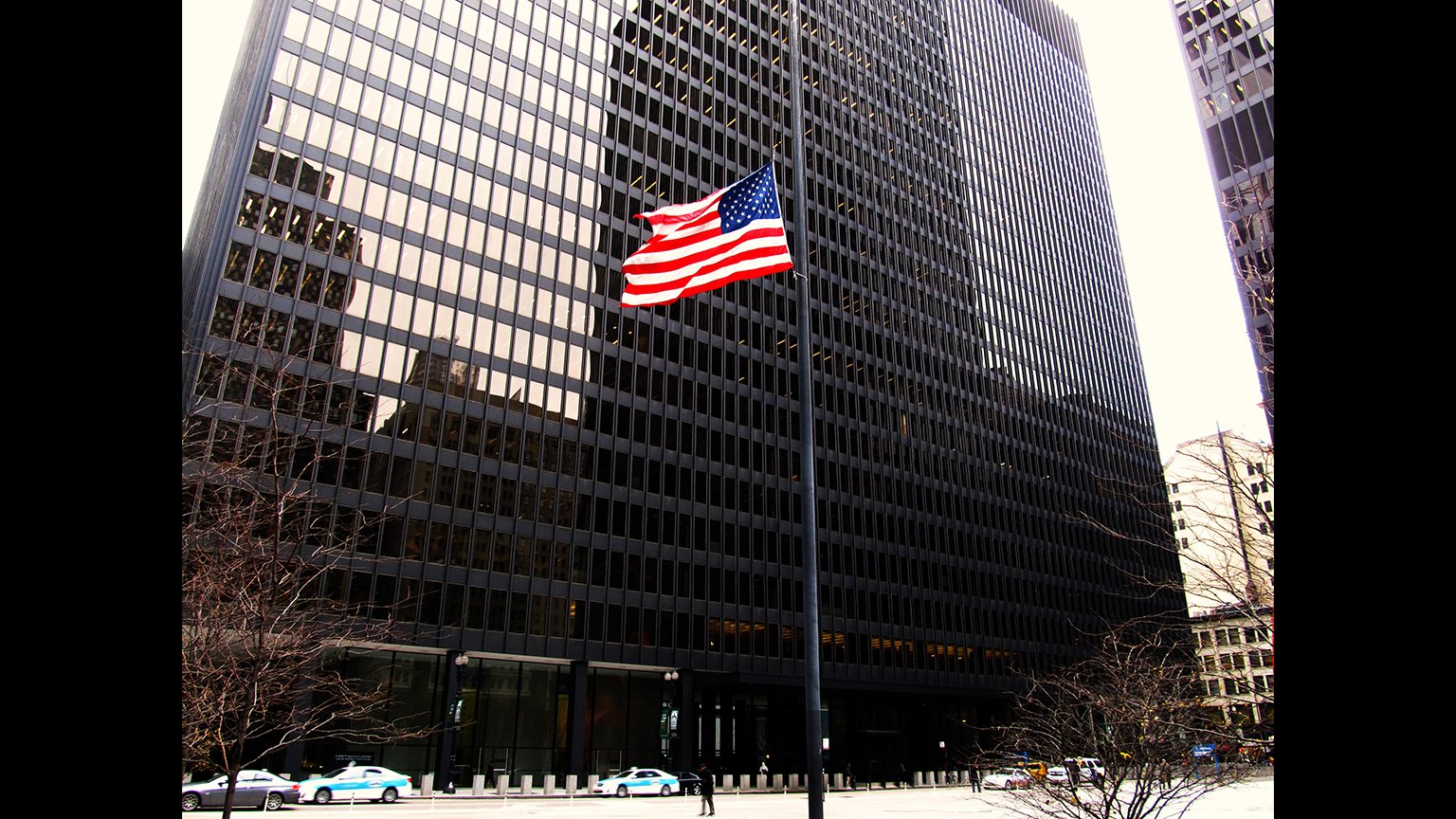 Dirksen United States Courthouse (Ken Lund / Flickr)
The reputed gang member convicted of shooting a Bureau of Alcohol, Tobacco, Firearms and Explosives agent in the head last year on the Southwest Side has been sentenced to more than 16 years in federal prison.
Ernesto Godinez, 29, was convicted earlier this year in federal court for the non-fatal shooting of ATF Special Agent Kevin Crump, who was struck in the head by a single bullet as he and other agents sought to replace a court-approved tracking device on a vehicle in the Back of the Yards neighborhood.
On Wednesday, he was sentenced to 200 months in federal prison.
"The defendant has no regard for human life," Assistant U.S. Attorney Kavitha Babu said during sentencing.
Crump was shot in the early morning hours of May 4, 2018 while he and other agents were conducting "covert law enforcement activity." Federal prosecutors said the agents were crossing the intersection of 44th Street and Hermitage Avenue when Godinez opened fire.
A bullet struck Crump in the base of his neck and jawline and exited between his eyes. He survived the shooting and testified against Godinez at trial.
"Save for a few millimeters, Ernesto Godinez would have killed a 28-year-old federal agent on May 4, 2018," Babu and her fellow Assistant U.S. Attorney Nicholas Eichenseer wrote in the government's sentencing memo. "The defendant's assault on ATF Special Agent Kevin Crump was brazen, callous, and cowardly."
Godinez, who was a leader in the Wood block of the Latin Saints, believed he was shooting at rival gang members, according to prosecutors.
"I feel good. F--k that flake," Godinez told his girlfriend immediately after the shooting, according to testimony at trial. "Flake" is a term used to describe a rival gang member.
But Godinez's attorney Lawrence Hyman claimed that soon after his client learned he'd shot a federal agent, Godinez and his family contacted an attorney and made plans to turn himself in.
Crump, 28, had been an agent in the field for just four months at the time of the shooting, his first job in law enforcement. Babu on Wednesday described the chaos other agents on the scene that night faced after the shooting. Crump was making sounds that "barely sounded human," she said. His fellow agents had to carry him into a car and perform first aid as they drove him to the hospital, not knowing if he would survive.
"I thought he was going to die in the back of that car," ATF Special Agent David Lopez said. "I thought I was going to watch my friend die."
Crump had the bone in between his eyes replaced with a metal mesh and he has lost full use of his left eye. But he has since returned to his job as an active agent.
"He could have easily let us walk through his neighborhood undisturbed … however he chose not to," Crump said, asking the judge to issue a maximum sentence to Godinez.
Godinez was convicted in June of one count of assault of a federal officer and one count of discharging a firearm during a crime of violence. Prosecutors had recommended consecutive 15-year sentences on those charges, arguing that such a penalty should be reserved only for "the most dangerous offenders and the most serious crimes."
"The defendant," Babu and Eichenseer wrote, "falls into both categories."
Hyman protested such a sentence, calling it "completely unreasonable and unnecessary." He and fellow defense attorney Gal Pissetzky instead called for a sentence ranging from 147 to 153 months and argued Wednesday that their client should not receive a more severe penalty just because the victim of his crime was a federal agent.
"The life of an agent is no different than the life of a gang member or somebody else," Pissetzky said, adding that his client had not planned to shoot a law enforcement officer. "A life is a life."
Contact Matt Masterson: @ByMattMasterson | [email protected] | (773) 509-5431
---
Related stories:
Guilty Verdict for Homeless Man Charged With Killing Off-Duty Chicago Officer
Police: Suspect in Cop Shooting, Bike Attack Captured
Third Man Charged in Fatal Shooting of Off-Duty Chicago Officer
2 Charged in Fatal Shooting of Off-Duty Chicago Police Officer
---