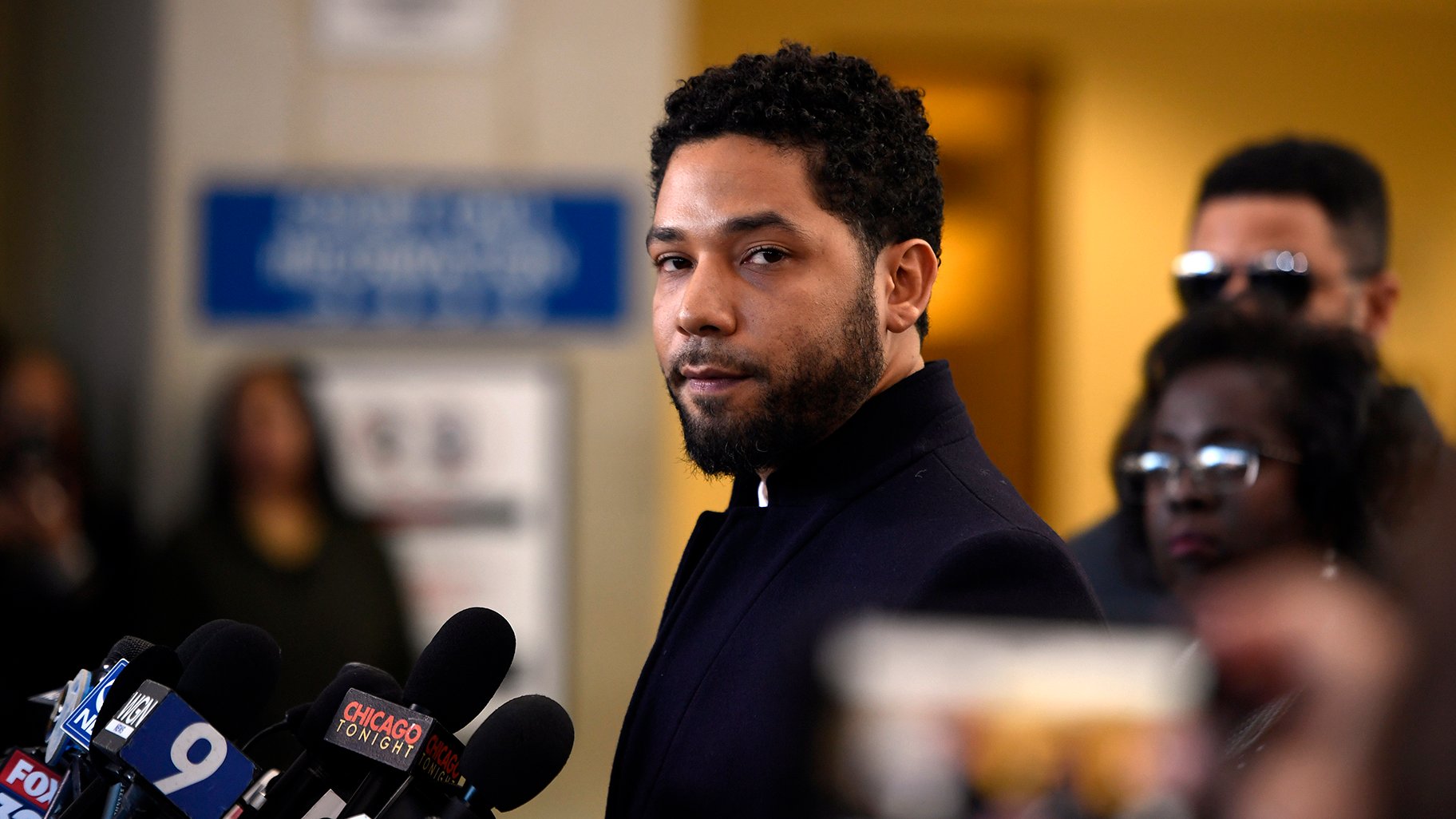 Actor Jussie Smollett talks to the media before leaving Cook County Court after his charges were dropped, Tuesday, March 26, 2019. (AP Photo / Paul Beaty)
A federal judge has denied a request from former "Empire" star Jussie Smollett to dismiss the city of Chicago's lawsuit against him, meaning the city may proceed with its push to reclaim the $130,000 it says the police department spent investigating the actor's allegedly false claims.
In a brief hearing Tuesday morning, U.S. District Court Judge Virginia Kendall said it was not unreasonable for the Chicago Police Department to direct the resources it did into the high-profile investigation.
"This will be going forward," the judge said.
Smollett claimed to police he'd been attacked near his Streeterville apartment early on the morning of Jan. 29, 2019 by two men who yelled racist and homophobic slurs at him. After investigating that allegation over the course of weeks, CPD detectives determined Smollett had orchestrated the incident himself.
They believe he paid two brothers – Olabinjo and Abimbola Osundairo – $3,500 to stage the "attack" in an effort to help boost his public profile.
In March, Smollett was indicted on 16 felony counts of disorderly conduct for allegedly filing a false police report, but the Cook County State's Attorney's Office later dismissed those charges in a surprise move.
That same month, the city's Law Department demanded Smollett pay back the $130,000 the police department expended on overtime as it investigated his claims, saying that if he refused, he could face a civil suit or prosecution for violating Chicago's municipal code. Smollett did refuse and the city filed suit in April.
Watch: Jussie Smollett's attorney William Quinlan speaks to media after Tuesday's hearing.
---
But Smollett's attorneys claimed that simply filing a police report – whether accurate or not – did not "necessitate a sprawling investigation," nor does it typically "result in an investigation as extensive as the one the (Chicago Police Department) chose to undertake in this case."
By submitting that report, they claim, all Smollett did was "enable" Chicago police and Cook County prosecutors to "decide whether and how to investigate."
Kendall, however, wrote in her 18-page ruling that the "natural, ordinary and reasonable consequence" of a police report is a police investigation.
"And the natural, ordinary and reasonable consequence of a police report like this one – a racist, homophobic physical assault in which masked attackers invoked the President of the United States' official campaign slogan – is an intensive, sprawling investigation like the one that took place.
"Smollett contends that police overtime pay is not 'foreseeable in the normal course of events,' but this is hardly the normal course of events – most crime victims, for instance, do not have the opportunity to discuss the crime on Good Morning America."
Smollett was not present in court Tuesday. His civil attorney William Quinlan told reporters after the hearing he had not yet spoken with his client about the ruling, but said he was not surprised by Kendall's decision.
"My client has always maintained his innocence," Quinlan said. "He is happy to have this decided on the facts and believes that when the facts come out, it will show his innocence."
With the case moving ahead, both sides will now have the opportunity to conduct depositions under oath to try and answer the who, what, when, where and why of Smollett's alleged attack. That could include the Osundairo brothers, who testified under oath before a grand jury just before Smollett was criminally charged.
While those charges were dismissed, special prosecutor Dan Webb has been appointed to investigate whether further criminal charges are warranted against the actor.
Kendall gave the parties until February 2020 to settle discovery in the civil case and a trial may begin next summer.
Quinlan noted it may be more expensive for his client to fight the city's claims than to just pay the $130,000. But he reiterated that Smollett has maintained his innocence and believes "you don't put a price tag on that."
"So he's willing to spend what it takes to prove his innocence," he said, "because unfortunately he has been proven guilty in the media more than proven innocent."
Contact Matt Masterson: @ByMattMasterson | (773) 509-5431 | [email protected]
---
Related stories:
Jussie Smollett's Attorneys Detail Why Civil Suit Should Be Tossed
Judge to Rule on Tossing Suit Against Jussie Smollett in October
Special Prosecutor in Smollett Case Reveals He Made Campaign Contribution to Kim Foxx
Veteran Litigator Dan Webb Appointed Special Prosecutor in Smollett Case
---