The future of medical monitoring is taking shape in a laboratory just north of Chicago.
While most of today's medical monitors are expensive and require connections that are hardwired and taped to the patient, future monitors will be cheap, small and wireless.
What makes this possible is a new generation of flexible electronics pioneered by professor John Rogers who leads the Center for Bio-Integrated Electronics at Northwestern University.
Rogers got his start at Bell Laboratories.
"We were working on technologies for flexible displays in those days," he said. "Electronic newspapers, something like that. … That's kind of how I got my start in flexible electronics. When I moved from Bell we were approached by a group of neuroscientists at the University of Pennsylvania wanting to know if we could take our flexible display circuits and put them on a brain."
The neuroscientists wanted to see if they could use Rogers' circuitry to both map the brain and also stimulate it to prevent epileptic seizures.
"To be able to put electronics on the human body occurred to us as being a richer area for research and a lot more promising for broad societal impact than a new piece of consumer electronic gadgetry," he said.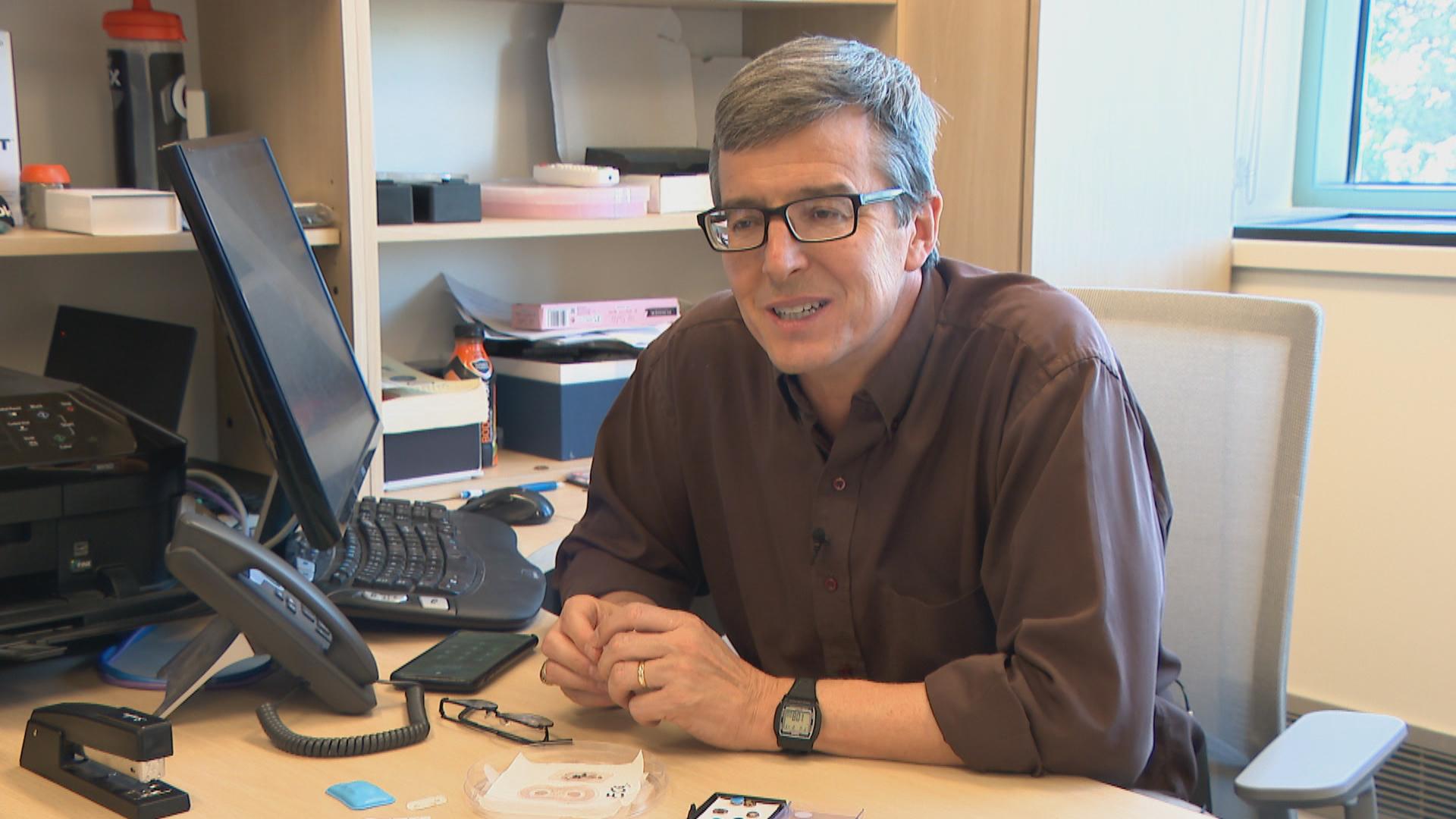 John Rogers, who leads the Center for Bio-Integrated Electronics at Northwestern University. (WTTW News)
That was in 2005, and since then, Rogers and his team – first at the University of Illinois and now at Northwestern – have developed an array of medical and sports-related monitors.
From patches that capture sweat and analyze your precise rehydration needs – a product the team is developing in collaboration with Gatorade – to UV monitors no bigger than a button.
One of the team's most advanced devices is a wireless vital signs monitor for premature babies. It's currently being evaluated in a pilot program at Lurie Children's Hospital and Prentice Women's Hospital.
"It actually rests on the chest of a neonate and it can be used to monitor cardiac activity in a way that doesn't require wires or adhesive tapes to hold electrodes to the surface of the skin," Rogers said.
That's important because current technology not only involves multiple wires and sensors that frustrate interactions with parents and nurses, but the daily cycle of applying and removing tape can damage the skin.
"What we were able to do was to develop an alternative technology that offers clinical grade monitoring capabilities but without the wires, without the adhesive tapes," he said.
By measuring the time it takes for a pulse to travel from the heart to a sensor on the foot, it's also possible to effectively calculate blood pressure, something rarely measured in premature babies because the cuff can causing bruising and skin damage.
The sensors are powered wirelessly using the same technology that allows wireless payments with a cellphone, says Rogers.
The device is so promising that the Bill and Melinda Gates Foundation and the Save the Children Foundation have funded Roger's team to adapt and deploy the device in areas of the developing world where no health monitoring technology is currently available.
"We're on schedule to do 20,000 patients over a 12-month period that will start in September. And so it will be India, Pakistan, Zambia and Kenya, starting with Zambia," Rogers said.
And remarkably, the new devices – which in testing appear to be at least as good as current technology, if not better – will also be cheap.
"I think it will be around $15 per sensor but they are reusable," Rogers said.
Another promising area of research is what Rogers' calls transient electronics. The idea is to develop electronics that can be implanted inside the body to monitor and stimulate healing and then disappear when they're no longer needed.
"So these are water-soluble materials that dissolve to biocompatible end products and allow us to think about temporary implants – almost like absorbable sutures in a sense, conceptually," said Rogers. "But instead of just providing a dumb mechanical function to hold a wound closed these devices can go in and do digital monitoring of wound healing, deliver therapies to accelerate the rates of healing but in a way that doesn't require a secondary surgical extraction."
What enables such groundbreaking technology to not only be developed but to be rapidly deployed is constant communication with clinicians and a lab that enables them to go from concept to a working prototype in as little as a day.
Tony Banks, Rogers' longtime research collaborator, explained how the lab creates its wireless monitors.
"Literally, we have all the different resources within our lab … if you come up with some idea that you think is going to make some kind of difference for the clinicians you can basically go from concept to having the device in your hand by the end of the day," Banks said.
And that, says Rogers, enables his team to fulfil its ultimate goal of rapid deployment that enables the devices to have a positive impact on society.
Note: An earlier version of this story misidentified Tony Banks. The print story and video have been corrected.
---
Related stories:
Broadband Access Key to Expanding Telehealth in Illinois Communities
Illinois Tech Becomes 1st University in Midwest to Offer Degree in Artificial Intelligence
Argonne's Advanced Photon Source to Get $815 Million Upgrade
---