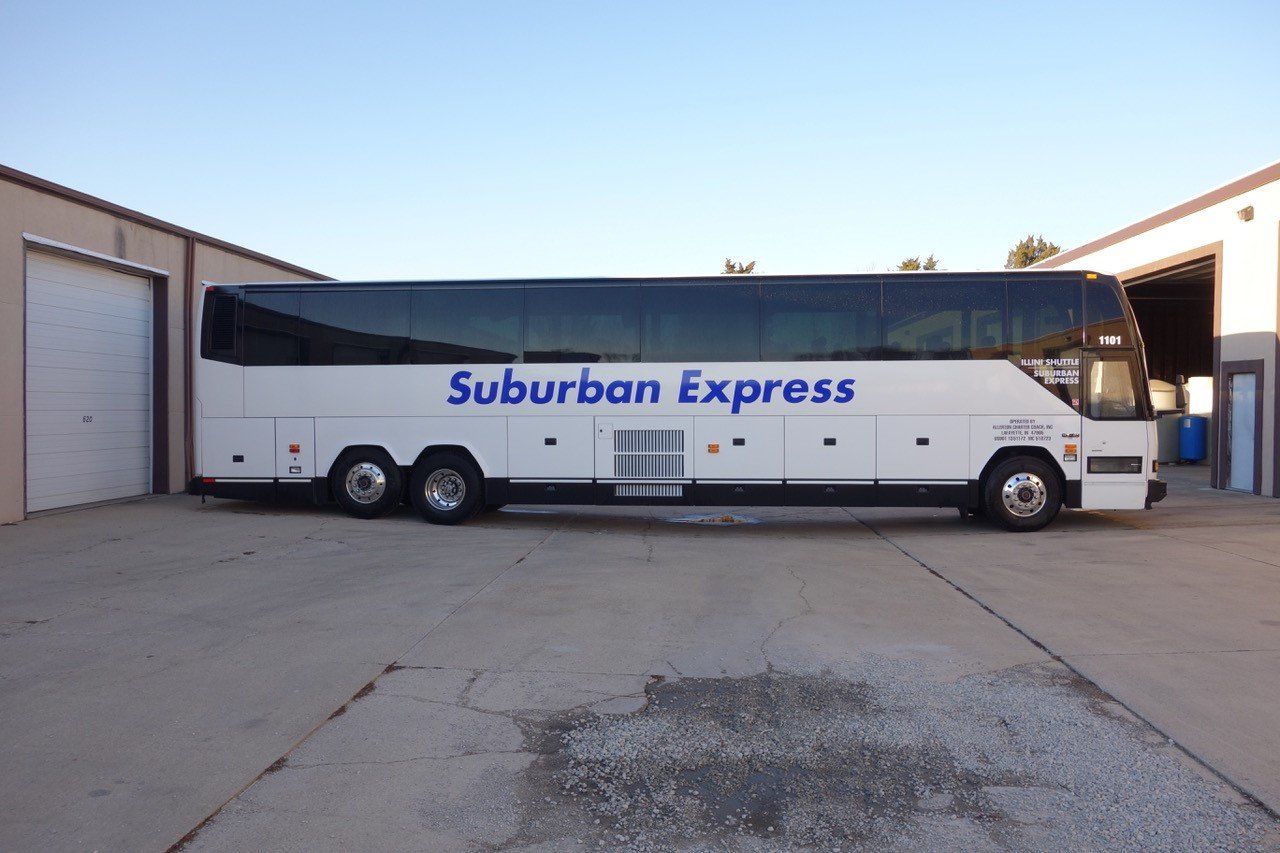 (Courtesy of Suburban Express)
The Illinois attorney general's office has been so inundated with payment requests stemming from its consent decree with a former Champaign-based bus operator that they've asked a federal judge to amend the agreement itself.
Kwame Raoul's office says it needs to change its timeline for payment disbursements after the shuttered bus company Suburban Express agreed to pay a $100,000 fine earlier this year as part of a discrimination lawsuit filed in 2018 by Raoul's predecessor Lisa Madigan.
The money is being used to offer refunds to any Suburban Express customers who purchased tickets dating back to April 23, 2014. But with more than a month left until the refund deadline expires, the attorney general's office says it's already received 8,600-plus requests – a total "far greater than anticipated."
More troubling, however, is the payment timeline: Raoul's office believed it would have six months to issue the refunds, but an early payment from Suburban Express cut that period down to just 40 days. 
"It will be substantially more onerous (and perhaps impossible) for the State to evaluate, process, and pay nearly 9,000 customer payment requests in 40 days, rather in the anticipated 180 days," Assistant Attorney General Alison Hill wrote in a motion last week. "These factors in combination constitute 'a significant change in ... factual conditions' suitable to warrant modification of the Consent Decree."
Hill and fellow Assistant Attorney General Thomas Verticchio appeared before U.S. District Judge Andrea Wood in a Chicago courtroom Tuesday seeking to extend that timeline to April 2020.
The issue arose not because of a late payment by Suburban Express owner Dennis Toeppen – but rather because he paid it off so quickly.
The deadline for that payment was Oct. 6, 2019. But Toeppen paid it off on May 15, and in doing so, kicked off a 180-day period for the state to distribute refund payments by Nov. 15. The attorney general's office did not expect Toeppen's payment until the October deadline date, which would have given it until next April to review and approve any refunds.
Toeppen appeared in court Tuesday to oppose the attorney general's request, arguing that 40 days should be plenty of time to sort through the refunds.
"I don't see how sending out checks is an onerous activity," he told Wood.
Verticchio explained that already his office has identified "hundreds" of duplicates among the refund requests, while hundreds of others were filed on dates outside the refund claim period. To sort through these will require more time, he said.
Wood did not immediately rule on the request, but said she would enter her decision quickly.
The controversial bus line – which had been accused for years of harassing customers and discriminating, in particular, against Asian passengers – abruptly shut down in May.
That announcement came just weeks after it reached the consent decree and agreed to pay the $100,000 fine following a 2017 lawsuit former Attorney General Lisa Madigan filed in the wake of an offensive ad that informed riders: "You won't feel like you're in China when you're on our buses."
Toeppen grudgingly accepted that agreement as he was able to avoid making any admission of guilt, but wrote on his company Facebook page that he felt he was being "extorted by the state" through a lawsuit he said contained "false, unproven, unproveable (sic) and legally inconsequential allegations." In a formal response filed with the court, he referred to the lawsuit itself as "shameless glory-seeking."
Toeppen on Tuesday said the state shouldn't be granted any additional time because it "made a mistake." He also argued that because he's shuttered his business, he should be freed from a separate decree mandate that requires him to attend annual anti-discrimination training sessions.
"I feel bullied here," he said.
Verticchio opposed that request and instead pointed to Toeppen's decades of business ownership, saying it's likely he'll one day operate a business again. He also cited an email he received from Toeppen just this week with a subject line reading "motion to look retarded."
"The training," Verticchio said, "is needed."
Contact Matt Masterson: @ByMattMasterson | [email protected] | (773) 509-5431
---
Related stories:
Controversial Suburban Express Bus Line Abruptly Shuts Down
Bus Company Faces New Fine After Agreeing to Pay $100K in Discrimination Suit
Suburban Express Bus Line Facing Blowback from 'Offensive, Bigoted' Ad
Suburban Express Issues New Apology for 'Grotesquely Xenophobic' Ad
Illinois Joins Lawsuit Against Trump's Emergency Wall Declaration