When it comes to fashion and home décor, Maya Westbrook wants everyone to know that fair trade goods can look really good. "I think a lot of people have this assumption that it's hippie-dippy, but it can be stylish and cool and chic," she says.
This past weekend, Westbrook and other Whitney Young High School students led tours of a home full of ethically produced consumer goods like linens, clothing and décor as part of the 11th annual World Fair Trade celebration at Fourth Presbyterian Church on Michigan Avenue. The fair trade business model ensures workers are given fair wages and safe working conditions while using environmentally sustainable practices. The stylish home is actually Fourth Presbyterian's clergy house. It was transformed into a fair trade showplace by the event's organizers, nonprofit Chicago Fair Trade.
Fair trade is a cause close to Westbrook's heart – she's even co-founder of Whitney Young's Fair Trade Club. She believes when people learn about fair trade, they'll buy fair trade. "I used to be somebody who shopped a lot of fast fashion, and I really like clothes, and when I found out about how many child laborers worked in the clothing industry, they were like the same age as me and it's really frightening to imagine people working in those conditions. I don't want to put anybody through that inadvertently by supporting companies who support those practices."
Earlier this month, Whitney Young became the first fair trade certified school in Chicago, which means they've committed to educating their students about fair trade practices and using fair trade goods in their own operations.
Chicago Fair Trade executive director Katherine Bissell Cordova says the idea of fair trade naturally resonates with young people. "We're really trying build a movement here, and we know that in order to do that you need youth leaders that are going to carry this on. You get to them when they're young, and they get it. Think about your kids: 'It's not fair!' – you hear it constantly. Who doesn't agree that we should be fair? We've gotten into this real mentality of race to the bottom a lot of times, I think, with consumer goods. We all every single day eat, drink, put clothing on, and all of these, when we do this, whether we like it or not, we're really impacting the lives of people that we don't know and we don't see halfway across the globe. If you don't know where it came from, there's chances are it probably was made somewhere where someone they're not paid a good wage."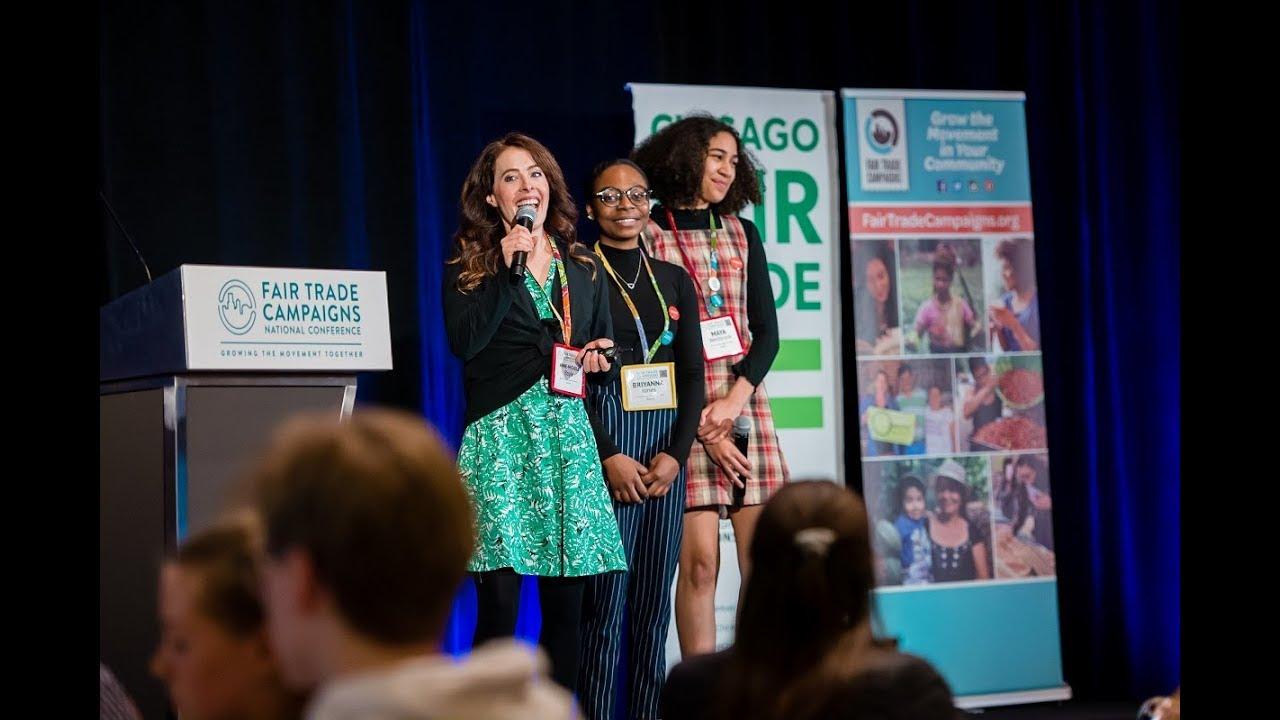 (Courtesy Chicago Fair Trade)
In the event's marketplace, 13-year-old Evan Robinson sold pastries made from fair trade ingredients in a pop-up bake shop to benefit organizations that fight human trafficking. A former "MasterChef Junior" contestant, Robinson says he was inspired to join the fair trade movement after attending a recent conference. "A man from UNICEF talked and he just kind of broke my heart because he was talking about human trafficking, and how big of a problem it is and how unaddressed it is, and then when fair trade presented me with the idea of supporting a charity, I immediately thought it should go to fight human trafficking both locally and internationally," he said.
Robinson convinced five local bakeries to collaborate on recipes and production. "As soon as they heard about it and what a great cause it was, they're like, I'm definitely doing it. For Warm Belly bakery, I created two cookies with them actually, a hot fudge sundae cookie and a salted caramel apple pie cookie. And then from Fat Rice, I have a chocolate banana pear bread with garam masala and smoked salt," he said. "So I have a wide variety of things and everything tastes amazing."
And if the fair trade pitch doesn't get them to bite? He's got another sweet appeal up his sleeve.
"I tell them the calories in sugar don't count because it's for charity."
---
Related stories:
Longtime North Side Electronics Repair Shop Struggling to Stay Afloat
How Technology is Changing the Face of Retail
Shopping Online? Pay Up: Out-of-State Retailers Charging Sales Tax
---