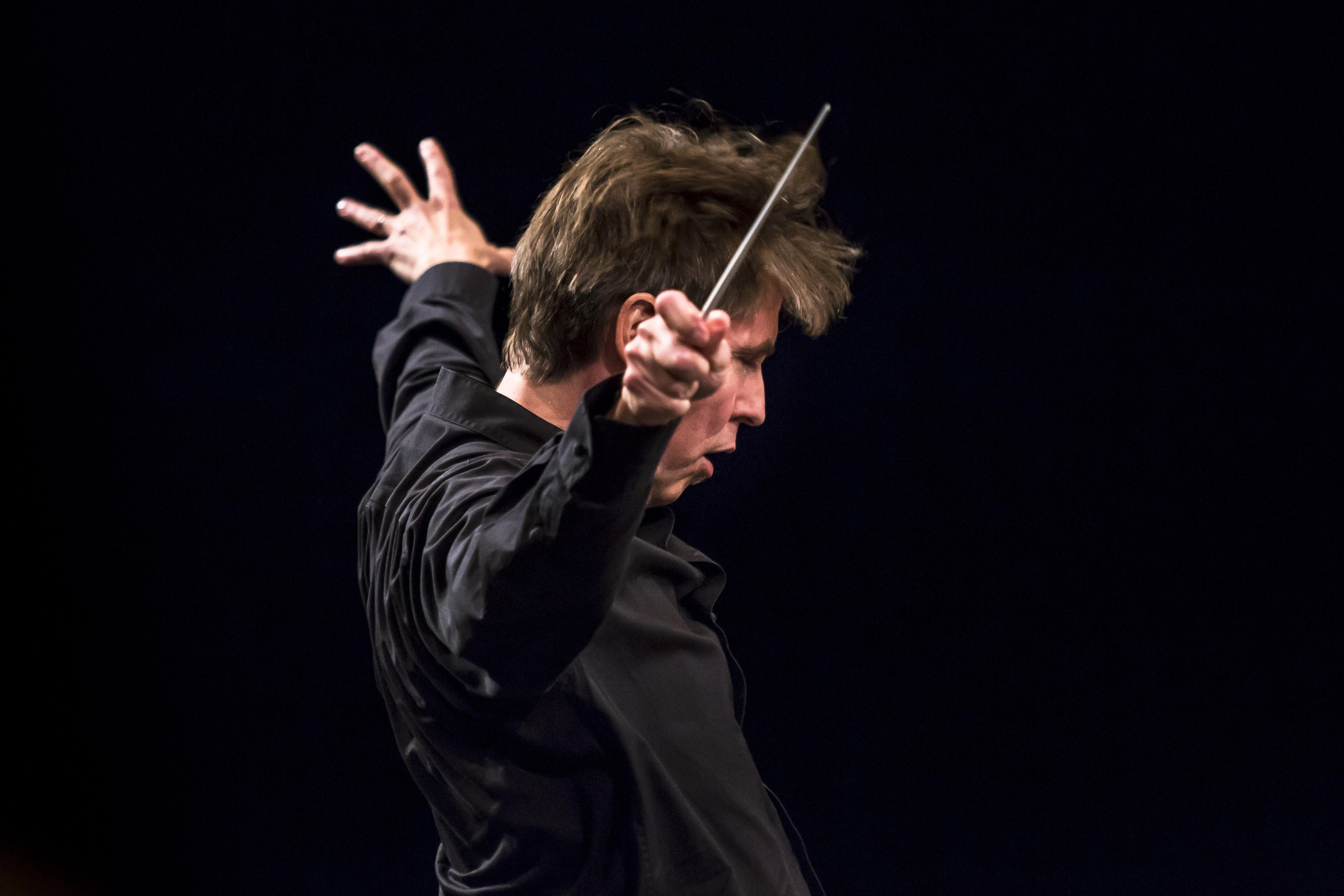 Esa-Pekka Salonen, 2015 (Credit: Nicolas Brodard)
Here is the formula for an astonishing evening of music: 
Take Bela Bartok's Piano Concerto No. 3 – a rhythmically stunning, demonically difficult modern work dating from 1945 (and completed just four days before the composer's death) – and put it in the astonishing hands of pianist Mitsuko Uchida, the Chicago Symphony Orchestra, and conductor Esa-Pekka Salonen. Then, frame this volcanic performance with two very different but complementary works – Brahms' "Variations on a Theme by Haydn" and Arnold Schoenberg's truly transformative "Verklarte Nacht" ("Transfigured Night").
Finally, program all this at the end of Salonen's two-week residency as guest conductor of the CSO – a visit that began with a riveting performance of Mahler's massive Symphony No. 9, a work that ideally reverberates with the Schoenberg piece. Quite the musical odyssey.
First, the Bartok concerto. It begins with music that suggests spare folk rhythms that have been deconstructed and transformed for symphonic use, although at moments there also is an almost jazz-like chordal quality to it all. (Bartok, who fled his native Hungary in 1940 as that country aligned itself with Nazi Germany, spent the final five years of his life in New York, and listening to certain passages I couldn't help but think he might have heard a bit of the jazz being played on 52nd Street at the time, and filtered it through his own particular genius. As strange as this might sound, there were a few passages when Uchida almost seemed to be improvising in the manner of Bill Evans.)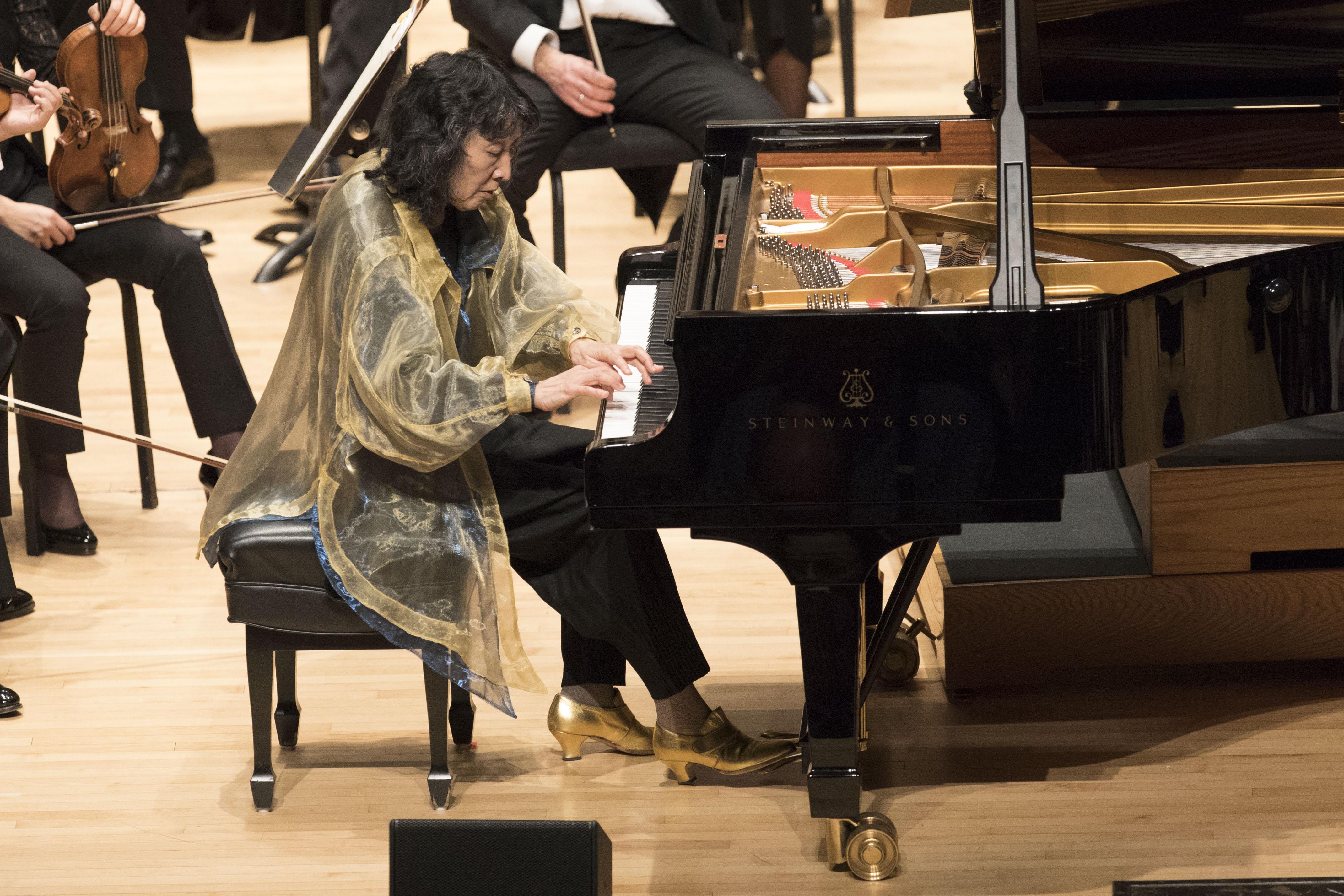 Pianist Mitsuko Uchida performs with the Chicago Symphony Orchestra in March 2017. (Photo credit: Todd Rosenberg Photography)
But everything Uchida touched turned to magic, whether she was generating a great wall of sound or intense yet impossibly light flurries of notes with horns or flutes behind her. She continually turned the keyboard into a form of dramatic speech, with profound insights into Bartok's unique and innovative musical language.
The concerto's Adagio movement is slower and more deliberative and Uchida made it sound as if the piano were almost talking to itself as the strings and winds amplified its thoughts. 
Even the work's most rapid-fire passages were superbly articulated, with the crash of a cymbal paving the way for a great explosion at the keyboard backed by the full force of the orchestra. Uchida's fierce attack was as consistently breathtaking as the percussive power and simultaneous flow in Bartok's reinvented folk rhythms. 
"I never understood Bartok until now," said the woman seated next to me, who was clearly carried away. And of course the CSO was in total lockstep with Uchida (who was draped in a diaphanous teal green capelet), with Salonen – a conductor who rides the waves of the music rather than simply establishing the beat – in peak form.
Opening the program was Brahms' "Variations on a Piece by Haydn" – composed in 1873, and scored for a reduced orchestra that is nevertheless lush in its use of strings, winds and, most notably, four resounding French horns. If Haydn was a charming, energetic formalist, Brahms was a richly exuberant romantic who could make everything dance. And the CSO's rendering of the work, which builds to its big finale with the help of trumpets, timpani and a triangle, did precisely that.
Closing the program was Schoenberg's early masterpiece which was written in 1899 as a sextet for strings but was later arranged for string orchestra – the form in which it became most famous. 
A quintessential expressionist work inspired by a poem by Richard Dehmel that dealt with a woman's sexual guilt (and was considered rather scandalous in its time), the work is intensely sensual. In Wallace Shawn's play, "Aunt Dan and Lemon," one of the characters says the music "could just make you squeal; it's as if Arnold Schoenberg was inside your dress and running his hands over your entire body." And to be sure, there is a feverish quality about it all as the strings, both plucked and bowed, are used to suggest great yearning, desire and surges of emotion, and as Schoenberg weaves a gauzy, erotic web of both lyrical and teasingly dissonant themes that finally resolve into a suspended, dreamlike state of extraordinary beauty.
Follow Hedy Weiss on Twitter: @HedyWeissCritic
---
A Musical Marvel as CSO, Salonen Soar in Mahler's Haunting Symphony No. 9
Chicago Theater Recommendations from Hedy Weiss
John Malkovich joins CSO and Muti in Copland's 'Lincoln Portrait'
CSO and Chorus Create Wondrous Veil of Sound, Color with Ravel and Debussy
---