The guidelines that require recipients of SNAP, the Supplemental Nutrition Assistance Program, to twice a year prove they qualify for the modern-day version of food stamps haven't changed, but the ranks of individuals who saw their benefits abruptly cancelled swelled as Illinois transferred to a modern computer system to manage their cases.
Individuals often drift in and out of the SNAP system intermittently, but the number of individuals who suddenly lost benefits spiked last month at 41,000 – a figured provided by the Illinois Department of Human Services – after recipients apparently missed a deadline to have renewal forms submitted by a Nov. 5 deadline.
According to DHS, historically between 15,000 and 16,000 individuals see their benefits cancelled each month, either because of late reporting or because customer no longer were eligible for SNAP.
The difference: Illinois has replaced an aging, 40-year-old system with a modernized "integrated eligibility system" that Diane Grigsby Jackson, DHS director for the division of family and community services, says will "serve clients more efficiently."
The program, which launched Oct. 24, allows SNAP recipients to manage their cases online; with it, their case workers likewise can have an integrated view of clients' benefits. It's akin to moving to an online banking system.
"Overall, it's designed to be more efficient, meaning benefits will be processed more timely and accurately," Jackson says. "We are really excited."
Deloitte built the revamped system and has thus far invoiced Illinois for $193 million, and according to the agency the federal government has agreed to cover all but 10 percent of the cost.
Per federal guidelines, DHS has to certify individuals' SNAP eligibility twice annually, at the six-month and year mark. Clients are notified via old-fashioned "snail mail" when they're up for a mid-point review. These mid-point reviews are due to the state by the fifth of the month.
That has been, and remains, the case.
Apparently, however, there was an unofficial grace period – intentionally, or otherwise – under the previous, manual system that has disappeared with the new computer program, which automatically cancels recipients' benefits if they don't submit their paperwork by deadline. 
"If we don't have a report to review, on the 15th of the month, the case is going to cancel, because we have no information to determine that you are eligible," Jackson says. "So if a report doesn't come in on time, and on time is by the 5th, that means that a client potentially would lose on the 15th of the month."
Jackson uses "potentially" because there may be exceptions. For example, if a recipient turns a report in to a case worker who processes it before the cancellation date.
"But that report is already late," Jackson says; it's no sure bet.
There is no way to tell how many of the 41,000 cases dropped from benefits are due a tardy report, or how many individuals are no longer eligible or trying to be.
Regardless, DHS spokeswoman Meghan Powers says as of Dec. 18, almost 16,000 cases have been reinstated (leaving some 25,000 individuals currently without).
There are approximately 950,000 SNAP cases in Illinois, according to DHS spokeswoman Meghan Powers, meaning at the climax, about 4 percent of all cases were affected.
But it's nonetheless "frustrating" for individuals like Tiffany Jones, a 33-year old mother of three who spent Monday calling DHS, waiting in DHS offices, and visiting churches in vain on a search for food, after she says her SNAP benefits mysteriously didn't renew on Sunday, as they have been on the 17th of the month for the decade that she estimates she's been gettng them.
Whether Jones was tripped up by the deadline is unclear; "Chicago Tonight" did not review, nor have access to, her case file.
But Jones, who lives in Hazel Crest and says she has a hard time holding a steady job because of a learning disability and depends on SNAP and SSI (Supplemental Security Income), says she submitted her renewal form Nov. 6 – which would have been a day late for DHS's cutoff. Jones says she believes the deadline was Nov. 15.
A family of four must have a household gross monthly income of $3,383 or less to qualify for SNAP. 
The Chicago Tribune first broke the story of the delayed food stamps; DHS's Jackson disputes any "glitch," but she admits that "we could have done a much better job helping clients understand there is an automatic feature that will close that case on the date," Jackson says. 
She adds that the expectation has always been that a case worker would have manually closed a case by the 15th. "There's nothing about the program requirement that has changed," she said.
DHS says it intended a soft roll-out of the integrated eligibility system, or IES, and still plans a marketing effort to better educate clients about it.
Converting data from the last system to the new one does take case workers extra time, Jackson says.
And once a client's benefits are cancelled, he or she cannot make use of the IES and its online case management tool; it's as if a case worker has to start from scratch on their application.
The data conversion, combined with new clients and dealing with the thousands of clients who unwittingly saw SNAP disappear, has created a backlog.
DHS is asking the federal government to waive the mid-point review requirement for cases up in December, January and February.
In the meanwhile, however, Jones says she hasn't received any communication from DHS. She's confused as to where her SNAP benefits went and it's the worst time of year to be without them.
She tried visiting a DHS office, but it was crowded and she was told to "come back tomorrow." Her refrigerator is nearly bare.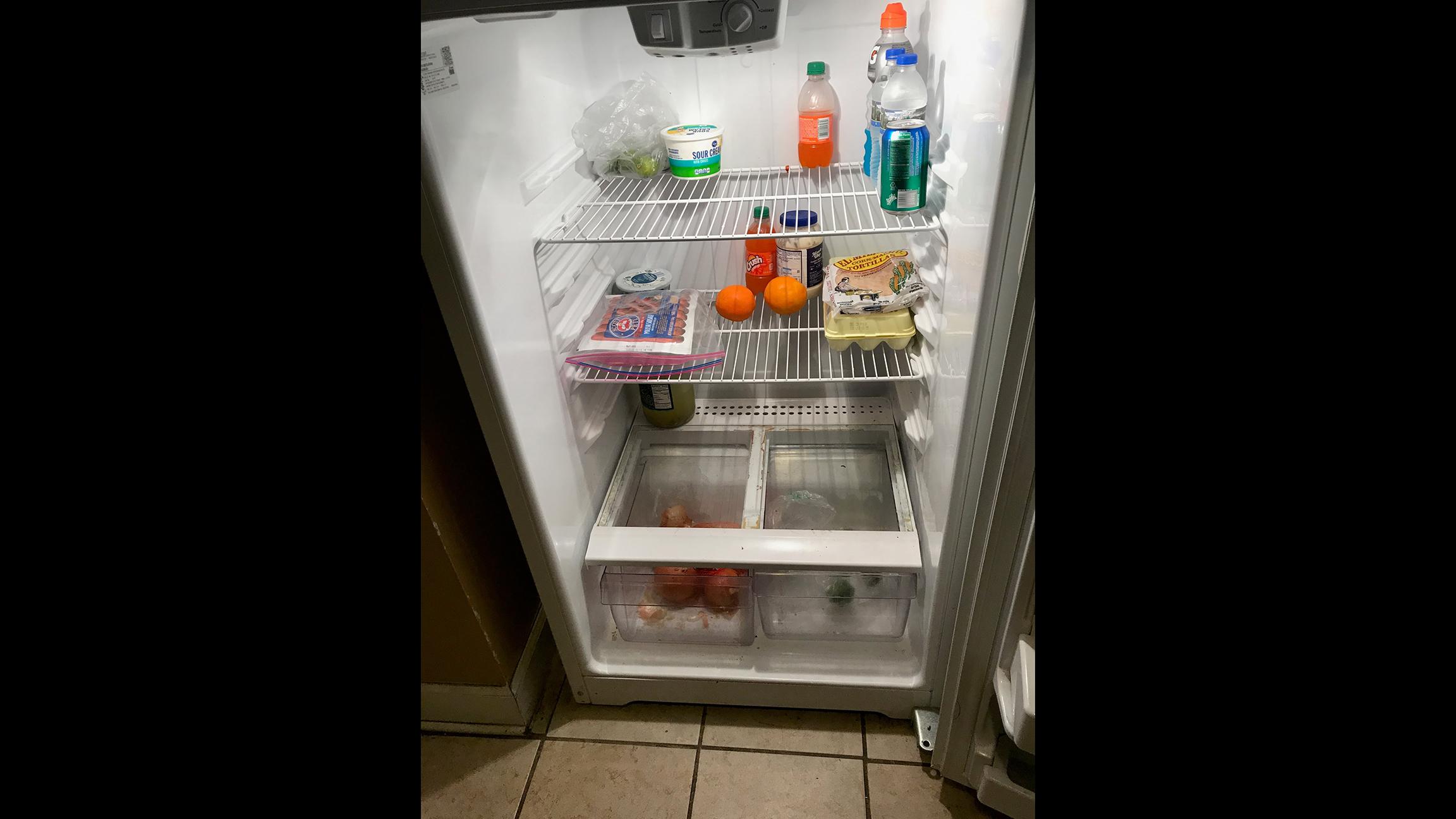 None of the churches she visited Monday were giving away food.
She splurged with her $340 in SNAP benefits last month to help her mother put on a Thanksgiving dinner.
There are only two presents under her Christmas tree – a pair of cars that she received at a free giveaway of toys and wrapped up for her youngest.
"Now Christmas might be looking kinda empty," she says. "I try not to cry." 
Follow Amanda Vinicky on Twitter: @AmandaVinicky
---